That pictures sums up how I felt this weekend.  A couple late nights—one because we were out with friends and one because Jade had a fussy night—left me running on empty.  I was exhausted and grouchy and the girls were demanding attention and my husband was working.
I wanted to sit in my room and cry or run as far away as I could or just stand there and scream like the kids were.
Instead, I had to be strong and patient and gentle and loving.
If you're a mom, you probably know the feeling.  We work 24/7, with no quitting time (except maybe bedtime, if the kids sleep through the night) and no coffee breaks (except perhaps that once-a-week visit at mom's group) and lunch break? Well, we're lucky if we get to sit down and eat a whole meal because the kids will want milk or seconds or spill their dinner or have to go potty or something else will come up.
Sometimes, Mommy needs a break too.
I tried to joke about how I was feeling on Facebook: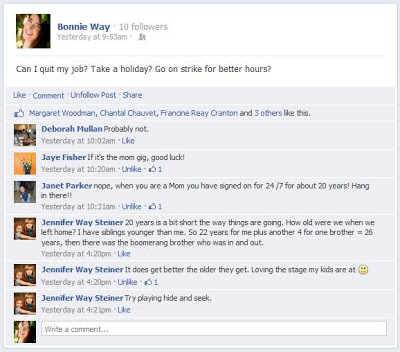 It can be hard to find time in our busy lives to nurture ourselves as moms, but it's necessary.  As my friends on Facebook pointed out, we're in this for the long haul and we can't burn out early.  On Saturday, my solution was to turn on Diego for the girls and have a nap with Jade.  I don't like using the TV as a babysitter, but with a bit of extra sleep, I felt like a new mom.
Maybe you have a good friend who could watch your children once a week—or maybe you and a friend can swap babysitting so you both get some quiet time.  Maybe you can arrange a night out once a week while your husband watches the kids.  Or maybe you need a bigger getaway, like the trip Joanna and I took to Seattle for the Women of Faith conference.  However it happens, take that time for yourself, and don't feel selfish about it.
'Cause when momma's not happy, nobody is happy!
What do you do when Mommy needs a break?