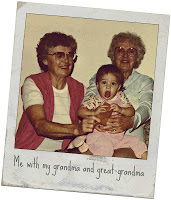 To celebrate the launch of her novel By the Light of the Silvery Moon, set aboard the Titanic, Tricia Goyer asked for stories about the Titanic. I shared my great-grandmother's story. She emigrated to Canada aboard an ocean liner just a few years after the Titanic sank:
I imagine Emily standing on the deck of the Empress of Britain, the wind blowing her curly brown hair back from her face as she stares across the waves at the grey line of the horizon. The year is 1920, and she clutches the arm of her new husband, Stanley. Four years earlier, he handed in his soldier's uniform and now, as he sails for Canada, his occupation is listed as "farmer."

Like Stanley, the Empress of Britain had served during World War I. She was built in 1905 and converted to an armed merchant cruiser in 1914. For the next year, she patrolled the South Atlantic and the Cape Verde Islands. Then she became a troop transport vessel, carrying English, Canadian, and American troops across the North Atlantic and even to Egypt and India. By 1920, she had returned to passenger service and underwent more upgrades before Emily and Stanley boarded on September 1 for the Empress' first voyage from Liverpool, England, to Quebec, Canada.

In 1920, the only mode of transportation between Europe and North America was on the great ocean liners. Charles Lindbergh wouldn't make his historic transatlantic flight for another seven years, and commercial air travel wouldn't be attempted until 1928. And although the sinking of the Titanic was eight years in the past, transatlantic voyages were still a big undertaking. In 1914, the Empress of Britain's sister ship, the Empress of Ireland, collided with another ship in the St. Lawrence River. It sank, taking with it more than a thousand lives.
Tricia Goyer has written a lot of books, both fiction and nonfiction.  A couple of my recent favourites are Praying for Your Future Husband and Blue Like Play Dough.