I'm leaning into the back of my Jeep, unbuckling Sunshine, when a man angles across the parking lot toward me.  I brace myself for a warning that I can't park here.
"You left your fog lights on," he says.
I smile and lift Sunshine down.  "Thanks, I know.  It's broken.  We're here to get parts."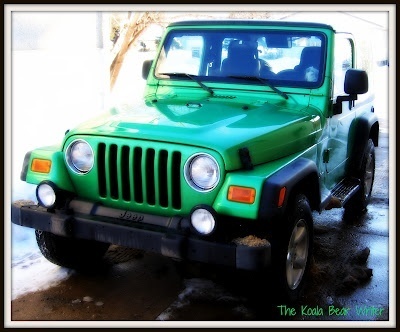 He watches as I lean back inside to unbuckle Lily, and says, "I could just sell you a new Jeep.  A four-door one that would be easier to get the kids into."
I laugh as I put Lily down beside Sunshine.  "My husband doesn't like those.  He says they look funny."
"Well, who's the one hauling the kids around?"
I lock the door and slam it, then take the girls' hands.  "True," I say to the friendly salesman, and tell the girls we're going around the corner to the parts counter.  Sunshine runs ahead and Lily's boots clump on the pavement as she tries to keep up.
There are days when driving a two-door Jeep TJ with two kids is awkward.  Groceries need to be stacked carefully.  Road trips to grandparents require careful packing.  Even buying a kayak wasn't an option until we discovered a folding model last year (and bought a hitch and basket).
You could say my husband and I are living out the dreams of our youth in our Jeep.  Just before I started university, I was looking for a Jeep TJ or a Toyota Landcruiser—preferably green.  I didn't find one I liked, and in the end it came down to a choice between vehicle and university.  I choose the latter.
The summer after I finished my degree, I was driving a small Chevy S10 truck handed down to me from my brother.  I'd often roll the window down, put my hair in a pony tail, and drive as fast as I dared on the highway (keeping my eyes on the rearview mirror for flashing lights), pretending I was in a Jeep with the top down.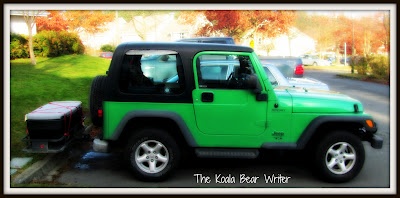 We know our time with our Jeep is limited.  It does hold two kids and groceries, or a lot more stuff with the basket on the back (then we can go camping or biking or kayaking), but the next time our family grows, we'll outgrow the Jeep.
So we put the top down.  Flip on the 4×4 in snowy weather.  Pack carefully.  And enjoy our sporty ride, knowing it won't last forever.
What's your dream vehicle?