In March 2010, I submit my application to the Writing Department at the University of Victoria just one week before the deadline. When I register for my classes later that summer, I pick a course on the Forms & Techniques of the Short Story simply because I like short stories and find them hard to write.
That course will be my favourite in my first year back at university, in part because I enjoy the stories we read and the chance to discuss them, and in part because I really like the instructor, Madeline Sonik.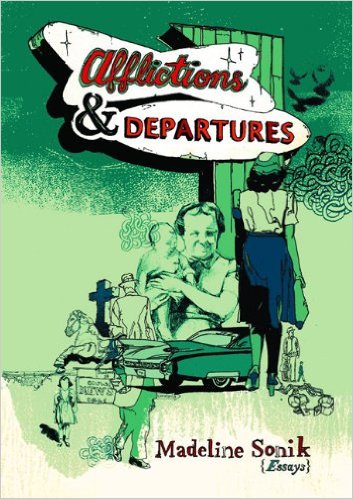 That summer, when I find out she is offering an afternoon course on writing memoir at a local library, I  show up. And when Madeline reads portions of Afflictions & Departures, I buy it, even though I tell myself I have too many books to read at home.
This post contains affiliate links; as an Amazon Associate, I earn from qualifying purchases.
Despite my excitement about her book, it gets put on my shelf until Reading Week 2012, when I stuff it in my carry-on bag as I fly to Long Beach, California. Sitting on the Carnival Splendour, looking out at the Queen Mary docked beside us, I finally pick up Afflictions & Departures and read,
Imagine, the Queen Mary, 81,237 gross tons of steel, wood, and homey comforts, coursing through the codfish-grey Atlantic. Although it is mid-August, the sun's sheathed in a misty-halo. Cabin-class passengers in neat white sweaters and suit jackets brace sturdy deck chairs, accept warm plaid blankets and hot tea.
Reading Afflictions & Departures while sitting beside the very ship that Madeline's parents once traveled upon struck me as very ironic, especially since the Lido deck of the Splendour was decorated in honour of the Queen Mary. Even without that humour, I find it hard to put Madeline's book down. She brings her childhood memories alive in an effortless manner, fitting her story into the broader picture of what was happening in the world at that time. From the first lines, I'm captured by her memories, her voice, her descriptions.
Afflictions & Departures begins on the Queen Mary with Madeline's conception and the story of her parents stormy relationship. The stories follow a roughly chronological order through her childhood and teen years to the final story about her life in England as a cleaning girl trying to write in her spare time. Each story stands on its own, yet together they show different sides of Madeline's past. One of my favourite stories compares her father to Superman as he tries to help his immigrant parents adjust to life in Canada.
Recently, Madeline's collection of essays has been in the news because it was a finalist for the Charles Taylor Prize for Nonfiction. Afflictions & Departures was also a finalist for BC's National Award for Nonfiction. Many of the individual essays in the collection have also received awards and most were published in literary magazines.
"Startlingly original, Madeline Sonik's moving story of her childhood defies all our expectations of memoir. She captures crystalline moments of childhood memory and links them in a daisy-chain with corresponding events of the tumultuous societal change taking place outside her home. It is North America in the 1960s and 70s and her letter-perfect, child's-eye view of the world brings back that time with such intensity that the reader can almost smell and taste it. Droll, tragic, and absolutely compelling, Afflictions & Departures is a visceral portrayal of a family imploding." —Jury, Charles Taylor Prize for literary non-fiction
Come back on Friday for my interview with Madeline!