Goldstream Park borders the highway about half an hour's drive outside Victoria, BC.  The park was named for a minor gold rush between 1898 and 1901. These days, it is the site of a different sort of rush: every October, people come to see the salmon spawning.  We have yet to see that; last year, we went in November and found more dead salmon than live fish and this year, the salmon are late.
Last weekend was a gorgeous, sunny weekend (albeit cool) here in Victoria and we took advantage of it to head out to Goldstream Park to hike the Trestle Trail.  We'd been talking about this hike for a few weeks, but previous plans had been cancelled due to rainy weather.  At the trail head, I put Lily in the baby carrier and helped my husband get Sunshine into his frame carrier.  She lasted about ten minutes there before she wanted down to hike by herself.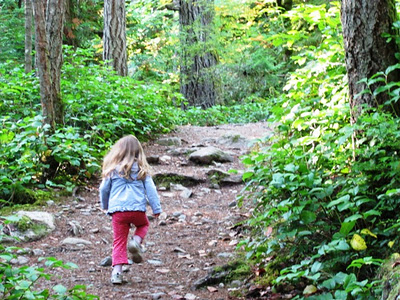 The Trestle Trail is a well-used trail that goes straight up the hill, through the trees. It crosses a bridge over the stream and uses stairs at some points. Both girls thoroughly enjoyed the hike, making me once again think to myself that we need to do this more often.
I kept Lily in the Ergo for most of the hike (despite her complaints, until she finally decided to have her nap), but Sunshine enjoyed leading the way and climbing over roots and rocks.  When she got tired, she asked to get back into the carrier, which was a great place for her to have a snack.
The trail ends at the currently unused train tracks, where we ventured out onto the trestle bridge to admire the view of Mt. Finlayson across the valley.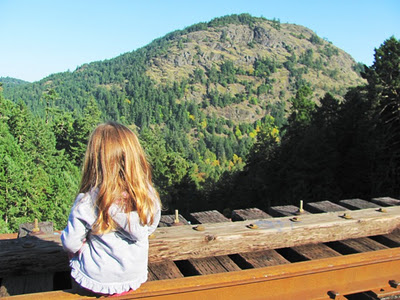 The trestle doesn't have any railings, so caution is advised when walking on it. Unlike the Kinsol Trestle further up-Island, this train bridge remains in its original condition. It's definitely a wonder of engineering as it spans the huge canyon in the mountain.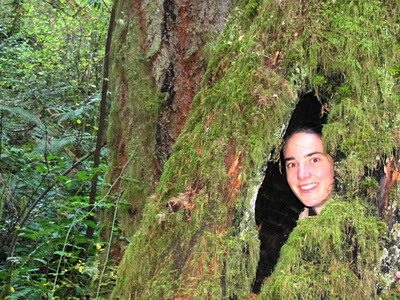 After climbing to the Trestle, we followed a meandering trail down through Goldstream Park. The trail ran roughly parallel to the highway and passed an old gold mine. We also found a fun hollow tree, a snake, and some other natural treasures. The gold mine is now just a hole in the rock, which I wouldn't venture into. I was surprised it wasn't closed off for safety reasons, actually.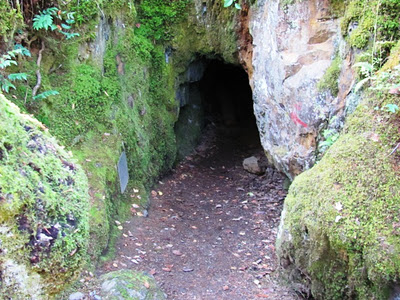 Then we reached the highway and hiked back along it to the Jeep. The whole hike—up to the Trestle, out to the gold mine, and back again—took us about two and a half hours. It was about the right distance for a hike with the girls (ages three and 18 months), with lots to see along the way.