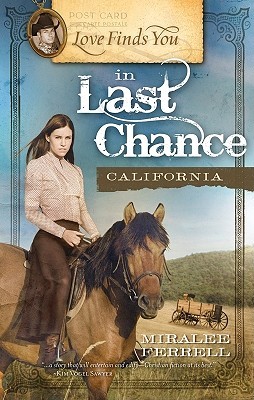 Love Finds You in Last Chance, California is Miralee Ferrell's second book. It's a romance in a new series being published by Summerside Press, with each story set in a different town (with an unusual name!) in a different state.
Last Chance, California was an actual town in the late 1800s. It's a ghost town now and there wasn't much there for Miralee to see when she went researching her book. The scenic descriptions in Love Finds You in Last Chance, California could have only come from someone who was there, and made it easy to picture the beautiful setting.
This book was provided for review courtesy of the publisher. This post contains affiliate links; as an Amazon Associate, I earn from qualifying purchases.
Love Finds You in Last Chance, California Plot Summary
Alex Travers grew up on a ranch just outside of Last Chance, riding the range beside her father. When he dies of a sudden heart attack, she finds herself running the ranch on her own.
Well-meaning townfolk suggest that she marry one of the area's eligible bachelors, but none of those bachelors have captured Alex's heart—and she's determined she can make the ranch work on her own. However, problems seem to dog her steps, from wranglers quitting because they won't work for a woman to horses going missing and fences getting cut.
Justin Phillips has problems of his own when he gets a telegram from Alex's father, asking for help on the ranch. Starting a new job in a new town seems like a good idea, so Justin heads for Last Chance with his three-year-old son, Toby.
However, as the new guy in town, Justin has to field accusations of looking like a man on a Wanted Poster and being the one who's cutting Alex's fences and stealing horses. Things get even more complicated when his past comes calling in the form of Christy Grey, a beautiful dance hall girl who claims to be his dead wife's sister—and who wants his son.
My Thoughts on Love Finds You in Last Chance, California
Miralee Ferrell spins a good tale of romance and mystery that kept me wondering who was out to get Alex and how Justin and Alex would ever overcome their differences. Love Finds You in Last Chance, California is filled with endearing characters, from lisping little Toby who always wants to ride the "horsey" to Martha who keeps everyone fed with delightful food.
Miralee also brings faith into the story, as Alex's fierce independence keeps her from leaning on God and Justin's past keeps him from returning to God.
So if you need a good story to read while curled in a blanket with a cup of hot chocolate this winter, pick up Love Finds You In Last Chance, California.
More about Miralee Ferrell
Miralee and her husband Allen have been married over 40 yrs. They live on 11 acres in the beautiful Columbia River Gorge in southern Washington State, where they love to garden, play with their dogs, take walks, and go sailing. Miralee also rides her horse on the wooded trails near their home with her grown daughter who lives nearby.
To find out more about Miralee Ferrell and her books, drop by her website. You can also find Miralee on Facebook, Twitter and Pinterest.