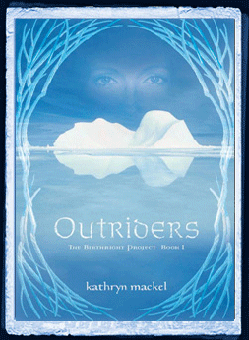 Niki and Brady are outriders, those called to fight the evil that is overtaking the world. With only swords, shroud and their own ingenuity, they are up against mutated monsters and strong-arms. Their faith and their mission hold them together, but within their camp, problems are rising. Timothy resents Brady's leadership. Ajoba refuses to listen, following instead a demon's orders. Brady wants love. And Niki lacks the faith that she claims to have.
Outriders is book 1 in The Birthright Project, a speculative fiction series by Kathryn Mackel. In this book, Kathryn takes us far into the future, to a time when Endless Wars have destroyed the world as we know it. God's faithful people have taken shelter in a second Ark, hidden deep within the polar ice. The Outriders are those called back into the world to search for and recover what is left of the original creation.
Brady is usually the one who goes to meet the rooks – new recruits off the Ark coming to join the fight – but this time, he sends Niki, with cryptic orders to "listen." The rooks come with disturbing news from the Ark, but before Niki can get them back to Brady to decide what to do about this news, her impatience causes the rooks to run. They encounter bigger trouble than anyone expects, and when Niki hits the end of her rope, she does the only thing she can – and the one thing she hates: sends for help.
Brady has had his own share of battles, from facing an army of gargants – humans mutated into giants – that are about to destroy their camp, to dealing with Ajoba's disobedience and treachery. By his creativity and leadership, their few Outriders stand successfully against hundreds of gargants and strong-arms. But they are up against a powerful enemy, one who prizes revenge above all.
Outriders is a fast-paced, suspenseful tale of danger, comradeship, and faith. Though I haven't read much sci-fi or fantasy, this book soon drew me in. Kathryn's characters are real and unique. She weaves details in just as they are needed, never too much or too little. Like me, if you read this book, you'll be running out to get Book 2, Trackers, as soon as you can.
Kathryn Mackel is also the author of To Know You and Veil of Secrets with Shannon Ethridge.