In the 1700s, a Spanish priest named Junipero Serra traveled across Mexico and California to evangelize the First Nations people there. He left behind a series of missions, where his work was continued after his death. While we have many opinions about Serra and his contemporaries and their work and attitudes, from our vantage point of today's knowledge, it is interesting to learn more about the people whose work Serra affected.
Pablo Tac was a Luiseno Indian who grew up at Mission San Luis Rey in California. Author Christian Clifford explores the life and legacy of this young man in his book, Meet Pablo Tac: Indian from the Far Shores of California. A short, easy read, this biography provides interesting insight into California's history.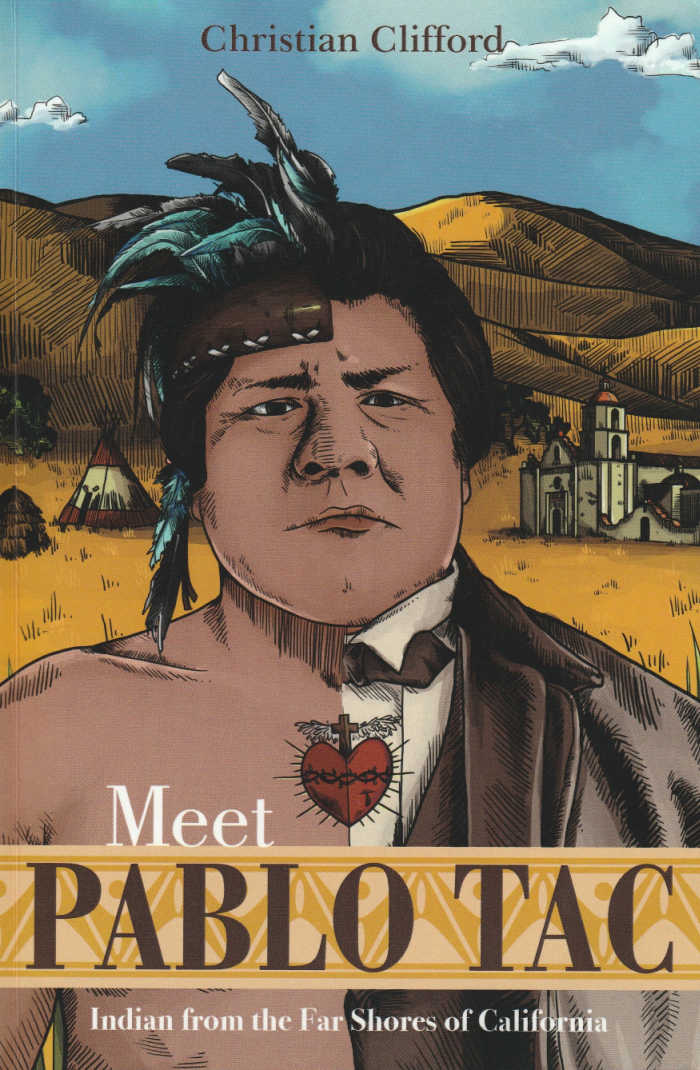 I received this book for review courtesy of the author; all opinions expressed remain my own. This post contains affiliate links; as an Amazon associate, I earn from qualifying purchases.
Meet Pablo Tac
Pablo Tac was born almost forty years after St. Junipero Serra's death. He and another student, Agapito, were recognized as being very bright by the mission priest, Father Peyri. Mission San Luis Rey was the largest and most successful of the Californian missions. However, during Pablo's early years, the missions were under attack by the secular Mexican government. Slowly, the government gave away mission lands or changed policies to break up the mission work.
When Pablo was ten, Father Peyri was ordered to leave. He had been at Mission San Luis Rey since its founding and Pablo had written that the people of the mission considered him truly their father. Pablo wrote that the mission orchards were off-limits, but if anyone asked the priest for some fruit, he "immediately will give him what he wants, for the missionary is their father."
Although Father Peyri tried to slip away quietly after dark, Pablo and Agapito accompanied him. They both traveled with him to Mexico City and spent the next year at a Catholic college there. Then, in a six-month journey that took them through New York and France, they headed to Spain. Father Peyri then sent the boys to college in Rome.
Pablo studied Latin, rhetoric, humanities, and philosophy as well as theology at college. At the age of seventeen, after five years of study, he took an oath to pursue studies to become a missionary priest. He wrote an article "Concerning the Californians" entirely in Latin, demonstrating his excellent linguistic abilities. It also provides historians with a unique glimpse into this time period in history.
Unfortunately, Pablo contracted tuberculosis at university and died there just before turning twenty.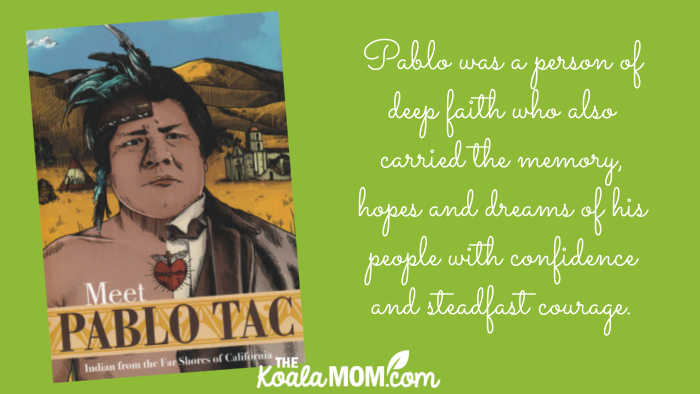 My thoughts on this book
While I've read the lives of many saints, I found it fascinating to learn more about a saint through the life of someone impacted directly by that saint. Pablo Tac didn't meet St. Juniperro himself, but his life would have been very different without St. Junipero's work. Meet Pablo Tac provides a just a glimpse into this young man's life and honestly, I wanted much more of the story.
Christian Clifford says, in the last chapter, "We all need heroes. It is in our nature. Catholic heroes are called saints… We believe they intercede on our behalf and bring our prayers to God. We have that human connection with them, because they too were human and all that entails. However, they lived the faith to a heroic degree."
Pablo Tac grew up in a difficult and changing world. He chose to leave behind his family and everything familiar to travel around the world, learn a new language, and pursue his faith. He dreamed of becoming a missionary just like St. Junipero Serra. His life is truly an inspiration to other teens and youth facing difficult decisions about their future and educational options.
Although Meet Pablo Tac is a thin book with some historical photos, it's not fiction. Clifford provides a lot of historical background for Pablo's story that may lose younger readers who are unfamiliar with California and the missions. Meet Pablo Tac is an excellent companion to Clifford's other books or an additional resource for students learning about St. Junipero Serra and his work.
At the end of the book, Clifford includes a historical timeline, list of Catholic Native American resources, and reflection / discussion questions. He also has notes and a bibliography for readers who want to go further.
Pablo was a person of deep faith who also carried the memory, hopes and dreams of his people with confidence and steadfast courage. His life is an inspirational one of course in the face of adversity and the universality of the Catholic Church. ~ Christian Clifford
More about Christian Clifford
Christian Clifford is the award-winning author of books about Catholic history in Spanish and Mexican California. His writings have appeared in both Catholic and secular publications, including Aleteia, Catholic News Agency,  National Catholic Register, San Diego Reader, and Today's Catholic Teacher. Clifford has been a guest speaker on radio, podcasts, and to school, church, and service groups.
Clifford received a B.A. in Social Science from the University of Great Falls (Montana) and M.A. in Catholic School Teaching from the University of San Francisco. He has been a teacher in the schools of the Archdiocese of San Francisco since 1997. He lives in the San Francisco Bay Area with his wife and son.
For more information about Clifford or his books, visit Missions1769.com. Join him on social media @ MISSIONS1769. You can also follow #GoGoStJunipero and #PabloTacPray4Us. He currently has a petition open to nominate Pablo for the cause of canonization.