If you're planning to attend college within the next couple of years, now is the time to get organized. A big part of the process is asking your parents relevant questions about things like financing the cost of attending school, taking time off before starting a four-year degree program, living at home while hunting for a job after graduation, and whether you'll need to work while attending school. That's a lot to talk about, but the time to get going is right now. Here are the main questions to ask, along with important details about each one.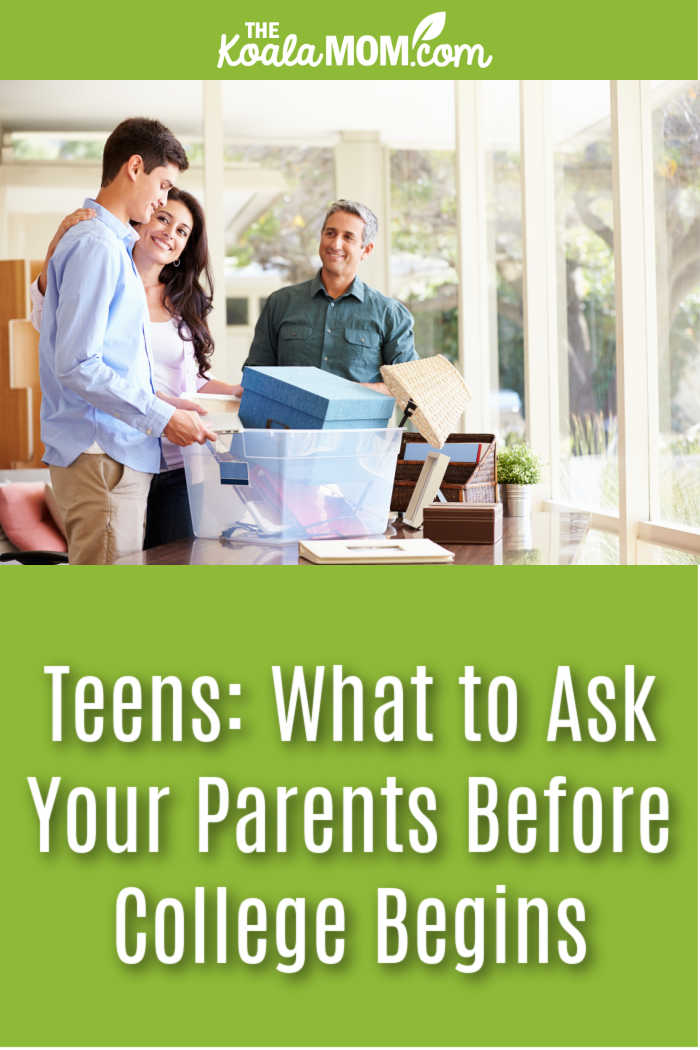 Will You Cosign on My Student Loan?
If you want to earn a four-year college degree but aren't sure how to cover all the related expenses, consider asking a parent to cosign on a private loan for school. Federal loans rarely provide enough funding for a full collegiate program, which comes with tuition and multiple other costs for students. However, what can you do when parents are unwilling to be cosigners for you? The situation is a challenging one, but there are solutions.
Remember that moms and dads are under no legal obligation to help with your education expenses. After you reach the age of 18, they don't have to provide any financial support at all. So, even if you're living at home, don't assume that your parents will agree to cosign. Ask them politely, explaining that you have a limited or non-existent credit history. Let them know you intend to repay the loan after graduation from income from a full-time job.
Can I Live at Home while Looking for a Job?
Most college grads spend at least a few weeks at home while searching for work. Sometimes, the weeks turn into months or years, so it's essential to find out what your mom and dad expect of you once you get a diploma and start interviewing for jobs. In some cases, college students receive employment offers before graduation day, which is the ideal situation. But most grads walk out of the commencement ceremony without a solid offer in hand. Make an agreement with your parents about how long you might be expected to stay home during the search for a paying position.
Will I Need to Work During College?
One of the core questions about attending school is about working while attending courses. Parents strive to teach kids about money before college but after high school graduation it's up to you to put those lessons into action. Depending on your schedule, it might be possible to hold a part-time job during the four years of school that lead to a diploma. Many students do so without impacting their grades or social life. Plus, having a regular income is an excellent way to defray the cost of an education and maintain an active dating life.
Be careful about the potential pitfalls of trying to work and go to college at the same time. One trap people fall into is overbooking themselves either by putting in too many hours at their job or taking a heavy course load at school. The situation can lead to a high level of stress and cause students to feel overwhelmed. Working too much may also affect your grades, which could affect your chances at getting scholarships and even your job prospects after graduation. Plan, and you won't need to worry about this problem.
What If I Take a Year Off Before Entering College?
One of the more common questions parents hear is about pausing for a year or more before college. If you want to gain job experience or just save some money before heading off to a four-year program, discuss the arrangement with your parents. Many older teens choose to live at home, with parental consent, of course, for a year or more. Then they apply for admission to a school of their choice.
The advantages of taking a pause include the chance to gain marketable job experience, save money, learn about the working world, travel, and figure out what kind of career you wish to pursue. The downside is that the interruption can make it a challenge to get back into the academic mindset. Some individuals who enter the workforce immediately after high school find independence and financial freedom hard to relinquish.