Looking for a fun, fantastic beach read this summer? Grab Blink and We'll Miss It by Ginny Kochis! This clean YA novel addresses the topic of mental health with a summer romance and a family mystery. Both my 13-year-old and I thoroughly enjoyed it.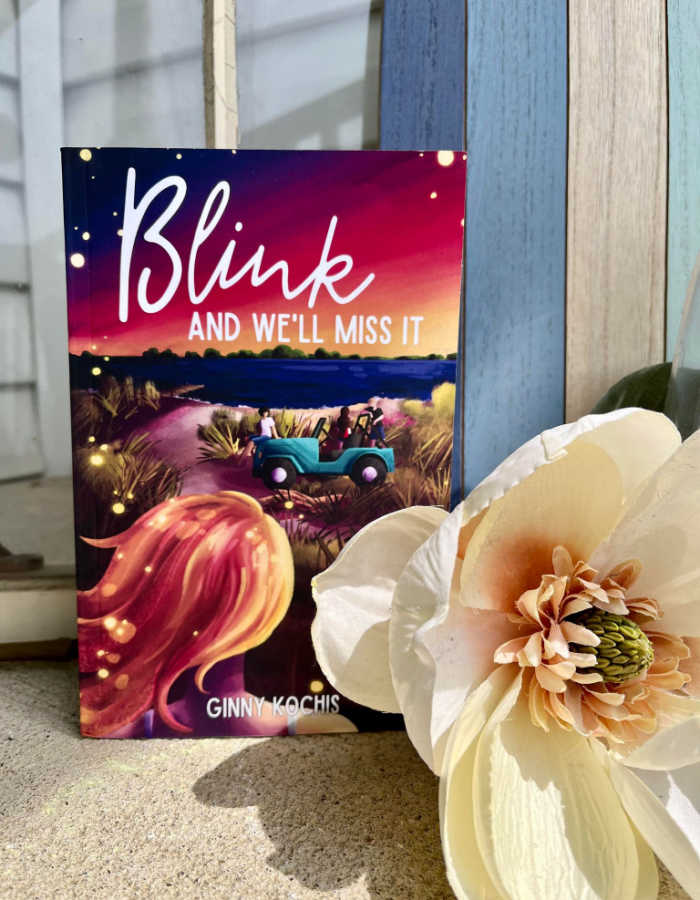 I bought this book for myself; all opinions expressed are my own. This post contains affiliate links; as an Amazon associate, I earn from qualifying purchases.
Blink and We'll Miss It plot summary
Mae Griffin has spent most of her life managing her mom's bipolar disorder. So when her mom attempts suicide, Mae blames herself for not seeing it coming. As her mom heads to a mental health facility for treatment, Mae finds herself back at her grandparents' home in Minnesott Beach. A place where she'd destroyed friendships and started experiencing her "blinks."
Slowly, Mae settles into Minnesott Beach and begins to reconnect with her old friends there. However, past hurts make it hard to restore those friendships. And Mae's blinks come back, giving her glimpses of her family history that only cause more confusion for her. How is her family connected to the Suttons? Why won't her grandfather tell her about his sister? What is Lil hiding? And who is her father?
As Mae tries to live a normal life, she also faces the usual questions about what to do after high school. Her grandfather wants her to do a program that includes counseling, while she wants to pursue her writing. As she and Ezra grow close again, she wants her plans to include him… and yet she also wants what's best for her mom.
When tragedy nearly strikes again, Mae is left with a hard choice.
My thoughts on Blink and We'll Miss It
I loved Blink and We'll Miss It. Ginny draws readers into Mae's characters from the first pages and I enjoyed exploring Minnesott Bay with her and figuring out her family history. I appreciate how Mae's story draws attention to mental health but also to family trauma. In some ways, I identified with this; while my family doesn't have mental health issues, there are other generational struggles that I've pieced together, just as Mae is piecing together her own family story and how bipolar disorder has affected various generations.
Overall, this was a fun read. Mae is in the summer between high school and college, hanging out at her grandparents' beach home with a great group of friends. There's fun to be had, even with her struggles over her mom and her blinks, and I loved catching a glimpse of this small-town, summer life. Ginny is a talented, descriptive writer and so much of the dialogue between the characters made me smile or laugh out loud.
At the heart of it, Blink and We'll Miss It is for the unique and unrepeatable, for anyone who's ever felt their normal didn't fit inside the box. Because as I've always told my neurodivergent kids, normal is just a setting on the dryer. God's artwork deals in humans, not in appliances for drying clothes. ~ Ginny Kochis
More about Ginny Kochis
Ginny Kochis is a Catholic wife and mom of three twice-exceptional children. She's the author of over a dozen books, including Choosing Your Child's Patron Saint and Made for Greatness: A Growth Mindset Journal for Courageous Catholic Youth. She blogs about homeschooling and raising differently-wired kids at Not So Formulaic. Blink and We'll Miss It is her debut novel, and is based loosely on her own family history.
Blink and We'll Miss It was the #1 new release in Teen & Young Adult Clean & Wholesome Romance on Amazon on its release day. It was recently featured in the Cool Summer Reads section of the Pittsburgh Post-Gazette (right next to Stephen King).
Blink and We'll Miss It is available on Amazon. To read a sample chapter of the book and learn more about the characters, drop by Ginny's website. You can also follow her on Instagram for more inside details about her books.