I've been watching for a new bike rack for my vehicle for a couple years now. Up until now, we've had an old 4-bike rack that's very awkward and time-consuming to load bikes onto. I've been wanting an easier way to load bikes and a larger bike rack, and when I saw VelociRAX, I knew I'd found the perfect solution. This self-lowering hitch-mount bike rack is super easy to load and unload and also doubles as a garage storage rack for your bikes.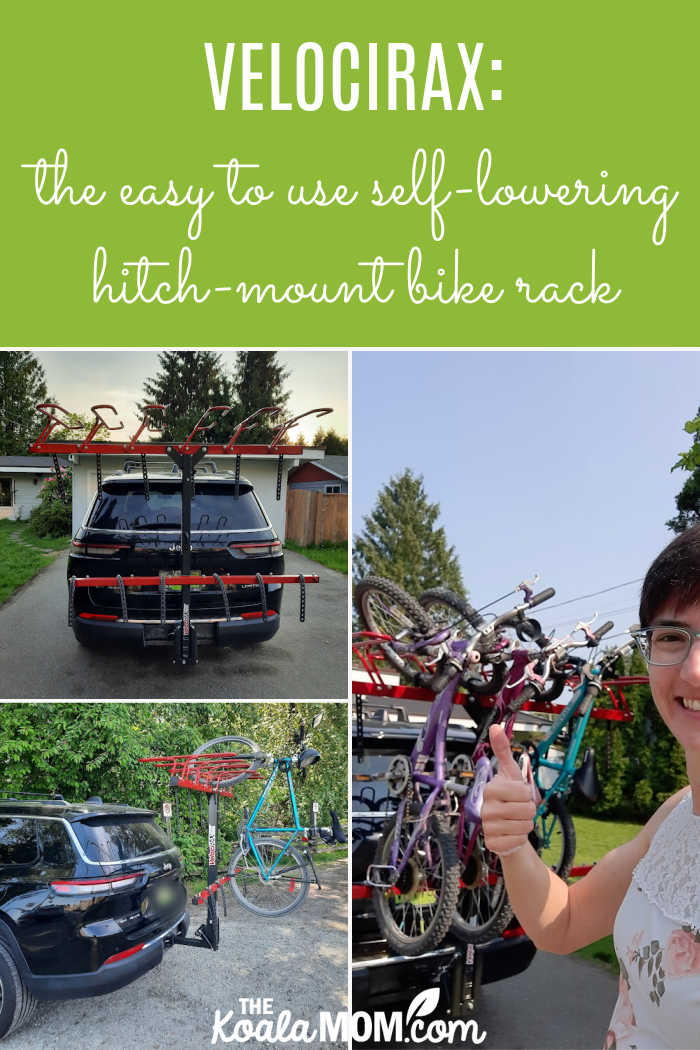 This post contains affiliate links; as a VelociRAX affiliate, I earn from qualifying purchases.
Ordering My VelociRAX
I've been following VelociRAX on Instagram for the past year, dreaming of this year's bike season. With the weather warming up here in the lower mainland, I've been tuning up the kids' bikes and exploring local trails on my own bike. I knew it was time to finally order my dream hitch-mount bike rack. It took me less than five minutes on the VelociRAX website to place an order for the VelociRAX 6, which holds—you guessed it—six bikes.
I love how many options VelocivRAX offers for racking your bikes because, as I said already, I've had difficulty trying to fit a variety of sizes and styles of bikes onto my previous bike rack. VelociRAX racks are available for 3 to 7 bikes (when I've looked for bike racks in other places locally, most racks only go up to 4 bikes). They also have a 5X rack that has wider spacing between bikes to allow for drop handlebar bikes like road bikes. Their BMX 412 rack is designed for bikes with smaller wheels, like BMX bikes.
VelociRAX offers shipping on their bike racks or local pick-up in select locations. I checked the local pickup option for the lower mainland and found that I could get my rack at a warehouse in Richmond. It's an hour's drive for me to get to Richmond (depending on traffic), but that saved me a bit of money on the shipping costs and I was able to pick up my bike rack the day after ordering it. The guys at the warehouse were very friendly and helped me load all three boxes into the back of my Jeep.
Assembling the Hitch-mount Bike Rack
Once I got home, I unloaded the three boxes and found the instructions to begin assembling my new hitch-mount bike rack. While there are brief paper instructions included with the rack, there's also videos online walking you through the assembly process. I used both to get my bike rack assembled, checking the paper instructions for occasional reference and pausing the video as needed.
You do need a few wrenches and Allen keys to assemble the bike rack. These are listed in the instructions. I managed to find the right Allen key, but my toolbox is currently a mess and I didn't feel like digging around for the right size of wrenches (I was too excited to get the rack assembled), so I just used a monkey wrench. My 5-year-old was very excited to help me, and did helpfully pass a few bolts, nuts and washers to me (while also scattering them all over the driveway and then getting distracted by the large cardboard boxes to hide in).
It was fairly simple to install the first piece in my hitch, attach the upright bar to that piece, then add the upper cross-bar and the lower cross-bar and being installing all the tire baskets and straps. It took me about an hour to get the VelociRAX assembled on the back of my Jeep.
Because I have the VelociRAX 6, it's about as wide as my Jeep Grand Cherokee. The tire baskets are just above my head when the rack is fully upright. I like the fact that the bright red colouring should make it more visible to vehicles following me.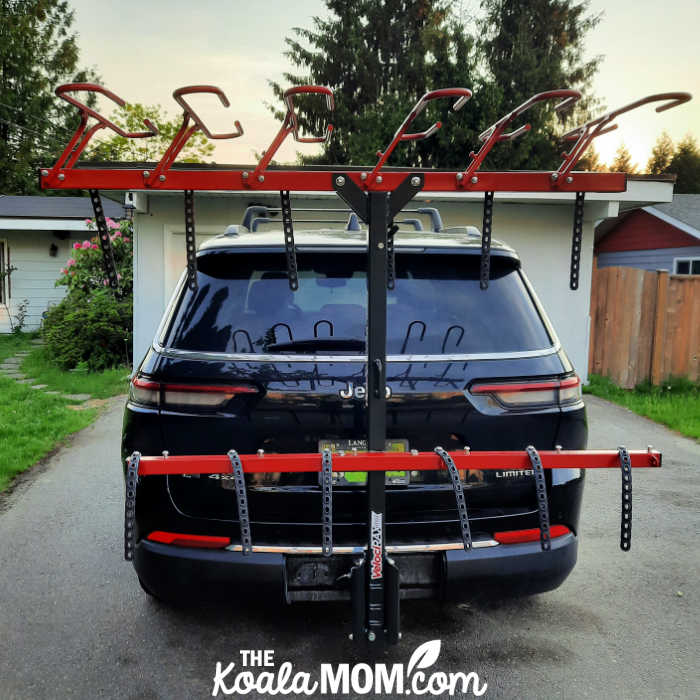 Once I had it assembled, I couldn't wait to head out for a ride.
Loading the VelociRAX
I decided to take my younger kids for a quick ride the very next morning. My 5-year-old just learned to ride a 2-wheeler last summer while we were camping, so I've been working hard on getting him riding more by himself this summer. As he's still rather wobbly on wheels, I like taking the kids to the local trails, where he's less likely to run into a pedestrian or ride off the sidewalk, and his sisters can ride ahead instead of waiting for him.
While the girls filled their water bottles, I wheeled their bikes out of the garage. In less than five minutes, I had all three kids' bikes on my VelociRAX and strapped down. I honestly felt like doing a happy dance right there in my driveway.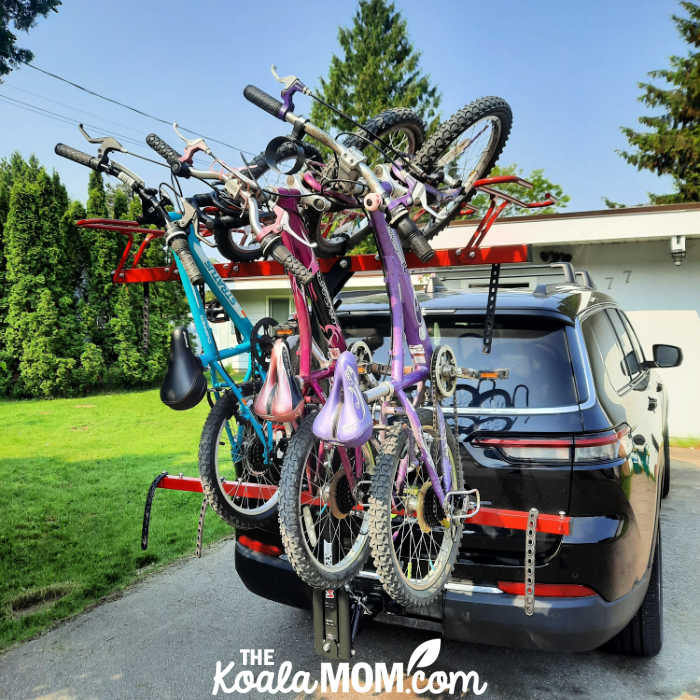 Just the week before, when I'd dragged out my old rack to take the kids for a ride, it had taken me probably twenty minutes to load the bikes, with multiple tries to get the bikes on with their pedals and handlebars facing the right direction (plus much frustration, and awkward holding of bikes with one hand while looping straps with the other hand).
The hydraulics on the VelociRAX mean I can drop the rack to an angle, then pop the bike into a wheelie and roll the front tire into the tire basket. As the kids' bikes are a bit short and my Jeep a bit tall, I have to lift their bikes slightly to get the tires into the basket. Once the front tire is in the basket, the bike hangs there easily while I loop the rubber wheel straps around the tires and snap them into place over the bolts.
After all the bikes are loaded, I gently push the bike rack into the vertical position and we're ready to roll.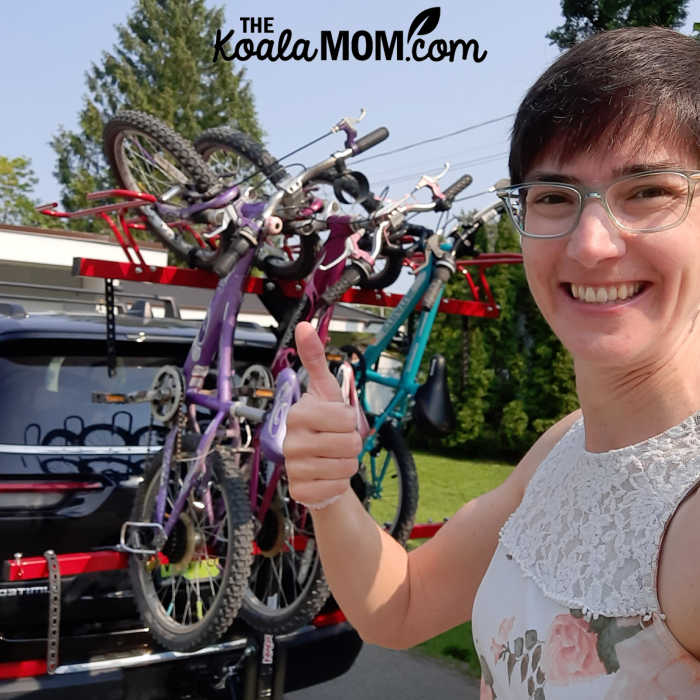 Unloading the Hitch-mount Bike Rack
At the bike trailhead, it was just as easy to get the bikes off the hitch-mount bike rack. This time, I dropped the rack to an angle, unclipped the rubber straps, then rolled each bike off the rack. My 7-year-old took longer to use the Porta-Potty than I took to unload the bikes.
We went for a half hour ride along the dykes and then loaded the bikes up again. In the past, because loading bikes was such an effort, I would have pushed for a much longer ride. This time, because it's so easy to get the bikes on and off, I didn't mind this short ride before we went home to do some schoolwork for the day.
I've also loaded my own bike onto the VelociRAX alone to go for a ride. It's a bit easier to pop into a wheelie and roll onto the bike rack as it's taller than the kids' bikes. Again, it saves me time at the start and end of my ride because it's so quick and easy to get on and off the VelociRAX.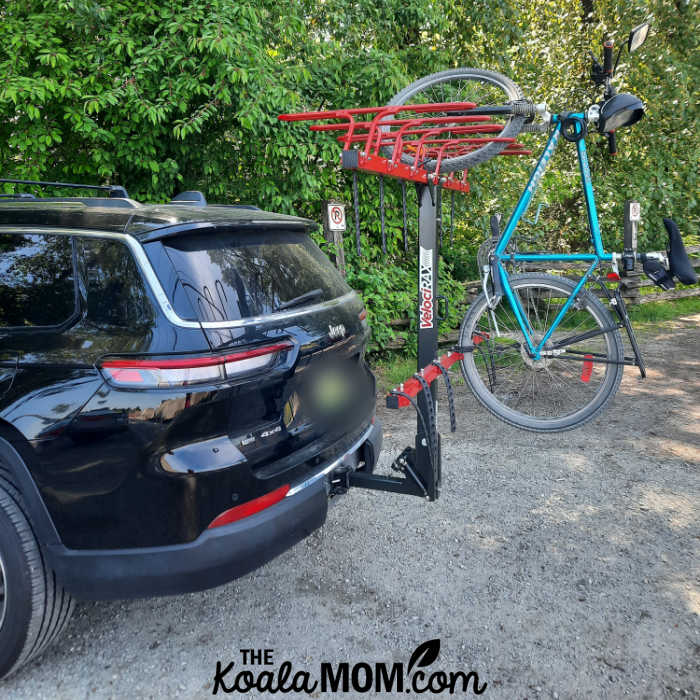 I've noticed much less rattling and shaking in the VelociRAX than my previous rack. It has an anti-rattle bolt installed in the hitch that really helps control the shake caused by road travel.
The only issue I've had with the VelociRAX is that it blocks the back-up sensors on my Jeep Grand Cherokee. I had to turn off the auto-braking as it kept slamming on the brakes when I tried to back up. It still beeps at me annoying when the rack is on, even though I can see quite well past the hitch-mount bike rack using the back-up camera. The VelociRAX actually holds the bikes high enough above my Jeep that my back-up camera gives me a clear view underneath it while I'm backing, so that with my mirrors, I can still back up safely.
Garage Bike Storage
My next project: organize my garage a little bit so that I can set up the garage bike rack. Every VelociRAX comes with a garage racking system—a bar that can be installed on your garage wall to hang the bikes on for easy racking at home.
Currently, our bikes take up about a quarter of the garage because the kids park them wherever and they're all leaning on their kickstands. I can't wait to get the bikes racked neatly in one corner of the garage, to give us more space in the rest of the garage for other projects and storage.
Order Your VelociRAX today!
If you're an avid cyclist hoping to take your bikes anywhere on your vehicle, I highly recommend checking out VelociRAX. They've got a variety of options for every bike and storage need, plus accessories such as locks and lights to add to your bike rack. Their racking system is the easiest I've ever used. As they say, rack 'em fast and spend more time riding!
Drop by the website to learn more about this hitch-mount bike rack system. They've got some great videos demonstrating how easy it is to use.