Growing up in Alberta, raccoons were the thing of storybooks. Now that we live in BC, we regularly encounter them. These furry animals are definitely thriving here in the lower mainland. One family regularly wanders through our backyard, marching with casual aplomb along the top of our fence or chasing each other up the neighbour's tree.
Revenge of the Raccoons is a fun kids picture book that captures the way people and raccoons interact. As we've frequently caught raccoons outside our backdoor, we thoroughly enjoyed reading this book and thinking about how we live around these not-so-wild animals.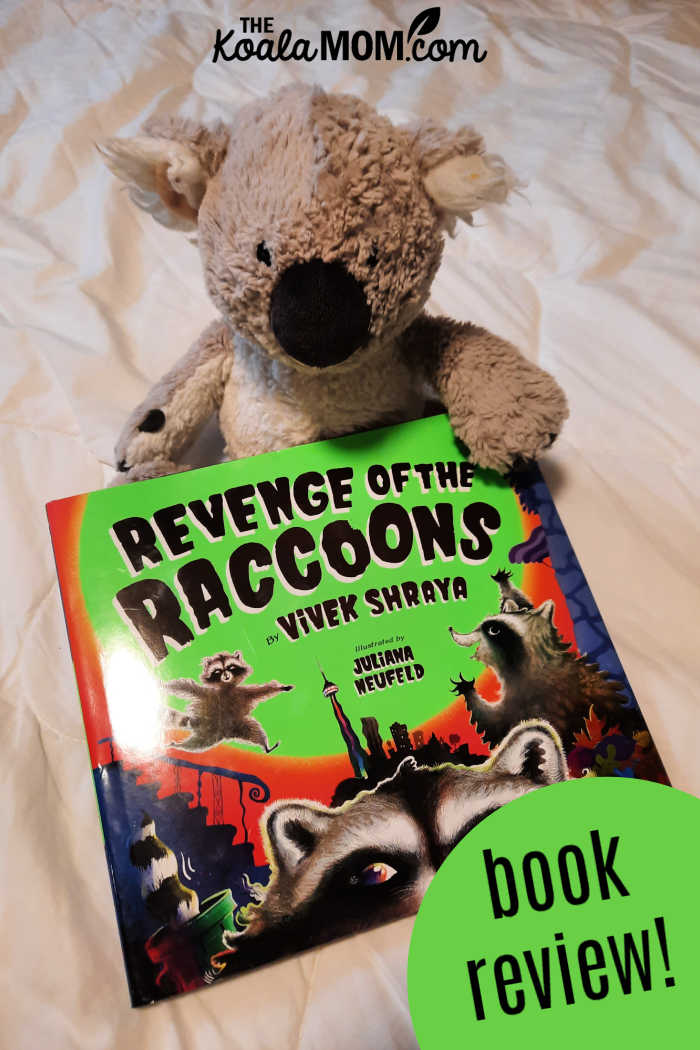 I received this book for review courtesy of the publicist; all opinions expressed remain my own. This post contains affiliate links; as an Amazon associate, I earn from qualifying purchases.
Revenge of the Raccoons
We're furry, we scurry,
we're wild… you worry!
With zany, bright pictures and a rhythmic, easy-to-read rhyme, Revenge of the Raccoons is a somewhat fanciful, somewhat honest look at how raccoons live with people. One page features these "masked bandits" as bank robbers stealing piles of cash, while another page imagines them as Santa figures sneaking along rooftops and into chimneys. Other pages are rather more accurate:
We get in your green bins.
We poop on your grass.
Yep, we've seen that! One night in our previous home, I'd gone to bed when I heard some thumping in the carport beneath my room. Tiptoeing downstairs with a flashlight, I jerked open the basement door and pointed my flashlight outside—at a giant raccoon sitting on top of my green bin. I'd forgotten to latch one side of the bin, so he was repeatedly trying to get the lid up high enough to get at the smelly goodies inside. We stared at each other for a second, and then I closed the door to find something to throw at him. When I reopened the door, he was disappearing under the neighbour's fence.
In Revenge of the Raccoons, the raccoons continue to brag about what they've done, punctuated with the refrain, "We're furry, we scurry, we're wily… you worry!" Then comes a page when the humans ask, "WHY?"
The raccoons answer, "You've been careless oh so long! We've come to right the past…" The story points out that it was humans who first trespassed on raccoon territory. And so now the raccoons are here, adjusting to the urban jungle. Revenge of the Raccoons ends on a thought-provoking note that encourages us to consider the ways we interact with them and other animals as our cities expand.
My thoughts on this book
Revenge of the Raccoons is an engaging picture book that will have most kids laughing. While we enjoy the antics of the raccoons (real or imagined), we can also consider how we as humans cohabit with them. The illustrations have a zombie-ish or Halloween-ish feel and the rhyme can feel like it's marching towards some doom… but the story is also very light and funny, poking fun at our stereotypes of raccoons (such as masked bandits) and what they do.
This would be excellent reading for a classroom on October 1, International Raccoon Appreciation Day. This day encourages people to learn more about raccoons and also consider how to protect their natural habitats. These mammals are native to North America and are also found in Germany, Russia and Japan. While many of us see them as pests who get into garbage and gardens and may carry diseases, we also respect raccoons for their cuteness, agility, and intelligence.
More about the author and illustrator
Author Vivek Shraya has worked in music, literature, visual art, theatre and film. Illustrator Juliana Neufeld is a child's book illustrator and comic artist whose work in inspired by folk art, classic children's literature, and small moments of connection in everyday life.
Revenge of the Raccoons is available from Owl Kids, Amazon, and your favourite children's bookstore. If you see raccoons in your neighbourhood as often as we do, request your library get a copy of this book so your entire community can enjoy it and learn more about these animals.
If you enjoyed this book, you may enjoy The Line in the Sand, also published by Owl Kids.