Toys are fun, but they aren't just meant for fun. You can also use them for learning. Toys can help kids develop various skills and knowledge. Certain toys like puzzles, modeling clay, or magnetic building tiles can spark the imagination and help kids learn to think critically. Other toys like dolls or cars teach kids about the world around them and how things work. So if you're looking for fun and educational toys for your child, here's a list to make your task easier.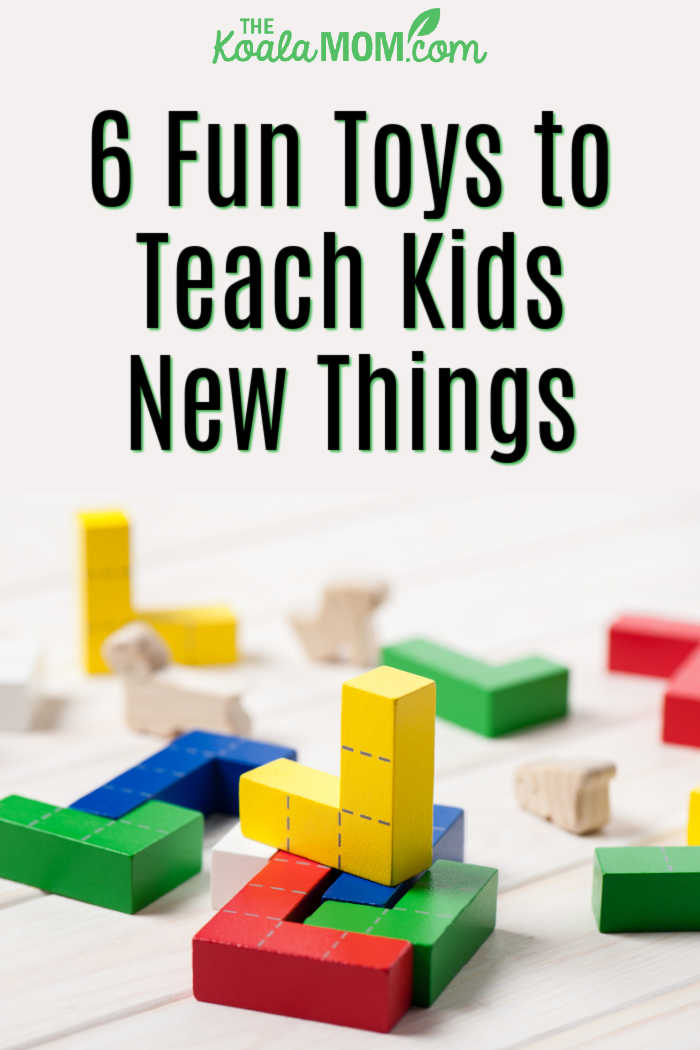 Wooden Puzzle Blocks
Wooden blocks and wooden block puzzles are great toys for children learning about shapes and colours. The wooden blocks can be used to create a variety of patterns and towers, or children can have fun solving the puzzle. Wooden blocks are a classic toy that will last for generations while also delighting kids of all ages. Whether the blocks are brightly coloured or simple wood, kids have fun stacking and sorting and fitting pieces together into a variety of designs.
Modeling Clay
Modeling clay is a great toy for children who want to express their creativity. They can use clay for making all sorts of things, from sculptures and jewelry to toys like cars and animals. My four-year-old son likes driving his toy car through his modeling clay or building mountains for his dinos to stomp in. My daughters prefer to make clay food like cupcakes and pizzas with their clay.
There's no limit to what your child can do with modeling clay, making it an effective way to cultivate creativity and thinking skills. Some modelling clay stays pliable indefinitely, so that kids can make and remake whatever they want. Other modelling clay can be baked in the oven or let dry overnight, so kids can create decor to put on their shelves, gifts for relatives, or play food to add to their toy kitchen.
Magnetic Building Tiles
Open-ended play with magnetic building tiles is a great way to encourage imaginative play. Your child can create anything with magnetic building tiles, from castles and houses to cars. They'll be able to use their creativity and problem-solving skills to make whatever comes into their mind, which will help them develop important thinking skills. Moreover, they can also learn the basics of magnetism along the way.
The best part is that they can use magnetic building tiles repeatedly. You don't have to worry about your child getting bored of them because they'll always have something new to create. Magnetic building tiles also appeal to kids of all ages—my teens play with the magnetic tiles along with their younger siblings. They often create geographic designs while their little brother is trying to build rockets and airplanes.
Interactive Baby Dolls
These dolls are like regular dolls except that they can interact with your child differently and respond to different actions. For example, some interactive dolls will coo when held close or giggle when tickled on the tummy. These toys can be especially helpful for children with autism because they provide an opportunity for social interaction.
Remote Control Cars
These cars are fun to drive, but they require some skill and coordination. This toy can help improve your child's hand-eye coordination while making it easy for them to use their imagination. Choose a remote control car with various settings so your child can learn how to drive it at different speeds. Some models even come with lights and sounds, making them fun for children learning about cause and effect.
Puppets
Puppets are a great way to help your child practice their fine motor skills. Playing with them can also allow your child to express their feelings safely. Children can make up their own stories to tell via their puppets or retell their favourite stories. You can find finger puppets that are easy to take along for on-the-go fun, or larger puppets that require more skill to move.
Manipulating a puppet to enact a story requires your child to use their hands and fingers in a way that can help them develop coordination. This toy is also an excellent way to foster your child's creativity while they role-play with their puppets.
Build or buy a puppet theatre to go along with the puppets, and now your child is also learning public speaking skills. They can present their puppet show to family members (grandparents would be delighted!) or friends. Consider having them prepare a holiday-themed puppet show for an upcoming event, or look for talent shows where they can share their puppetry skills.

Toys are a great way to help your child learn new things. The best part is that they can be incredibly fun! So get out there and have some fun with your kids today by picking up one of these toys.
Do you still have any questions or concerns? Ask us in the comments. We will be happy to help!
Photo credits: Depositphotos.