Porches are the perfect outdoor living space that can be used for both practical and decorative purposes. Whether you want to create a cozy place to relax or make your home look more inviting, you should add plenty of items to your porch. Here are six things to consider adding:
1. An Outdoor Rug
An outdoor rug is a great way to add color and texture to your porch while providing extra comfort when sitting or lounging outside. Additionally, an outdoor rug will help protect the floor from wear and tear, which is especially important if you spend a lot of time on your porch during summer. There are different materials and colors to choose from, so you can pick the one that best suits your style.
2. Outdoor Lighting
Outdoor lighting is a great way to add ambiance to your porch and safety and security when spending time outside at night. With modern outdoor lighting, you can create any type of mood or atmosphere that you desire.
Be sure to install lights in areas that are safe and away from any flammable materials. Also, avoid placing lights too low to the ground, as these fixtures can become tripping hazards. You can find beautiful outdoor lighting fixtures with many options to create the perfect porch.
3. A Parcel Box
Adding a parcel box to your porch can provide added security and convenience. It allows you to receive packages without worrying about them getting stolen or lost while outside. You will also be able to keep track of all incoming deliveries with the parcel box's tracking system. This is a great way to ensure that no important mail gets lost or misplaced.
When deciding on the perfect parcel box, select one large enough to hold all your packages and secure enough to keep them safe from theft. The team at iloveparcels also recommends choosing a waterproof parcel box to ensure that your deliveries stay dry no matter the weather. It would be best if you sourced your box from a reputable supplier to ensure top quality and reliable product. A good supplier should offer a warranty and excellent customer service.
4. Patio Furniture
Adding furniture to your porch is a great way to add style and functionality. Many options are available if you need seating for more people or want something comfortable to relax. This could be chairs, benches, or swings; ensure to choose something that complements the overall style of your porch and is comfortable enough to lounge on for hours.
Adding cushions and outdoor pillows to the furniture will make it more comfortable and inviting. You can also play with colors and patterns to create a cozy feel.
5. Plants and Flowers
Adding plants and flowers to your porch will give it a natural boost. Not only will they beautify the space, but they can also provide extra privacy and even purify the air. Choose native plants that require minimal maintenance and won't be harmed by too much sun or rain. You can even add some potted plants to hang from the ceiling or a balcony railing, depending on what type of style you're going for. Or install a planter box for some extra greenery.
Flowers are also great for adding color and life to the porch. Be sure to water your plant regularly and choose ones well-suited to your climate zone. It is essential to spray them regularly with insect repellent to protect them from pests. If you notice any signs of disease or pests, be sure to act quickly.
6. Decorative Accents
Adding decorative accents like candles and lanterns can help create a cozy atmosphere while also adding a touch of charm to your porch. You can choose from different shapes, sizes, and styles to suit the look you are going for. Be sure to place them in areas where they will be safe from getting knocked over.
Adding art and wall hangings is also a great way to add character to your space. A few pieces of artwork or wall hangings can instantly transform the look and feel of the porch while also showcasing your style.
A weatherproof TV on your porch is the perfect way to relax and watch movies or shows while soaking up the fresh air. It's also great for following sports games or playing video games with friends. Make sure you look for one designed for outdoor use so it can withstand the elements.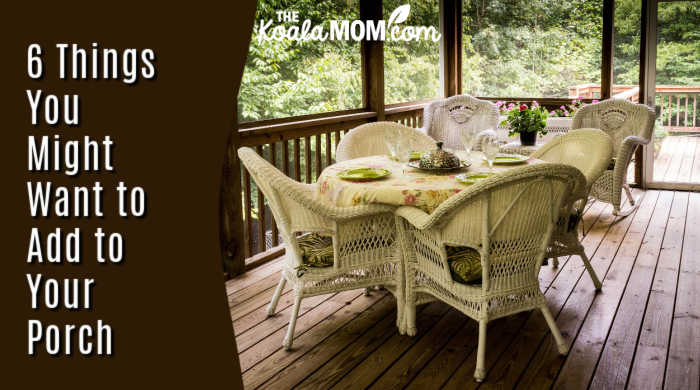 These are some ways to spruce up your porch with style and functionality. With creativity, you can create an inviting outdoor space perfect for entertaining or relaxing in the fresh air. Have fun designing your unique oasis!