Since becoming a Catholic, I've enjoyed learning more about the saints—heroes and examples of the faith. While some saints are the stuff of legends about whom we know little, other saints left behind personal writings so we can learn about their lives through their own words. St. Gemma Galgani was an Italian laywoman and mystic who kept a diary of her experiences.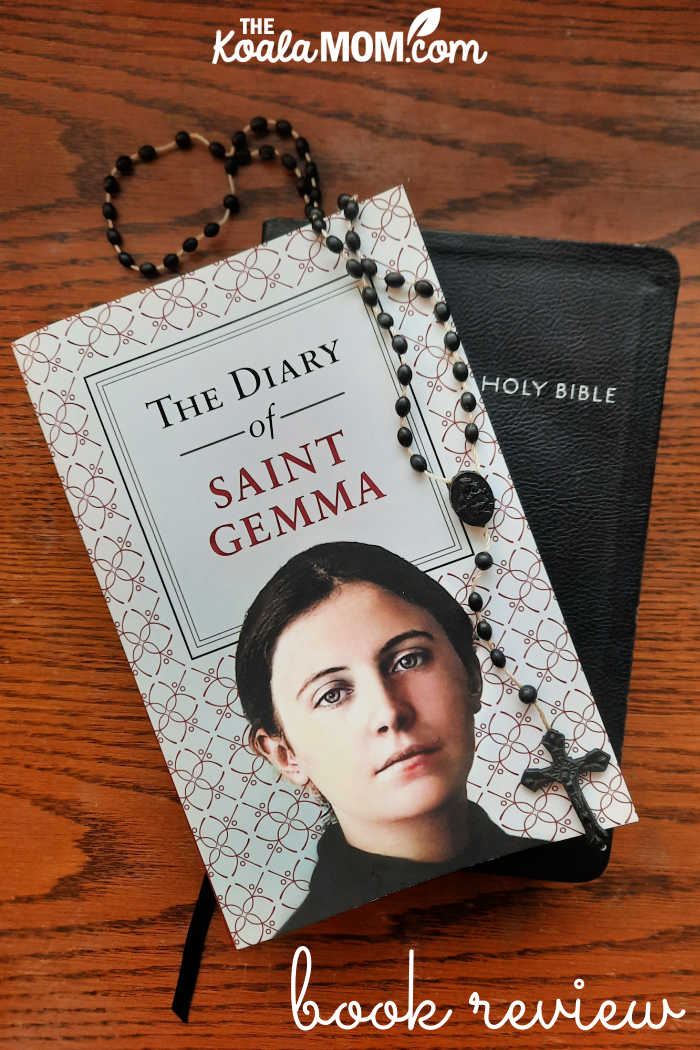 I received this book for review courtesy of the publisher; all opinions expressed are my own. This post contains affiliate links; as an Amazon associate, I earn from qualifying purchases.
Who was Saint Gemma Galgani?
I knew little about St. Gemma before starting her diary, so I ended up doing some googling to put her story into context. Unlike the writings of Sister Lucia Santos about Fatima or St. Therese of Lisieux's Story of a Soul, I didn't find that Gemma's diary stood on its own. It was helpful to read a brief biography to know the background story before reading what she experienced in her own words.
Gemma Galgani was born in Italy in 1878 and died in 1903 when she was only twenty-five. She was the middle of seven children born to her parents, strong Catholics who held a good position in society. The family moved to Lucca just a month after Gemma's birth, and there she grew up. At the age of 3, she was sent to a local school run by religious sisters. Gemma was known as a plump, good-natured child with a deep interest in things of the Church.
Gemma left school at age 7 when her mother died of tuberculosis. As she was dying, Gemma's mother frequently spoke to her of heaven, awaking in Gemma's heart a strong desire to be there too. It was when she was praying for her mother that Gemma first heard God speak to her, asking her to give Him her mother. Gemma and several of her siblings were then sent to live with relatives. After her mother's death, her father's two sisters came to live with him and the children were gathered home again.
Gemma then began to attend school with the Oblates of the Holy Ghost, commonly called Zitine Sisters, in Lucca. She was very happy there. Here, she first showed her love for the Passion of Jesus, asking to hear the story over and over again. Due to ill health, she had to leave school. Then her father died when she was 18, leaving her to be a mother to her younger siblings.
Gemma refused two proposals of marriage because of her deep love for God. She wished to become a nun, but her ill health prevented her. At age 20, she was diagnosed with spinal meningitis, which gave her great pain. She offered her pain up to Jesus but felt bad that people had to take care of her. Then she was healed, which she attributed to the intercession of Saint Gabriel of Our Lady of Sorrows, a Passionist priest.
At age 21, she began receiving the stigmata, which appeared on her hands and feet on Thursday nights and disappeared again on Friday afternoon. She often had mystical visions of Saint Gabriel, Jesus, and Our Lady, and had regular conversations with her guardian angel. As her health continued to decline, her confessor told her to request that she stop receiving the stigmata. She died of tuberculosis when she was 25.
Saint Gemma Galgani was beatified on May 14, 1933 by Pope Pius XI and canonized on May 2, 1940, by Pope Pius XII only 37 years after her death. Her feast day is April 11. She is the patron saint of students, orphans and pharmacists; those suffering from back pain, back injury, headaches and migraines; those struggling with temptations to impurity and those seeking purity of heart.
The Diary of Saint Gemma
The first part of The Diary of Saint Gemma is her autobiography, written just a couple years before her death in 1901. She wrote this reluctantly at the request of Father Germanus, who became her spiritual director. These brief chapters cover her reflections on the first twenty years of her life. Over and over again, Gemma expresses her reluctance to write about her life and her visions and only does so out of obedience to her spiritual director:
The Angel promised to help me recall everything to mind. I told him plainly and pleaded with him that I do not want to do this. I was frightened at the thought of recalling everything, but the Angel assured me that he would help me.
This part of The Diary of Saint Gemma was fairly readable, as she was writing in hindsight. What was lacking here was sometimes more details about her life—she skimmed over various parts that left me curious about what had happened—and sometimes, more details about the people she mentioned. Saint Gemma does paint a picture of her family life and her own desire for Jesus.
The second part of this book is her diary entries from July to September 1900. I found this part harder to read than the autobiography, as it was more immediate and intimate than the first part of the book. Saint Gemma offers even less explanation about people and events around her. She speaks often of having visions of Brother Gabriel, Jesus, and Our Lady, as well as conversing regularly with her guardian angel and sending him on errands for her (such as to ask Jesus for something).
This evening at last, after six days of absence of Jesus, since it was Thursday, I began my hour of prayer, thinking of Jesus on the cross. Then it happened. I found myself with Him suffering, and I felt a great desire to suffer and asked Jesus to give me this grace. He granted it; He approached me, took from His head the crown of thorns, and placed it upon mine and then went aside.
Her guardian angel often scolds her and even seems abusive at times in his harshness with her. At other times, Gemma describes devils appearing to her and trying to tempt her. She frequently suffers with Jesus, bearing the stigmata or His crown of thorns upon her head. She speaks of being "bad," but never mentions particular sins, leaving me to wonder whether she was really so disobedient, just scrupulous, or so close to Jesus that she was hyper-aware of her minutest sins:
I must say that many times, in particular on Thursday evenings, I am overcome with such sadness at the thought of having committed so many since, they all come back to me: I am ashamed of myself, and I feel afflicted, so afflicted. Even last night, a few hours earlier, this shame came over me, this grief, and I find a little peace only in that bit of suffering Jesus sends me, offering it first for sinners, and in particular for me, and then for the souls in Purgatory.
My Thoughts on Saint Gemma Galgani
The Diary of Saint Gemma is a thought-provoking book. Saint Gemma's prayer life as a mystic is so completely different from anything that I've experienced that it was challenging and confusing to read her diary. Her deep, deep love for Jesus and her desire for heaven shone through all her writings. Suffering was nothing to her because of her love for Jesus, and her greatest desire was to spend hours in prayer with Jesus or with Our Lady or another saint.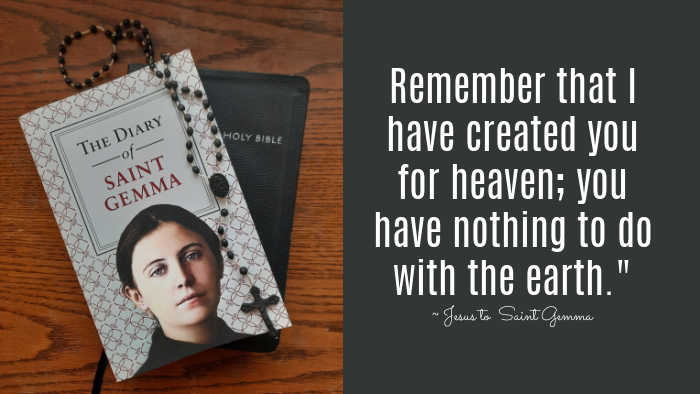 Clearly, not all of us are called to be mystics and experience the stigmata or visions of Jesus. And yet there is still much we can learn from St. Gemma's unique prayer life and visions. She gives us a glimpse into the supernatural world and the effects that our prayers and sufferings have.
The Diary of Saint Gemma is available from Sophia Institute Press, Amazon, and your local Catholic bookstore.