Working with children is an extraordinarily rewarding career choice, with many different avenues you can explore when seeking out your dream job. However, the competitive nature of some positions means you may need to stay one step ahead of everyone else. Here are four steps we think you should consider when embarking on your career working with children.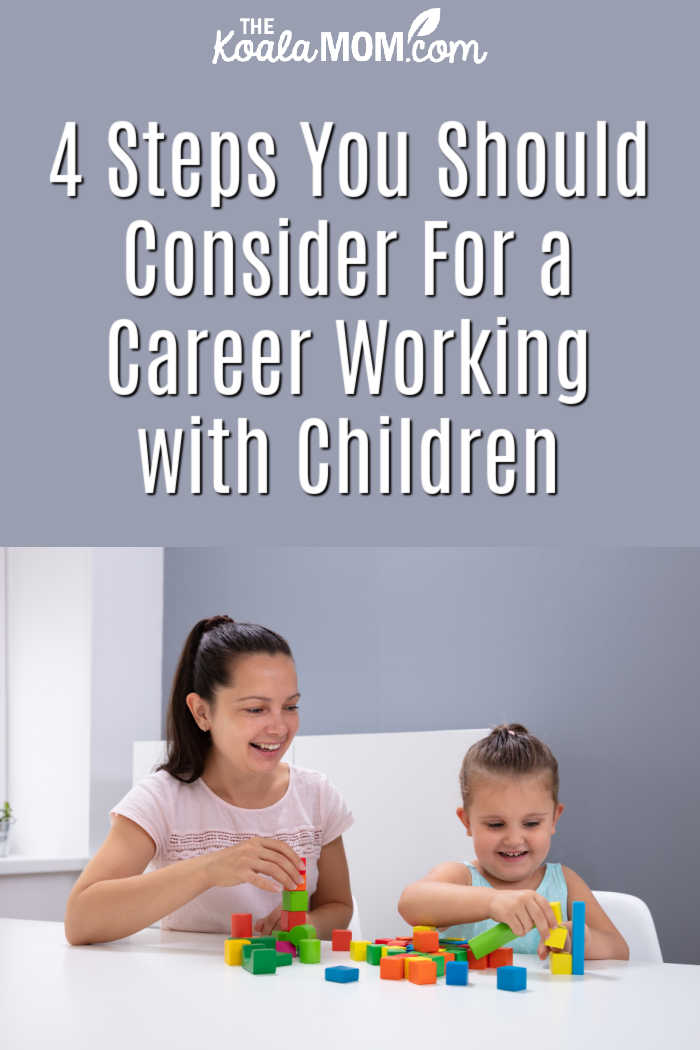 1. Work Experience is Key
Work experience is essential for helping you achieve an advantage amongst your competing candidates. By engaging in work experience, you can learn and demonstrate skills that you can later talk about in interviews with prospective employers.
It is likely that in interviews for most positions, you will have to demonstrate your competency by interacting with children, and this will be significantly easier if you have already done so in a less formal situation and can demonstrate your awareness of risks and dealing with stressful and unexpected situations.
One excellent way to gain work experience is by volunteering. My oldest has recently decided she wants to be a teacher, so I've encouraged her to start volunteering now to gain experience towards that goal. She's helped out with catechism classes at our parish and enjoys babysitting for friends. Local schools and community organizations may also have volunteer opportunities.
If you are a mom looking at re-entering the work force now that your children are in school or grown, don't discount the experience you gained in raising them. There are creative ways to outline your experience as a mom on a resume to make you look good to prospective employers. A friend of mine who worked in human resources before having kids recently went back to work as an education assistant, thanks in part to the experience she'd gained in being a homeschool mom for several years.
2. Complete a Course
Completing a course in your desired area of study will send you a long way in helping you to get started with your dream career. Many childcare positions require certain diplomas or certifications for any candidates. If you have a particular job or position in mind, look at what education is required for that position and then look at your options for completing that education.
These days, many courses can be completed online or part-time, making it easier to get certified in a particular area. For a wide variety of courses, take a look at universities like Anglia Ruskin, who offer courses in Early Childhood Studies and Child and Adolescent Mental Wellbeing. These courses are designed to maximize your learning experience and consolidate your skill set, ready for you to advance into your new career.
These courses are also perfect for topping up your knowledge for those in an existing career, as they can be studied in your free time around your work commitments.
3. Teach While Travelling
Teaching while travelling is a great way to gain work experience, but to also reflect on how different children learn in different cultures. You can volunteer to teach in many countries from Ghana to Thailand with organizations like Global Work and Travel. All you will need is a TEFL qualification and a valid passport.
However, schemes from different providers may include different entry requirements, visa details and costs, so it would be wise to check the small print when signing up.
4. Start from the Bottom
If you're a recent school leaver, or shifting careers, you may need to start from the bottom of the ladder and build on your experience gradually. This may include beginning by volunteering for a charity or organization, and gradually building up to paid roles and employment.
This worked for my mom. She stepped away from working and volunteering for over a decade while she was raising my brothers and I. When my youngest brother was finishing high school, my mom began volunteering at our local pool. She slowly renewed her prior qualifications and certifications and worked her way up to a part-time position and then a full-time position. Now, as she starts to consider retirement, she's the program director at the pool.
You can use tools like the UK government's Prospects website to find relevant work experience and volunteering opportunities. Although many would regard this as a long process, employers tend to be more favourable towards candidates who can talk at length about their relevant experience in the industry.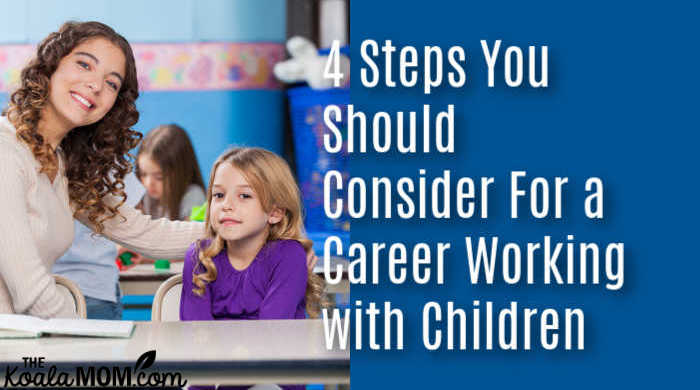 Do you have any tips for beginning a career working with children? Leave your answer in the comments below!
Photo credits: Depositphotos.