If you have a tall baby, it can be tough to find the perfect walker for them. There are so many different options on the market that picking the right one can seem overwhelming. You don't want to invest in a product that won't last, but you also don't want to skimp on features and end up with something your child doesn't like or can't use. So, what's the best way to go about it?
In this blog post, guest blogger Amy Vincent will discuss some of the key factors you need to consider when choosing a baby walker for your taller child and what types of baby walkers are available on the market. So keep reading!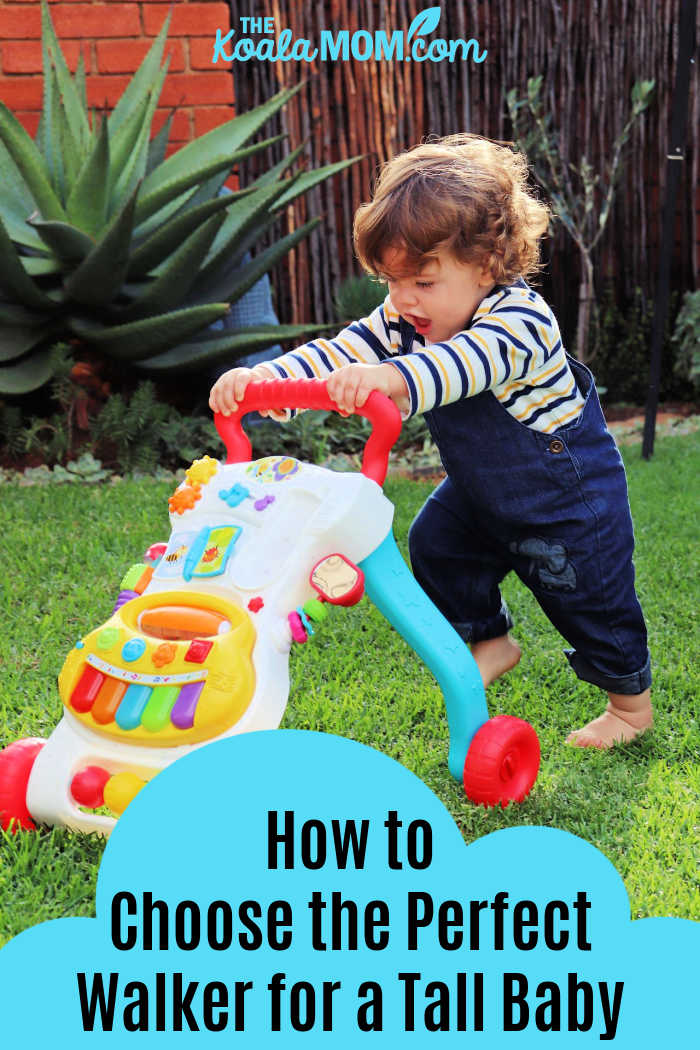 This post contains affiliate links; as an Amazon associate, I earn from qualifying purchases.
What Are Things to Consider When Choosing a Walker for a Taller Baby?
When looking for a baby walker for your taller infant, you need to consider a few key factors to find the best one for their needs.
Height: You will want to make sure that the baby walker you choose is tall enough for your child so they can use it comfortably.
Weight: Make sure to check the weight limit of the baby walker before purchasing as some models are not suitable for heavier babies. This is especially important if your child is on the taller side as they may weigh more than average.
Comfort: The baby walker seat should be comfortable and supportive, especially if your child is going to be spending a lot of time in it. Look for a seat with good padding and adjustable straps to keep your child securely in place.
Wheels: The baby walker wheels should be sturdy and lockable so that it doesn't move around too much when your child is using them. You may also want to consider getting a model with brakes for added safety.
Snack tray: The tray on the baby walker can be useful for holding toys or snacks while your child uses it. Some models even have removable trays, which can be handy for cleaning or if you need to use the walker for storage purposes.
Safety: As with any product for babies and children, safety is of the utmost importance when choosing a baby walker. Look for a model with features such as an adjustable seat, brakes, and a sturdy frame to ensure your child can use it safely.
Adjustable Heights: This is an important feature to consider, especially if you have a taller child. You want to be able to adjust the height of the baby walker so that it's comfortable for your child to use as they grow.
Foldable: A foldable baby walker can be useful for storage or transportation purposes. Some models even come with a carrying case to make it even easier to take with you on the go.
Price: As with any product, the price is always a factor to consider. Baby walkers can range in price from around $30 to $200, depending on the features and brand.
Design and Build Quality: It's important to choose a baby walker that is well-made and has a sturdy design. This will ensure that it lasts longer and can withstand the wear and tear of everyday use.
Cleaning: You will want to choose a baby walker that is easy to clean and keep sanitary for your child. Look for a model with removable tray covers or washable fabric seats.
These are the things you need to keep in mind when choosing a baby walker for your taller child. Amy has a complete list of walkers for tall babies on her blog.
What types of baby walkers are available on the market?
There are two popular types of walkers: classic and sit-to-stand. Let's compare the two to see where they differ the most.
Classic Baby Walker
Classic models are the oldest type of walker and have four legs with rubber or plastic wheels. They usually have a tray in the front where your baby can put snacks or toys. Some models also come with a built-in activity center so your little one can be entertained while they move around.
They have a wide base that makes them stable, but they can be difficult to maneuver around furniture. Some classic baby walkers also have a higher seat, which can be uncomfortable for shorter babies.
Most classic baby walkers come with a detachable seat so you can wash them as needed. They are made from non-toxic materials, making them safe for your baby to use.
Sit-to-stand Baby Walker
Sit-to-stand baby walkers have a different design from classic models. They come with a handle that your baby can grip to steady themselves as they stand. Then, the baby pushes the walker to move around.
These walkers are less expensive compared to classic models. They are also more lightweight and easier to fold, making them more convenient to travel with.
Some sit-to-stand baby walkers have a built-in activity center so your baby can be entertained while they move around. The activity center usually has lights and music to keep your little one engaged.
These walkers are for older babies who are already sitting up on their own. They help your baby develop their gross motor skills and coordination.
Do taller babies have a harder time walking?
"Bigger babies need more muscle strength to get up," says Kate Kelly, Managing Editor for American Baby Magazine. "A larger kid may take a little longer to walk than a smaller one because they need greater muscular strength to support their body weight."
When it comes to taking those first steps, size doesn't seem to matter quite as much. "There's really no difference in the ability of big babies and small babies to learn how to walk," says Kelly.
So even though your little one may be on the taller side, there's no need to worry that they'll have any trouble getting around when the time comes. Just like everything else in parenting, every baby is different and will develop at their own pace.
So if your little one is tall for their age, they may just need a bit more time – and muscle strength – to get moving.
What age does a baby outgrow a walker?
Most babies will outgrow their walkers by around 9 to 12 months old. However, some may continue to use them until they are 15 or 16 months old. If your baby seems to be enjoying their walker and is still getting good use out of it, there is no need to rush to get rid of it. Ultimately, you will know when it is time to move on from the walker based on your baby's development and preferences.
For more information about baby walkers, you may visit Amy Baby Review blog.
Thanks for reading this guide on how to choose the perfect walker for taller baby. We hope you've found this article helpful and informative. To sum up, we just want to mention that baby walkers are a great way to help your little one develop their gross motor skills and coordination. And even though taller babies may take a bit longer to walk, they will eventually get there with a little time and patience.
So if you're looking for a baby walker that's perfect for your taller child, be sure to keep the factors we've mentioned in mind. Thanks again for reading!