For many of us, celebrations of any sort revolve around food. When I'm planning my kids' birthdays, the first thing I ask them is what they want for supper and what type of cake I should bake. When I'm thinking about Christmas and Thanksgiving, I'm planning what to cook with the turkey this year. And when I think about liturgical celebrations throughout the church year, food often comes up again. The Lenten Cookbook by David Geissner and Scott Hahn is not only a recipe book but also a guide to the season of Lent.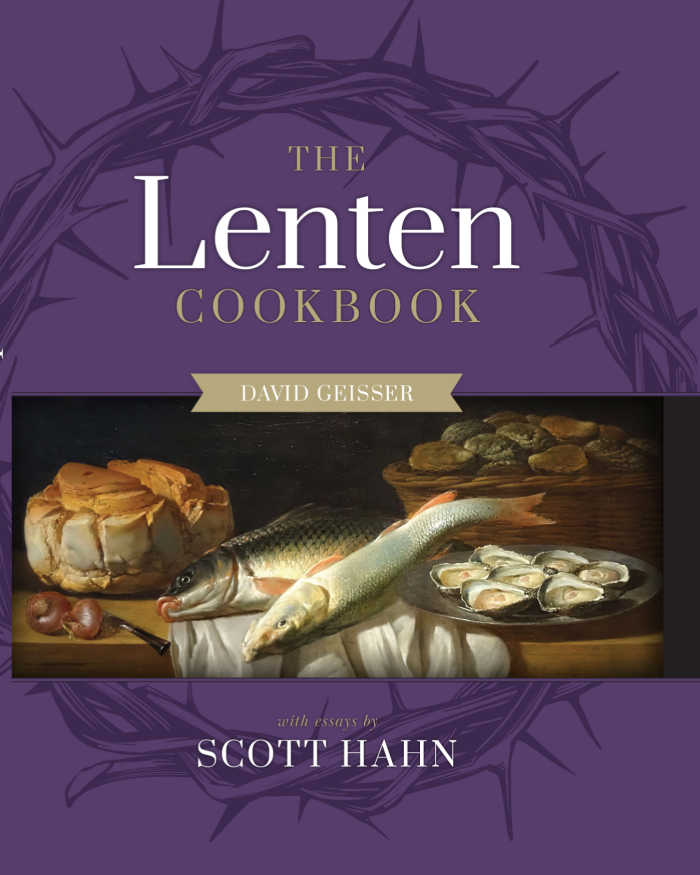 I received a copy of this cookbook for review courtesy of the publisher; all opinions expressed remain my own. This post contains affiliate links; as an Amazon associate, I earn from qualifying purchases. 
Now, when most of us think about Lent, we may think about fasting before food. Lent is traditionally a penitential season in the church, and people used to celebrate with "Fat Tuesday" just before Ash Wednesday in order to get the eggs, sugar, and other "treats" out of their house before the fasting began. The Lenten Cookbook includes scores of meatless dishes to fit with this sense of fasting. Remember that even during Lent there are some feast days, including every Sunday, so the cookbook also includes some desserts and fancier meals.
The Lenten Cookbook, like The Vatican Christmas Cookbook, isn't just a cookbook. It's also a guide to this liturgical season. Essays from Biblical scholar Scott Hahn accompany the recipes, with reflections on the the history of fasting and how it affects our spiritual growth, as well as other ways to practice a holy Lent. The Lenten Cookbook will also teach you about some lesser-known traditions, such as St. Martin's Lent, Ember Days, and Rogation Days.
Sitting around the table with lentil soup and bread and local friends, or even eating a tuna fish sandwich while Zoom-visiting (or alone), we are nevertheless participating in traditions that transcend our time and our geographical location. We are joining not only our fellow Catholics all over the world but the great cloud of Christian witnesses through the centuries. ~ Haley Stewart on A Word on Fire
As I've grown in my faith since my conversion in 2007, I've really come to appreciate the liturgical seasons of the Church. These seasons mirror the natural seasons of the year, with constant change and yet familiarity, but also mirror seasons within our own lives. Lent and Christmas are special times in the Church year when we want to do more or connect more deeply with our faith. Award-winning chef and former Vatican Swiss Guard David Geisser provides a way to make the food we eat during these seasons delicious and yet also deeply meaningful.
I love trying new recipes. I often borrow new cookbooks from the library, read through them, tab anything that looks delicious, and run off to the grocery store. I've learned that the kids don't always share my enthusiasm for something new on the table. These days, I often get my girls to read through the cookbooks first and tab the recipes they want to try. Often, they can help me cook too, and so we enjoy the time in the kitchen together. The Lenten Cookbook offers a nice mix of traditional, kid-friendly Lent fare (like homemade hot cross buns, several ways) and more rigorous recipes that the kids may not like as much (hey, try them with a friend!).
As you consider your Lenten journey this year, and ways to make it more meaningful for your family, I encourage you to check out The Lenten Cookbook. I thoroughly enjoyed The Vatican Christmas Cookbook and can't wait to see what Geissner has come up with for Lenten meals and treats.
Feeding a family of eight requires some cooking gymnastics. The Lenten Cookbook helps me deliver beautiful, fresh recipes to my family that bring a little piece of our liturgical calendar to the dinner table. Mom approved! ~ Leah Darrow, author and founder of Lux University
The Lenten Cookbook is available from Sophia Press, Amazon, and your favourite Catholic bookstore.