Specific learning disorders affects 5-15% of the school-age population in the US. One subtype of this disorder is dyslexia, where a child has problems with word decoding and recognition. As a result, children with dyslexia face delayed language development, difficulty in reading (and writing), and a limited vocabulary.
While children with dyslexia might do normal in school for some time, their academic performance ultimately declines and they start lagging behind their peers (which is how this condition might present).
It's important to realize that dyslexia is NOT equal to intellectual disability. In fact, one diagnostic criterion for dyslexia is that the child must not have an IQ of less than 70. Children with dyslexia have normal intelligence — they can perform well in school but are unable to reach their full potential because of language difficulties.
So in this article, we'll discuss some of the strategies you can use at home to help your dyslexic child achieve their full potential.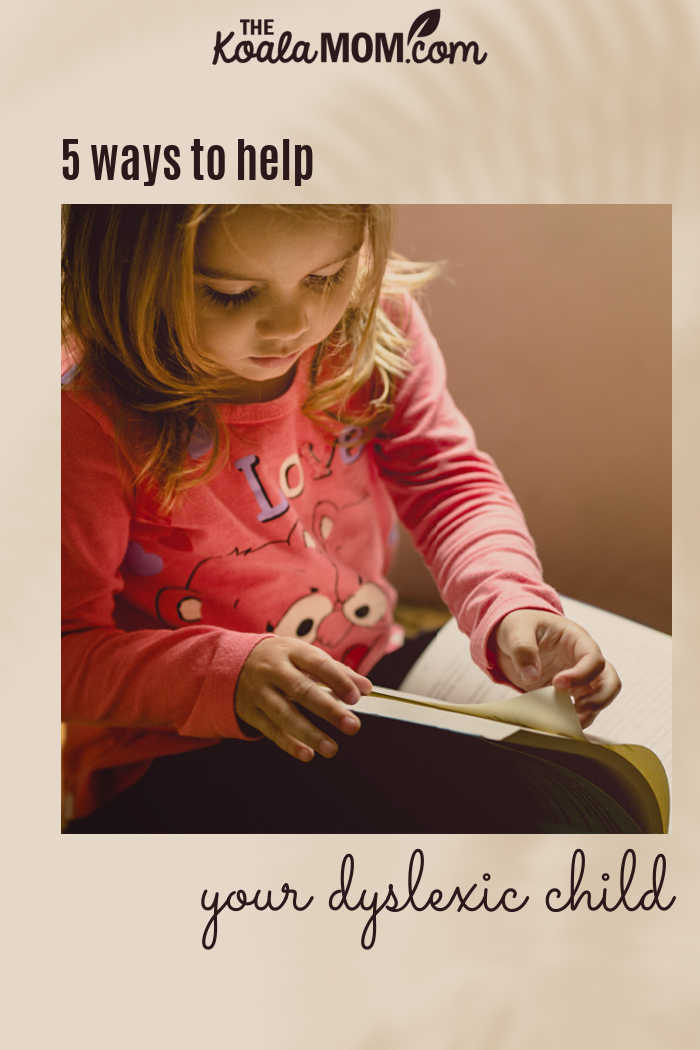 But before we begin, please note that these ideas are not a substitute for professional treatment — if you think your child might have dyslexia, please seek professional guidance. Here are some resources to help you out.
Begin with emotional support.
Since children with dyslexia have normal intelligence, they are well aware of their learning difficulty. They're also aware of their declining academic performance, which is why they may develop low self-esteem and anxiety.
When I wondered if my daughter was dyslexic a few months into Grade 2, she was already aware of the problem herself. She felt embarrassed that she couldn't read as well as her peers in the classroom, and she avoided reading aloud there. She'd figured out ways to hide her reading struggles from her teachers and classmates, but I picked up on it.
When dealing with a dyslexic child, your first step should be to provide them with emotional support. Begin by educating them about dyslexia. Help them realize that the condition is not their fault and that they are not alone in it. You can remind them that one of the most intelligent men known to history—Albert Einstein—also suffered from dyslexia.
It's also a good idea to celebrate small successes, focus on your child's strengths, and remind them that you are on their side (and that they don't have to go through dyslexia alone). All of this will boost your child's confidence, which will help them go through dyslexia a lot more easily. Here is Business Insider's take on raising confident kids.
Nurture reading.
Children with dyslexia find reading extremely difficult, which makes them anxious. And children will do everything they can to avoid anxiety-provoking situations. This means if you don't promote reading at home, your child will distance themselves from it more and more as time passes. And this will cause the gap between them and their peers to increasingly widen.
One of the best things you can do for your dyslexic child is help them read. If they're too young to read, you can read out to them. As they grow older, dedicate some time to reading together with your child. Although my oldest is now 13, I still regularly read aloud to all my kids. It's a great way to foster family connections as well as encouraging their love of reading.
You must keep in mind that children with dyslexia tend to memorize words (because they have a hard time decoding them spontaneously) and that's perfectly fine.
It's a good idea to get books with plenty of pictures. Pictures provide contextual clues and make reading easier and more enjoyable. Graphic novels are a great option as much of the story is told by pictures, with speech provided in short, brief sentences. Prompting a dyslexic child to make use of pictures for comprehension is a good practice.
When searching for reading material for your child, it's important to find out their interests. Your goal is to make reading as enjoyable for them as possible. You can also try out audiobooks and encourage your child to read along with them. Here are some websites to check out for good audiobooks according to Tech Radar. We've listened to many audiobooks and radio theatre productions together, especially while on road trips or driving to and from school.
It's worth noting that as you help your child with reading, they might develop favorites and ask you to read them again and again. Repetition helps dyslexic children read and understand better, so be patient with them no matter how boring it gets.
Finally, it helps if you and your spouse are readers, something your dyslexic child can emulate.
Here are some specific techniques you can use to help a dyslexic child read. You can also check out these dyslexia-friendly books, which are a good starting point for your child.
Connect them to a private tutor.
Dyslexic children need individualized educational programs to help them through academics. It's often difficult for teachers to pay extra attention to one particular child in a classroom, which can leave dyslexic children feeling anxious, confused, and unable to keep up with their peers. When I spoke with my daughter's teacher about her reading problems, the teacher flat out told me that she couldn't do anything about it in the classroom as she had 15 other children to help. She was happy to support me with resources to work on my daughter's reading skills at home.
So one of the best things you can do for your child is to connect them with a tutor who knows the best strategies for teaching dyslexic children. This will not only improve their academics, but also boost their confidence. This increase in confidence will help them interact with their school teachers and peers more comfortably.
Since children with dyslexia are sometimes anxious, in-person private tutoring might not be suitable for them. Luckily, many platforms now offer online special needs tutoring, so be sure to check them out. Or you can find reading curriculum that you can use yourself with your child to supplement what they are doing in school.
Help them out with assignments.
School assignments are one of the hardest obstacles a dyslexic child has to face. And your help and guidance with assignments can make their life a lot easier. When helping your child out with their assignments, you shouldn't do it for them. This not only hinders learning but is also not good for their self-confidence.
Instead, the goal is to help them develop good study habits that they can continue using in the future. And a Master File containing successful strategies, mnemonics, and procedures and rules is an excellent place to start. You can use Google Docs to create this file (which will let you collaborate with your child if they're old enough).
Introducing your child to online learning resources is a good idea when it comes to assignments. You can also leverage text to speech technology to make things easier for your child if an assignment allows it. Here are five reasons you should use online learning tools at home.
It's a good idea to collaborate with your child's teachers. By helping them understand your child's condition, you can convince them to facilitate him when handing out assignments. For example, teachers can use tape recorders to record instructions and highlight important lessons.
Your child can then listen to these recordings and understand the assignment requirements better. Teachers can also simplify written instructions via bullet points, highlighting the most important bits, and using straightforward language.
Here's a useful guide by Reading Rockets on how teachers can facilitate dyslexic students in a classroom setting.
Keep learning fun.
Finally, understand that learning is a struggle for children with dyslexia. And the worst thing you could do is make it boring. As a parent, your goal is to instill a love for learning in your child. You can do this by providing your child ample hands-on opportunities (because some children learn the best by doing things).
Other learning styles also exist, and you can read more about them here. Make sure to incorporate your child's learning style when teaching them at home. My daughter's reluctance to read wasn't caused by dyslexia, but switching our reading curriculum to one that used more crafts, pictures and hands-on activities helped make reading more fun for her and broke through her reluctance to read.
Using music, poems, and games that help your child remember stuff is also a good idea. Here are some more ideas on how to make learning fun by Lifehack.
You can also check out these 5 fun teaching activities for parents of kids with special needs.
Has your child been diagnosed with dyslexia? What helped you realize their struggle with reading? What tips or resources have you found to help your dyslexic child overcome their disability?
Photo by Jonathan Borba on Unsplash.