Money. That's a big topic in anyone's life.
From my 3-year-old and 5-year-old who love playing with the pennies, nickels and dimes I keep around for their math lessons, to my 11-year-old and 13-year-old who are earning babysitting money now and planning where to spend it, to me trying to pay the bills each month—money occupies a great deal of our thoughts.
As I try to teach my kids money does not grow on trees (or just magically appear on that little card I tap at the grocery store), I'm glad to have tools like the Mydoh app and Mydoh Smart Cash Card to help.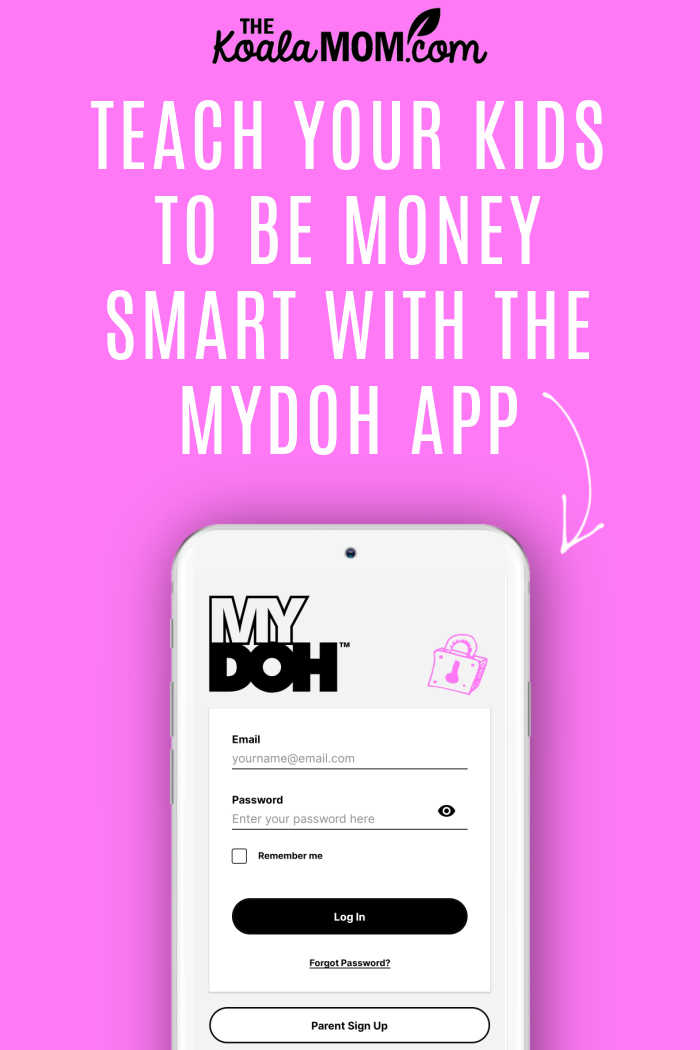 I received compensation for this post; all opinions expressed are my own.
What is the Mydoh app?
Mydoh is a money management app for parents and kids. With this app, your children can earn, learn and spend their money—smartly. And we're talking real money here. This app helps you assign your children an allowance or tasks which they earn money by doing, then give them that money and monitor how they spend it. You simply add cash to your Mydoh wallet, and you can set up a weekly allowance or Mydoh can pay out your child upon completing the chores you've tasked them with.
Kids get their own Mydoh Smart Cash Card, which they can use anywhere Visa is accepted. When your child uses their card and spends money (up to allowable limits), you can see what they've purchased and discuss that with them. (And if they lose the card or misuse it, you can lock it in the app.)
With Mydoh's Savings Goals feature, kids have the opportunity to make better money decisions and save money towards specific things they have their eye on. Kids can save by moving money from their Spend account into either of their savings buckets (Goals or General Savings), and they can set up to 3 goals at a time. Kids can easily track their goals on the app to check how much money and time are left to complete them.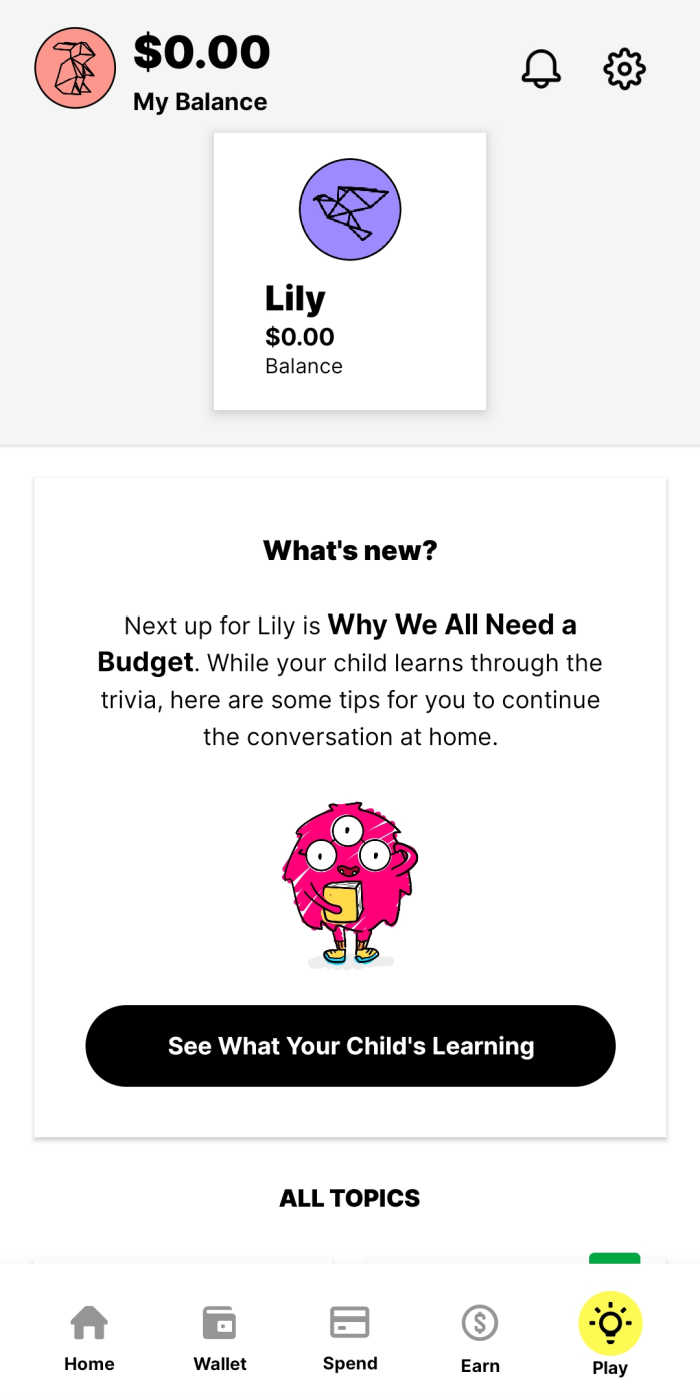 How does the Mydoh app work?
I first set the Mydoh app up for my 11-year-old, Lily. I installed the app on my phone, logged in and created my account, then sent her an invitation to join. She installed the app on her tablet, opened her email to get the invitation, and created her own account. Once she had done that, Mydoh mailed her Smart Cash Card out to her.
Sunshine had a busy week at school and didn't respond to the first invitation I sent her to join Mydoh. Then her sister's Smart Cash Card arrived in the mail. Suddenly Sunshine was very interested in having her own Mydoh account. I soon got a notification that she'd installed the app on her phone and created her own account. Her Smart Cash Card is now in the mail to her.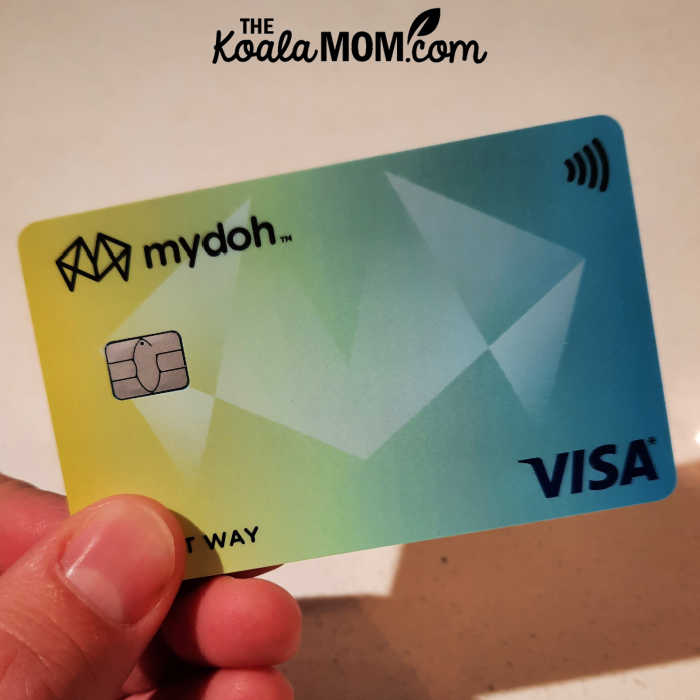 Hands-on Money Skills for Children
While money is a topic that most of us spend a lot of time thinking about, it's also a topic that is hard to explain to kids. My 5-year-old asked me the other day why I kept a jar of pennies, nickels and dimes in my desk instead of taking it to the store and spending it. She didn't understand that this pile of money that looked so big to her was really worth almost nothing.
Sunshine started babysitting a couple years ago, and we've had various discussions about her babysitting money. She's done a good job of saving for some big expenses (such as paying for summer camp for herself for the past two years) and treating herself once in a while to some candy or gum. At Christmas, she also generously bought each of her siblings a present (which then made them decide to buy each other presents, which involved Mommy's money…)
I set up a bank account for Sunshine around the time she began babysitting, to help her keep her money safe. She was earning enough that I didn't think it should just sit in her wallet, but if I put it in my own account and tried to keep track of it, I usually forgot how much money she had.
Having a children's bank account connected to mine has let me transfer money back and forth when she earns it or needs it. But actually paying for things sometimes gets complicated, because she either needs to ask me to withdraw cash for her or have me pay for it with my card.
Last week, we went shopping at Michael's. I've asked her to crochet a shawl for me to wear to Mass, so we wanted to buy yarn for that project. Of course, it's hard to walk out of Michael's with just the yarn we actually needed. We found yarn for multiple projects, glue sticks for school, plastic bins to organize her yarn, and a new amigurumi crochet book. After checking out, we were trying to figure out who owes who money. I owed her for some babysitting but now she owes me for the bins and book.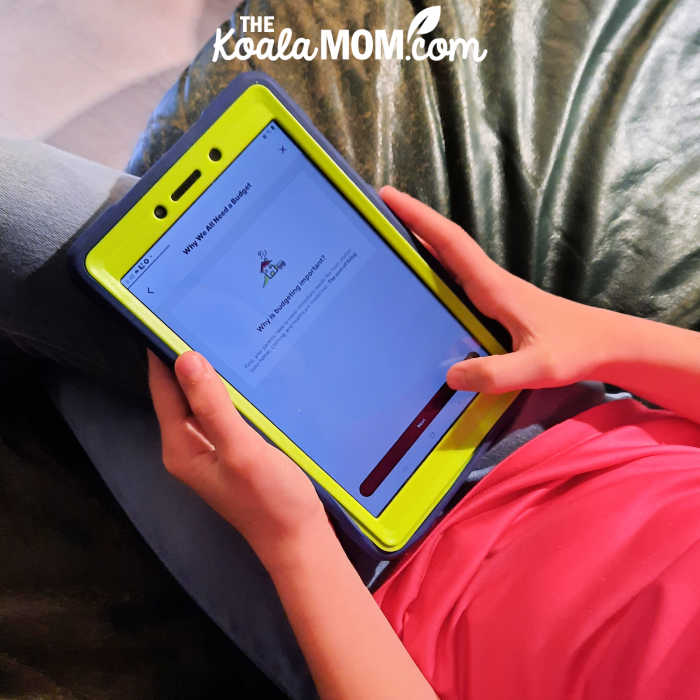 The Mydoh Smart Cash Card simplifies some of this. It's easy for me to transfer money from my account to my Mydoh wallet in the app and then onto Sunshine's Smart Cash Card. For example, in the past week, Lily earned $5 babysitting for me and $20 babysitting for a friend of ours. My friend paid me via Interac transfer for Lily's babysitting, and I transferred that into Lily's Mydoh account. She can see her balance when she logs into the app. Next time Sunshine wants to buy something, she'll have her own card to use for the purchases.
Earning Money in the Mydoh App
As most of us know, change and cash are no longer used very often. The pandemic has pushed us further into a cashless society, whether credit or debit cards are used for all purchases. My children see me paying for everything on my credit card (although they don't usually also see me checking the bill to keep track of where I've spent my money).
While they like playing with money, it's also rather novel. We use coins mostly for math, and very little for actual purchases. The Mydoh app lets my kids learn to manage their money much the same way I do—by using a card for purchases and tracking those purchases in an app.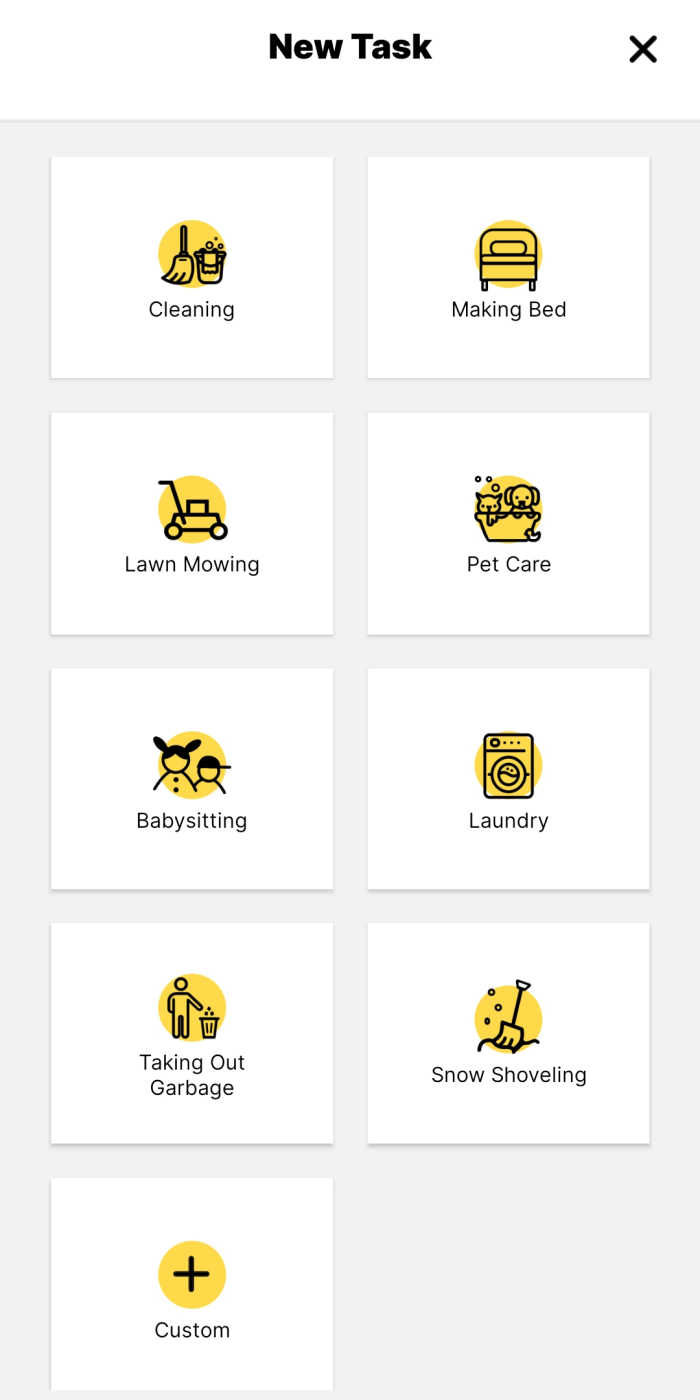 The Mydoh app has some suggested tasks that you can assign for your children, or you can create a custom task. You can then assign this task to your child as a one-off task or as a weekly, recurring task. You can set different tasks for each child in the app, so maybe your older son is mowing the lawn while your younger daughter has to feed the dog.
Once the child has completed the task, they can check it off in the app to earn their money. Saturday is Pay Day, when the app will transfer money from your Mydoh Wallet to their Mydoh Smart Cash Cards, if the tasks are checked off.
Mydoh is meant for children ages 6 and up. Currently, my oldest daughters are using the app because they both have their own devices. I don't give my children an allowance, and I don't pay them for household chores—that's part of contributing to our family. Babysitting goes above and beyond, so that is something I pay my older girls to do. I do like having the option of "extra" tasks I could ask a child to do in exchange for money, so I may consider something like that for Jade too (especially as Christmas approaches).
Basically, you can customize the app to work with your family values and ideas around money. If your kids get an allowance, great! The app makes it easy to pay. If your kids earn money for making their bed, great! The app makes it easy to pay. If your child is motivated by earning money, then Mydoh could be the perfect way for him or her to do some extra jobs and see how it adds up on their Smart Cash Card.
A Parent-Friendly App
One thing I really like about this app is that it's clean and user-friendly. I gotta admit, since school has started, life has gotten chaotic. I found out about Mydoh several weeks before I actually got around to putting it on my phone and setting it up for Lily. Once I did, though, I was glad I had done it—and it took way less time than I expected to get both girls started. The Mydoh app is easy to navigate, making it perfect for busy parents.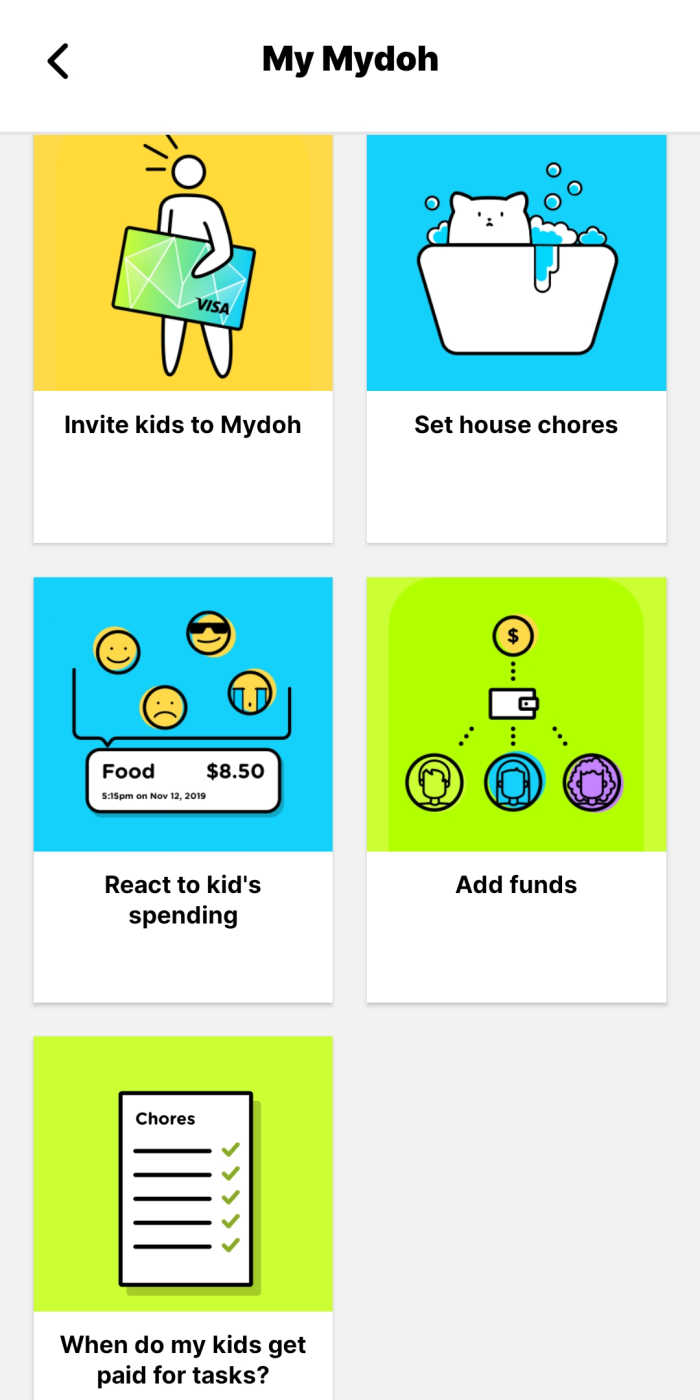 Set up Mydoh for Your Kids Today!
Mydoh is available on App Store and Google Play. Simply download the app, create your account, and invite your kids to join. You'll get a free 30-day trial to see how it works for your family and what your kids can learn. After the trial, MyDoh is only $2.99 per month. You can add up to 5 children for no extra cost.
Use the code SMART15 and get $15 deposited into your Mydoh account when you sign up for Mydoh. Offer expires 1 July 2023.
How do you teach your kids to be money smart?