As a teen, I read through my Bible numerous times. As a mom, I still read my Bible regularly, but I struggle with how to introduce it to my kids. Much of the Bible is difficult even for adults to understand. Many kids' Bibles simplify the stories too much and leave out the hard parts. So when I saw Through the Year with Jesus: Gospel Readings and Reflections for Children by Katherine Bogner, I couldn't wait to read it with my kids.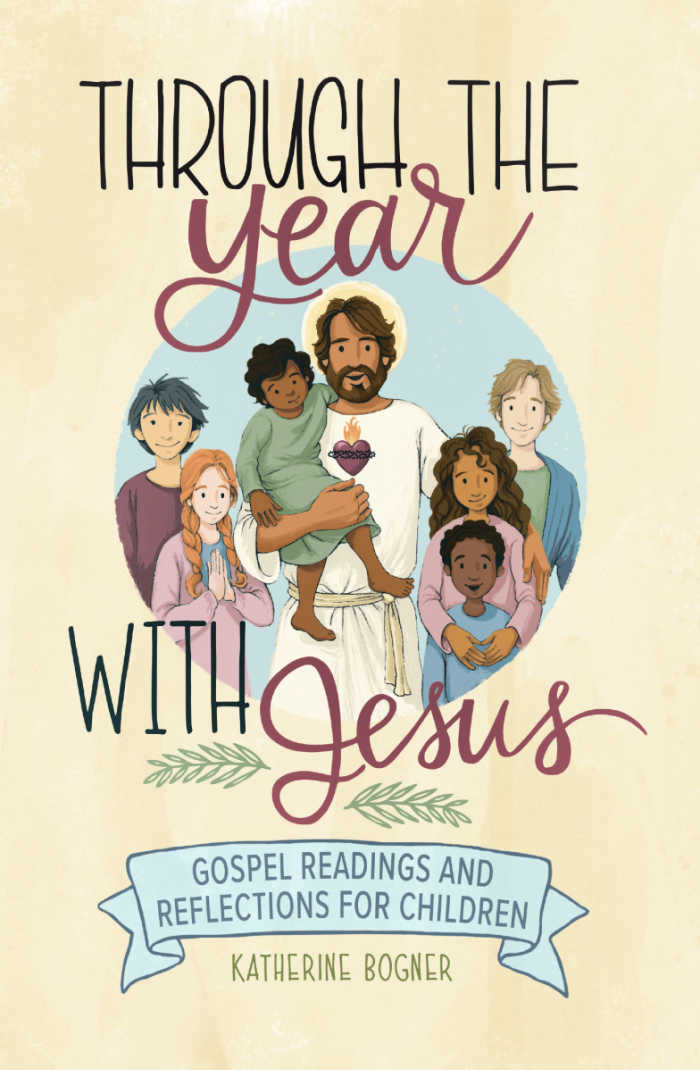 I received this book for review courtesy of the publisher; all opinions expressed are my own. This post contains affiliate links; as an Amazon associate, I earn from qualifying purchases.
Through the Year with Jesus overview
For each week of the year, Katherine has chosen a Bible passage to read with your kids and then pray about and discuss. Through the Year With Jesus follows the liturgical calendar, so you can jump in at any time during the year. Each devotional is about two pages long and includes the Gospel passage, a reflection on it, and ideas for living it out. Katherine also provides a guide to lectio divina, with questions you can ask your kids to help them read, meditate, pray and contemplate the Gospel passage.
Classical artwork by artists such as Fra Angelico, Raphael, Caravaggio and others complements each of the Gospel readings for children. The full-page, full-colour pictures are engaging enough to draw kids into the story. The pictures alone prompt contemplation on the story. Just as the Gospel passages aren't retold or simplified, so the artwork also isn't cartoonish or simplified. Kids are given the real deal—in bite-size portions that they can handle and grow into.
The Live It Out section gives practical ways we can apply the Gospel reading. For example, on Pentecost, Katherine encourages families to "welcome the coming of the Holy Spirit with a family celebration filled with His symbols. A few ideas are to have a bonfire (for the tongues of fire that fell on the apostles), color a picture of make a craft of a dove (for the dove that appears in Scripture to represent the Holy Spirit), and make a birthday cake (Pentecost is often called the birthday of the Church).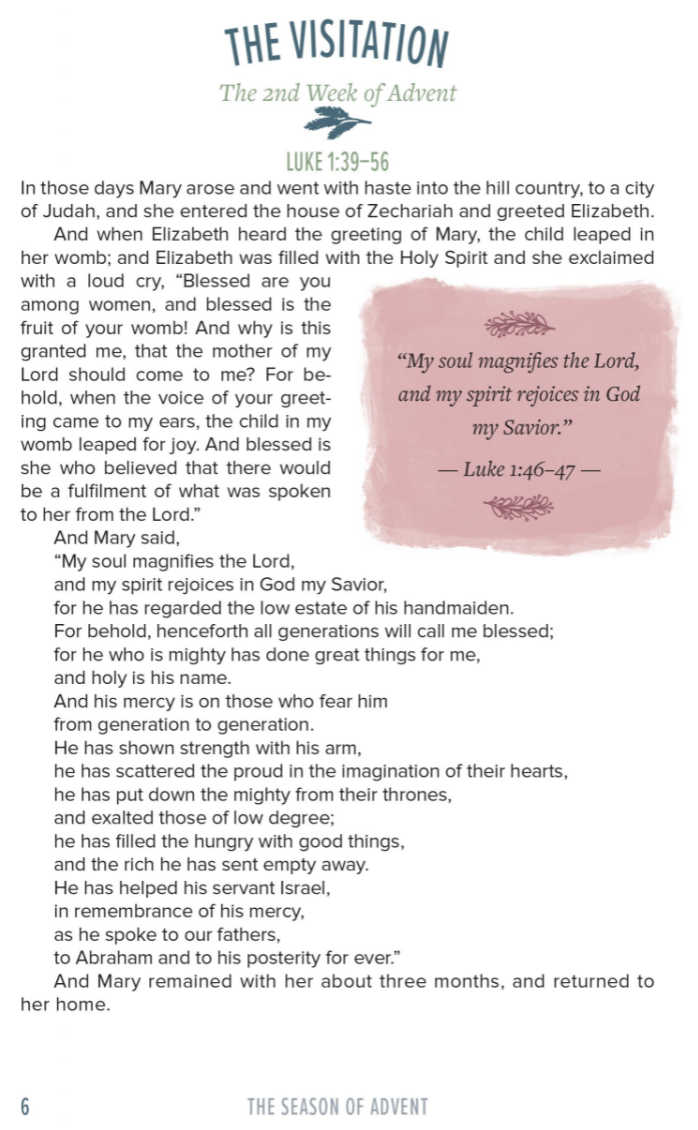 In the front of Through the Years with Jesus, Katherine provides some guidance for using this Bible with your children. "The Life of Jesus and the Liturgical Year" explains why we walk through the events of Jesus' life each year in the Church. "A Note for Parents and Teachers" gives suggestions for reading and teaching. "A Guide to Lectio Divina with Children" provides more ideas for doing this form of reading and prayer with  your kids. "A Note on Visio Divinia" gives some brief suggestions about using the artwork for each reading to deepen your understanding of the Gospel.
Katherine also provides a Guide to the Rosary, along with page numbers to help you find each Gospel passage for each rosary. Through the Year with Jesus could be used for family rosaries as you read the Gospel passage for each mystery before praying together. My kids can pray the rosary itself, but we could all work more on memorizing each of the mysteries.
The liturgical year is an invitation to walk with Christ in an incarnational and tangible way. ~Katherine Bogner
Using Through the Year with Jesus
We've been using Through the Year with Jesus during our family devotions on Sunday nights. I get the younger kids to sit closely so that they can see the picture while I'm reading. Usually, we have to pass the book around afterward so that each of them can take a second, closer look at the picture for the day.
I've also thought about reading Through the Year with Jesus on Saturday night. Then, because we've read the Gospel and discussed it already, the kids can listen for it during Mass and maybe pay more attention to what Father says during his homily. Either way, these Gospel readings for children help to reinforce what they hear each Sunday at church.
Another idea for using Through the Year with Jesus would be to have your child bring it along to Mass. During the Gospel reading, they can follow along. During the homily, they can read the "Tell the Story" and "Live It Out" sections and reflect on the lectio divina questions. Right now, I usually get my girls to bring along a kids' Bible or kids' missal to read or follow along with during Mass. Through the Year with Jesus would be another way to help them engage and focus on Sunday mornings.
Overall, these Gospel readings for children are an excellent liturgical resource for the whole family. As a mom with kids from toddlers to teens, I know how hard it is to find resources that keep everyone engaged. Even picking a family movie these days is tough—the teen is bored by what the toddlers want to watch and vice versa. Katherine strikes the perfect balance here with keeping reflections short enough for short attention spans, yet also deep enough for parents and teens to appreciate.
Katherine also has a collection of printables to use with Through the Year with Jesus available for FREE. If you have kids who are scribblers like mine (whether sketching or writing), these printables are a perfect way to keep them engaged with the readings. I find that when fingers are busy, minds are less likely to wander! Just print the pages before your family devotional time (or print them ahead of time and bind them in a journal) and then keep pencils handy as you read.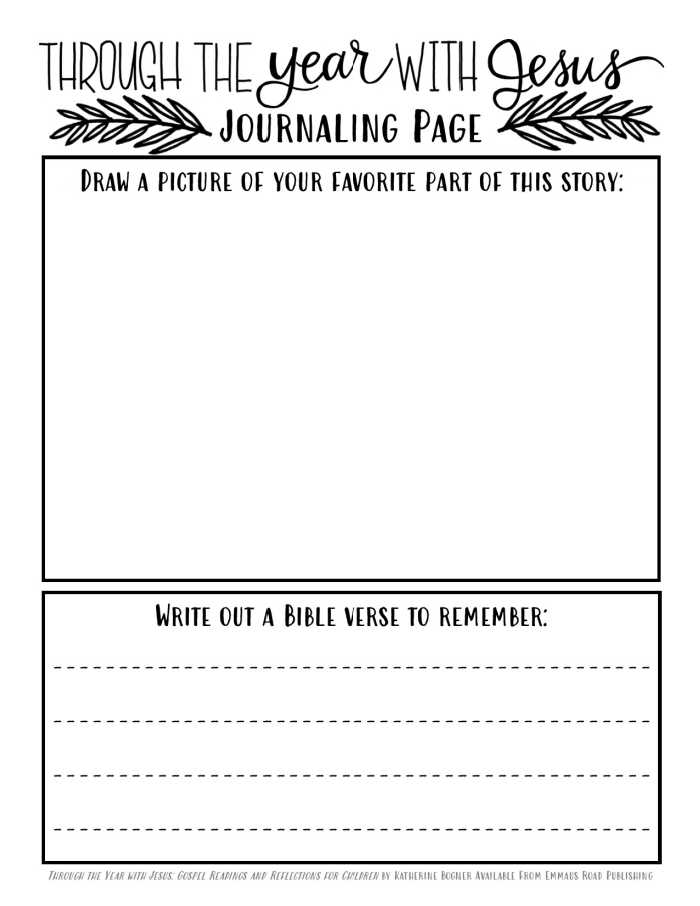 More about Katherine Bogner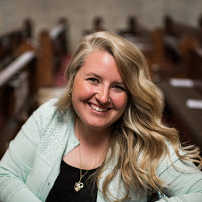 Katherine Bogner is a Catholic school teacher and Director of Religious Education from Central Illinois. She has worked with Catholics of every age—from preschool through adult—but has a special place in her heart for middle schoolers. Most of all, she is passionate about equipping parents, catechists, and teachers to share the beauty and truth of Christ and His Church with their students. Visit LookToHimAndBeRadiant.com where she shares free lesson plans, printables, and other resources for teaching the Faith.
Through the Year with Jesus is available from Amazon, St. Paul Center for Biblical Theology, and your favourite Catholic bookstores.