If you're looking to add more art or history to your homeschool curriculum, then you need to check out Art History Kids. This subscription-based site provides a learning library full of fun, easy-to-use lessons and activities that kids of all ages will enjoy. Whether your child wants to explore new art techniques or learn more about important historical figures, Art History Kids has something for them.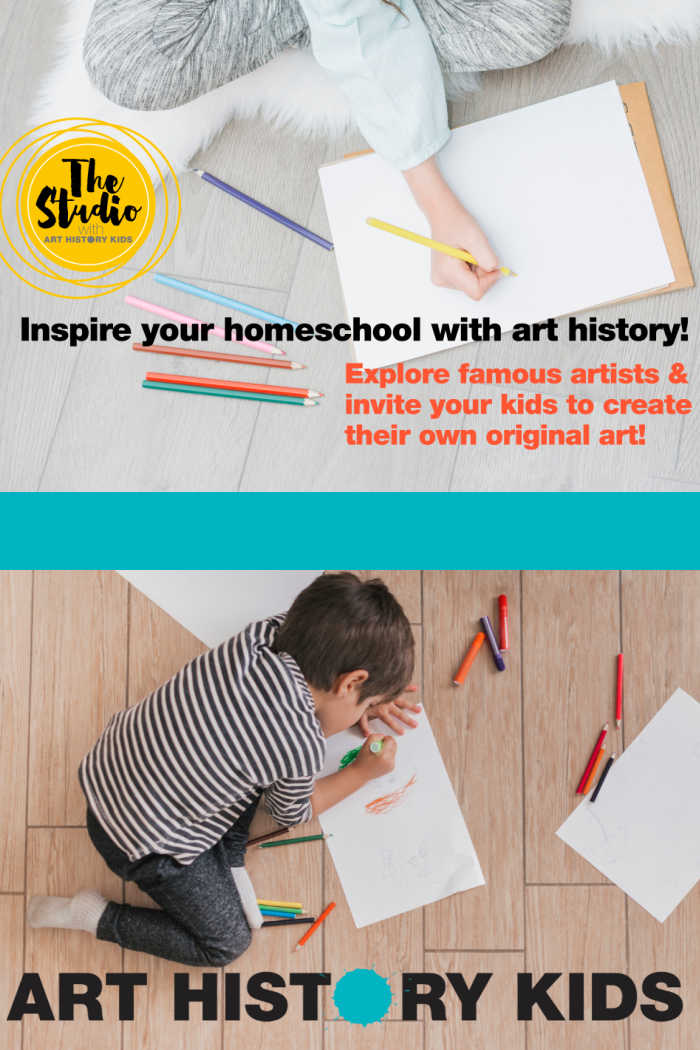 I received complimentary access to the Studio for the purposes of this review; all opinions expressed remain my own. This post contains affiliate links; as an affiliate, I earn from qualifying purchases. 
Learning about Salvador Dali
Earlier this year, we jumped into Art History Kids with a study of Salvador Dali. Now, I know what you're thinking—Salvador Dali for kids? That was kinda my thought too. We have a Salvador Dali painting in our home and a book of his artwork. He's not what I'd describe as a "kid-friendly" artist, so I was intrigued to see how Art History Kids would present his works to a younger audience.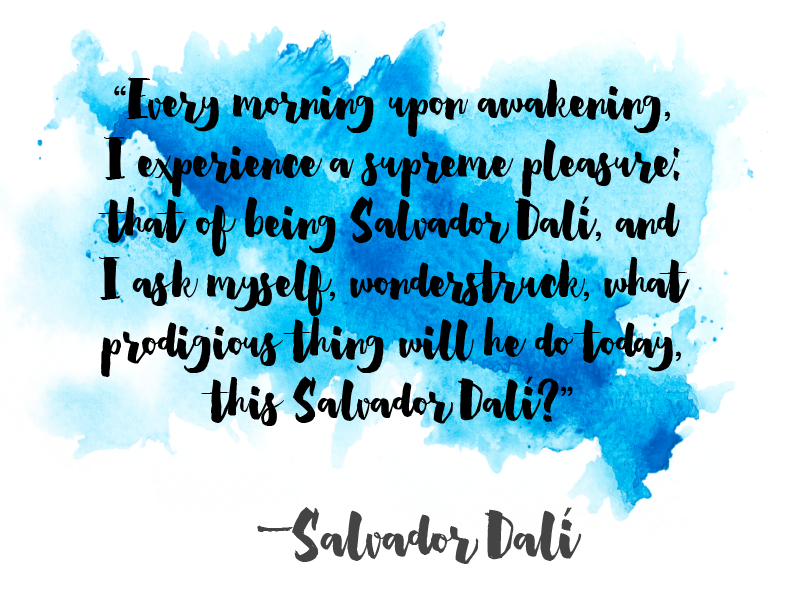 Each week, I received an email with lessons, activities, and information to engage my kids with the art of Salvador Dali. This email includes details about when the LIVE Zoom lessons are, links to the lessons (in the members' area only of the website), and a printable calendar page for the month. How much you do each week is up to you (and your child). You could spread the activities over the week for a younger child or have an older child work through them in one lesson.
Art History Kids mission is simple: to introduce kids to art, invite them to come to their own conclusions, and encourage them to tap into their own individual creativity as they make art.
Here's an example of the lessons you'll receive for one week: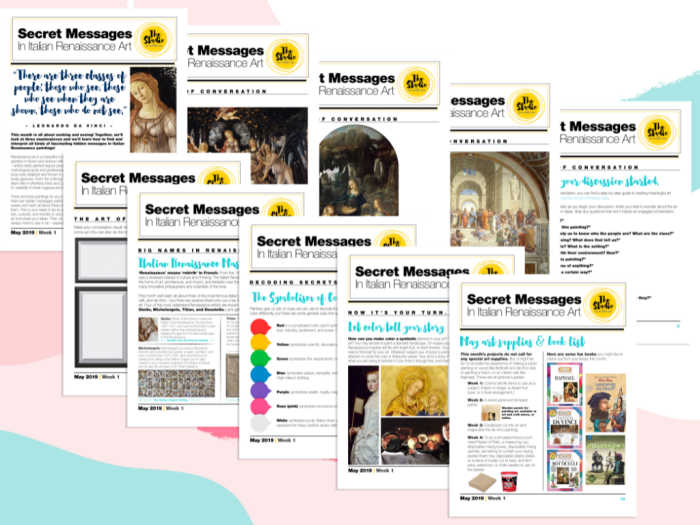 A Multi-Age Curriculum
One thing I liked about Art History Kids is that it's a resource I could use with all of my children, from Sunshine in Grade 7 to Pearl in Grade 1. In our Salvador Dali unit study, it amused me that the younger girls were totally into Dali's art while the older kids shared my prejudice that it was "weird." It was actually interested to see their different reactions based on their ages. Of course, I expected more work or discussion from the older girls than the younger girls, but it was still great to be able to look at and discuss Dali as a family.
For example, one of the activities was to create a mind map after reading the lessons and information about Salvador Dali. Here is Pearl's: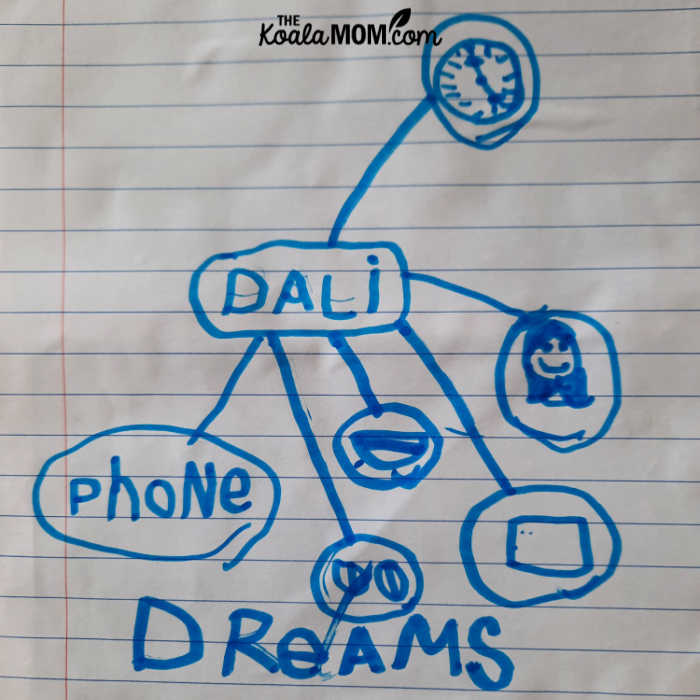 Obviously, the older girls didn't use blue marker to make their mind maps, and they didn't draw pictures in their bubbles. This was a good activity that all the girls could do together on the same topic, at their own level. I also liked how this let us work on study and notetaking skills (something we haven't done much as homeschoolers) while learning about art. And it was fun to see what topics stood out to each of the girls to include on their mind maps—no two mind maps were the same, even though they'd read the same material and seen the same artwork by Dali!
Art History Kids teaches artwork too
As a history buff, I appreciated learning more about the famous figure behind the artwork. Several of my kids were more interested in doing actual art. So, once we'd looked at quite a bit of Dali's art, they had the chance to try to create their own Dali-inspired artwork. Again, this was as unique as each child. Although they were inspire by a particular artist, their artwork was definitely still their own. Here's Sunshine's Dali-inspired drawing: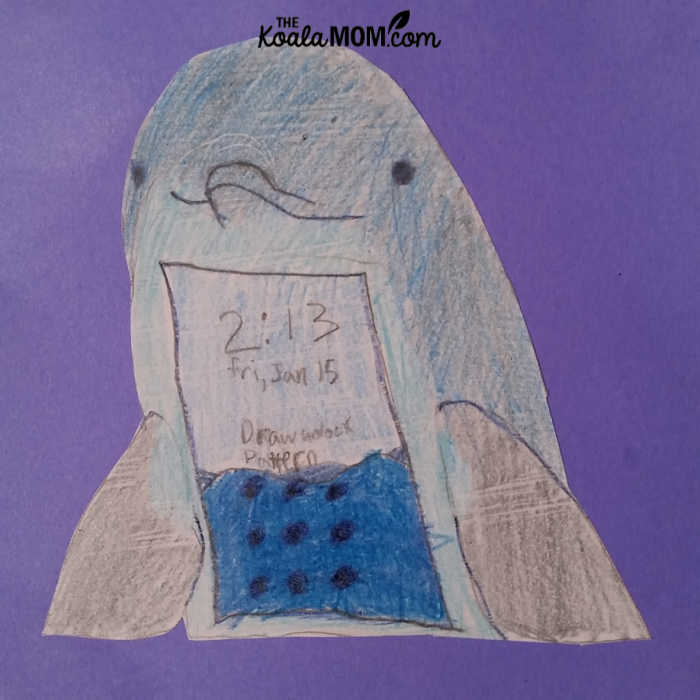 If that doesn't look like Dali's art to you, I'll give you a clue: lobster telephone. This inspired Sunshine to create a more modern-looking phone with her favourite animal.
If your kids aren't into Salvador Dali, don't worry! Next month, there will be a NEW artist to learn about in the Studio. Plus, each month with your membership in the Studio you get access to a lesson from the Archives. So you could also dive into Powerful Portraits, Visiting Grandma, Imaginary Adventures and more!!!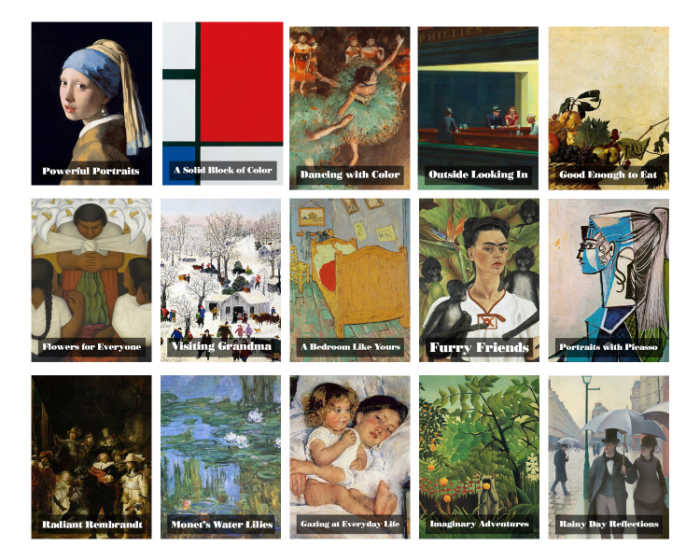 Get Started with Art History Kids Today!
Think your kids would love studying art and history with Art History Kids? Great! Art History Kids offers you tons of resources to get started.
Sign up for the newsletter to get access to tons of free fun, delivered right to your inbox each week.
Drop by the blog to be inspired by art ideas, booklists, and more.
Sign up for the Studio membership to get access to NEW lessons each week, along with one archived lesson from the studio each month.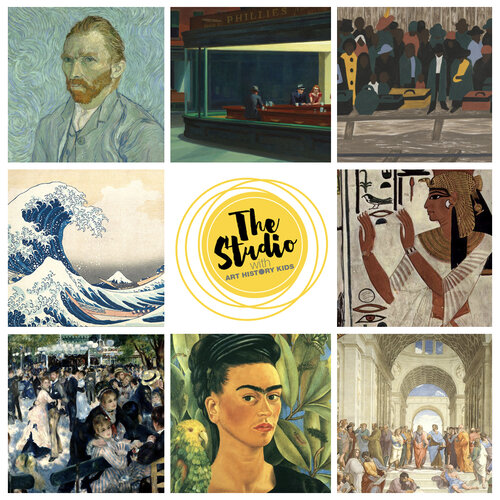 Do you currently study art and / or history in your homeschool? Would your kids enjoy these art lessons?