As a mom trying to feed four or five picky eaters, I often find myself resorting to the handful of recipes that everyone actually eats. Every once in a while, though, I get tired of cooking the same old same old recipes again and again, and I go looking for something new. Flavourbomb: A Rogue Guide to Making Everything Taste Better caught my eye because who doesn't want everything to taste better? My only question was… would my kids agree that it tasted better???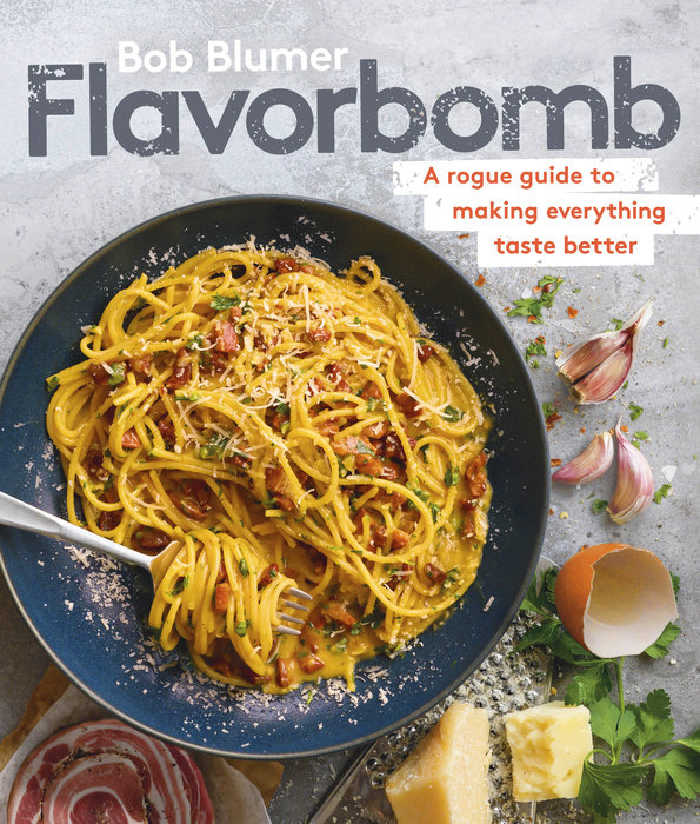 I received this book for review courtesy of the publicist; all opinions expressed remain my own. This post contains affiliate links; as an Amazon associate, I earn from qualifying purchases.
The first half of Flavourbomb is a "crash course in cranking up the heat, seasoning with wild abandon, and making every bite count." Chef Bob Blumer shares his tips on taste, technique and trust. He explains the building blocks of flavour—saltiness, sweetness, acidity, etc. He shares his Flavourbomb15—or his go-to ingredients for creating more flavour in a dish. He also talks about tasting your ingredients while cooking, shopping for the best ingredients, and adjusting flavour while you're cooking.
The second half of Flavourbomb is all about applying what he's shared in the first half. Chef Bob gives us his favourite recipes, letting us learn from him by recreating his tried-and-tested meals. From appetizers to desserts, side dishes to condiments, Chef Bob has us covered.
I started by flipping through the recipes and putting sticky notes on the ones that caught my eye. I probably would have marked many more recipes, but I was reading with an eye to what my kids would actually taste if I put it in front of them. Japanese Fried Chicken would probably be a go, but I'd probably end up eating all the Baby Fried Artichokes myself. (Not that I'm saying there's anything wrong with that, if you like artichokes too…)
With my recipe list in hand, I logged into my grocery store and started ordering the ingredients I'd need. Yes, Chef Bob Blumer does talk about picking out your ingredients yourself, but I'm a busy mom in the middle of covid. I did use his tips to add some notes to my grocery order, such as telling my personal shopper to pick large brussels sprouts for me. When I picked up my grocery order, it was time to start cooking…
One-Pan Braised Chicken Thigh Dinner
The first recipe I tried was the One-Pan Braised Chicken Thigh Dinner. I like one-pan recipes and we at a lot of chicken and vegetables. Now, the problem with feeding a family of seven is that sometimes one pan doesn't work… so I had a Three-Pan Braised Chicken Thigh Dinner, using all of my cast-iron frying pans. This recipe baked for waaaay longer than I'd usually cook anything. And everyone loved it.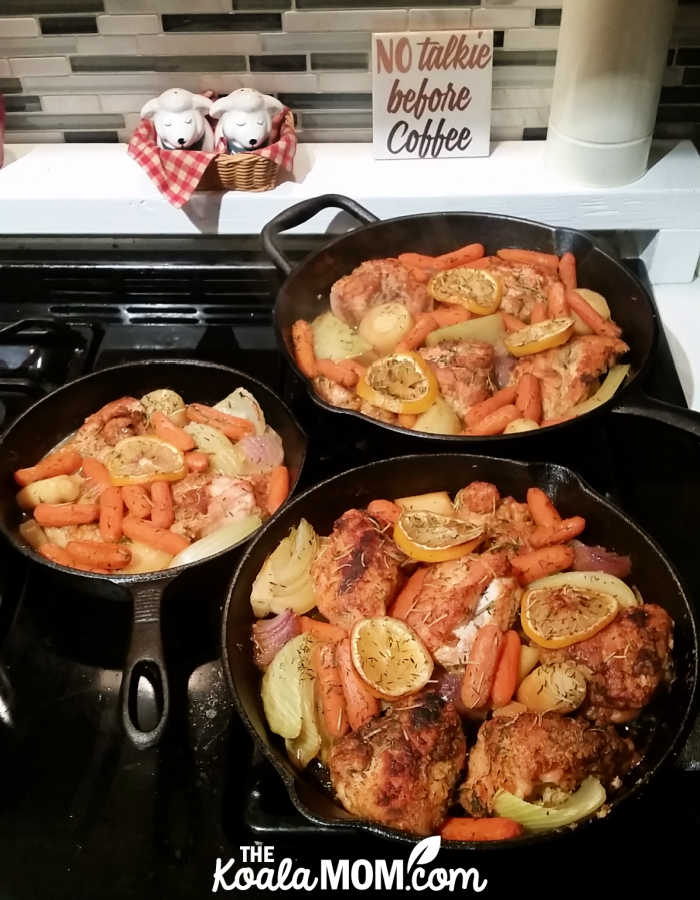 It's not often that a dish I cook gets rave reviews from everyone in the family, from oldest to youngest. I was a bit dubious that the kids would like the parsnips and other vegetables in this dish (as we don't often eat them), but they devoured everything and asked for more. Inspired by this first success, I moved on to my next Flavourbomb recipe…
Japanese Fried Chicken
You can't go wrong with fried chicken, right? It's a big hit with kids of all ages. The problem with fried chicken is that it's usually messy and time-consuming to make. Not Chef Bob's chicken. Marinate the chicken, toss it in potato starch, and then deep-fry it and presto, you've got the best friend chicken you've ever tried. It was crispy outside and juicy inside and full of flavour.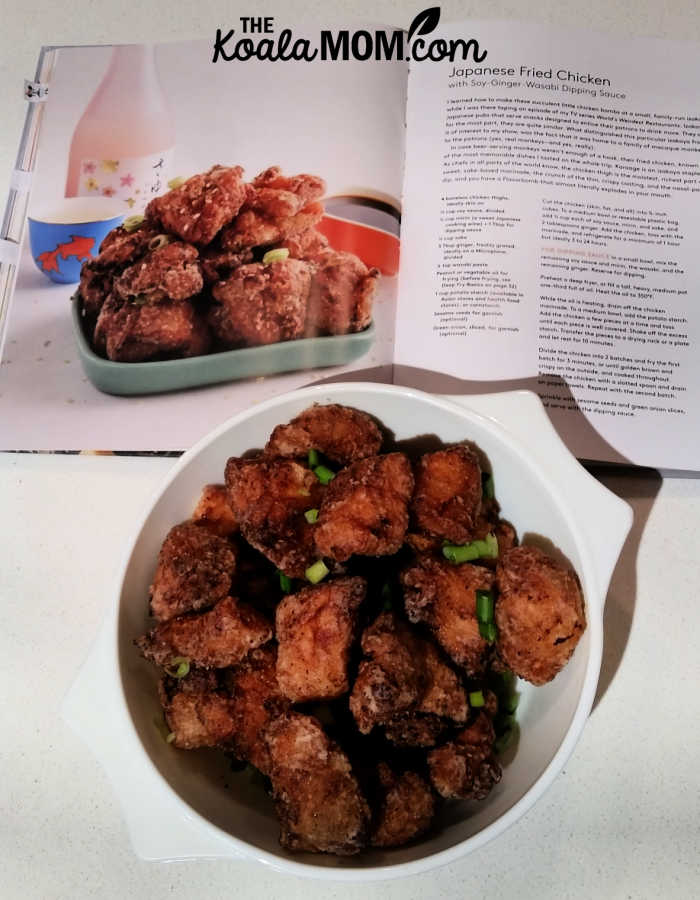 I don't deep fry very often. I don't have a deep fryer or even a candy thermometer, so keeping a big pot of oil at the right temperature is tough. Before starting this recipe, I flipped back to Chef Bob's tips about deep frying. If you don't have a candy thermometer either, Chef Bob has us covered with tips for checking the temp of your oil with just a piece of bread. I followed his tips and now have a jar of oil in the back of my fridge for next time we want to have Japanese Fried Chicken. Because when a recipe tastes this good, there's going to be a next time!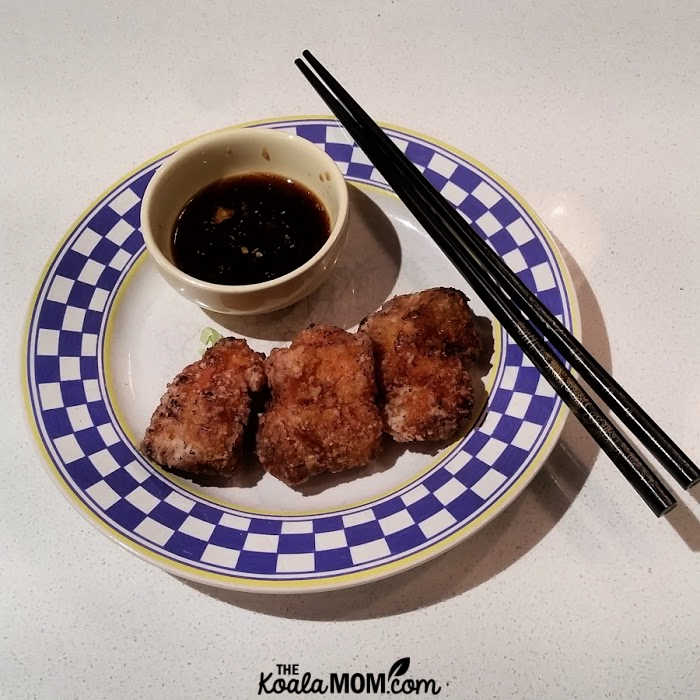 What about the Veggies?
So far, I'd tried two pretty safe chicken recipes. As I mentioned, my kids like chicken and we eat a lot. So winner winner chicken dinner. What about trying something else… something they might not like… perhaps a vegetable dish? I went all in. I got brussels sprouts—a vegetable that only Daddy likes so I only buy it for him for special occasions. If Chef Bob's Roasted Umami-Glazed Brussels Sprouts could past the taste test of my picky eaters, then I'd really be amazed.
The first thing I noticed about many of the Flavourbomb recipes is that Bob Blumer fries or bakes his foods for much longer than I ever would. With the exception of the Japanese Fried Chicken (which spent about ten minutes in the deep fryer), these recipes required either more prep or more cooking time. The brussels sprouts recipe took an hour and the sprouts came out looking… toasty. Bob does say, "Roast for another 15 to 20 minutes, turning once, or until they are browned to within an inch of their lives but not blackened."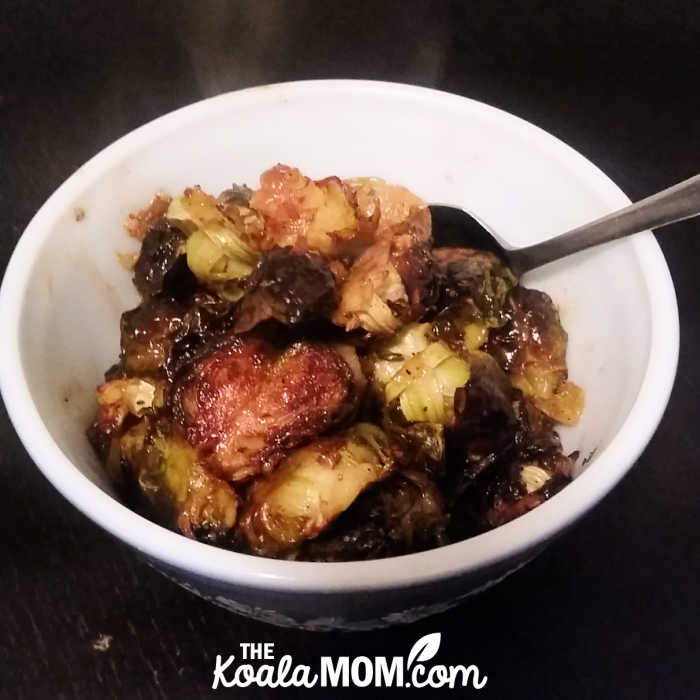 This recipe isn't going to win any points for looks. The brussels sprouts shrank to about half their size while cooking and tumbled, brown and soft, off the baking sheet into the serving bowl. What the recipe lacked in looks it made up for in flavour. I don't like brussels sprouts. My 10-year-old doesn't like brussels sprouts. We both had second and then third helpings. Like Bob said, "This recipe, with its combination of sweet, tang, acid and umami, delivers complex layers of flavor without any cheating."
Pass the brussels sprouts, please.
The Other Recipes
From the nibbles to the desserts, Flavourbomb is filled with recipes that will make you rethink how you cook. Nearly every recipe that we made was a huge hit. The ones that weren't, I'd like to try again and adjust.
Chai Chickpeas tasted great, but were a bit crunchier than we liked—I think I'll cut down on the baking time next time or try the frying method instead of the oven method.
Grilled Heritage Pork Chops were juicy and delicious even without the fruit salsa; I managed to give myself enough time to marinade it, but then discovered that we'd eaten the peaches I had bought to make the salsa.
Sweet Potato Floss didn't turn crispy, so I suspect that I didn't have my oil hot enough. The soft, limp sweet potatoes still tasted great, but I really want to make this recipe again and see if I can get that crispy floss.
Blueberry Cornmeal Pancakes disappeared faster than you could say flapjack. My mom and I loved the balsamic maple syrup. I would have never thought of adding balsamic vinegar to maple syrup, but it somehow deepened and intensified the flavour.
Maple-sweetened Granola with Crystalized Ginger is totally the bomb. I've tried quite a few granola recipes over the last year. I agree with Bob that it's "a quick, convenient and satisfying breakfast on the fly" but also that most store-bought brands are either uninspiring, too sweet, or too expensive. His granola is anything but uninspiring or too sweet. Crunchy, delicious, and easy to make, this granola is now my go-to recipe. The kids aren't a huge fan of the crystalized ginger so I may try making them a batch without it, but for now, more for me.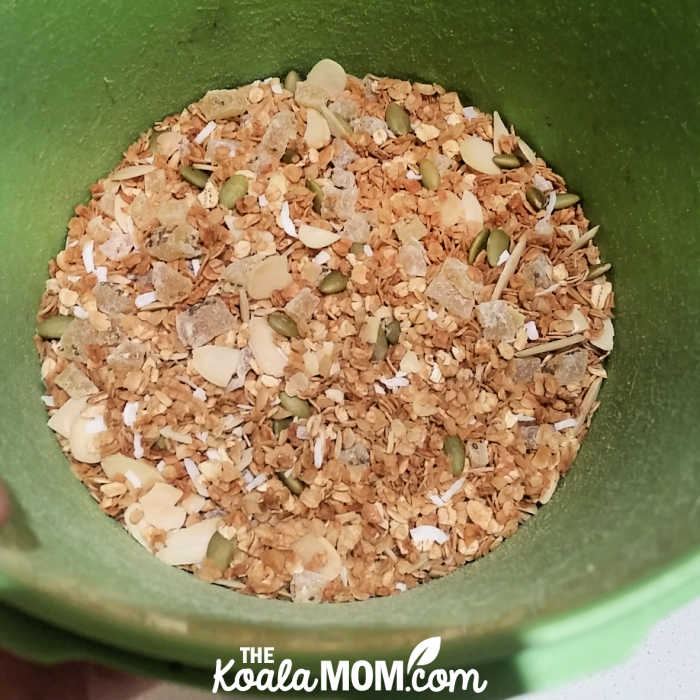 If, like me, you're tired of the same old same old in the kitchen and want to take your cooking to a whole new level while still meeting the approval of your person food critics… may I suggest you run out to the nearest bookstore (or click over to Amazon) and grab yourself a copy of Flavourbomb.
More about Bob Blumer
For the past 25 years Bob Blumer has eaten his way around the globe, traveling millions of miles in search of culinary adventures and inspiring foods for three TV series and six cookbooks. Along the way, he's broken eight food-related Guinness World Records, competed in some of the most outrageous food competitions on the planet, cooked alongside countless amazing chefs, and sampled every local street food imaginable at ramshackle carts, hawker stalls, and night markets from Italy to India. These collective experiences have formed the backbone of Bob's cooking in ways that culinary school can't begin to teach.
To check out Bob's books or be inspired by his cooking adventures, follow him on Instagram or drop by his website.