I remember accompanying my parents to vote as a child. At the first election after I turned 18, I cast my own ballot. I never questioned my ability to do so alongside my dad and brothers. It's hard to imagine that just over a century ago, I wouldn't have been allowed to vote simply because I'm a woman. I'm grateful to the women like Abigail Scott Duniway in the western US who fought for the right to vote. Jane Kirkpatrick's newest novel Something Worth Doing draws us into Abigail's fight for women's rights.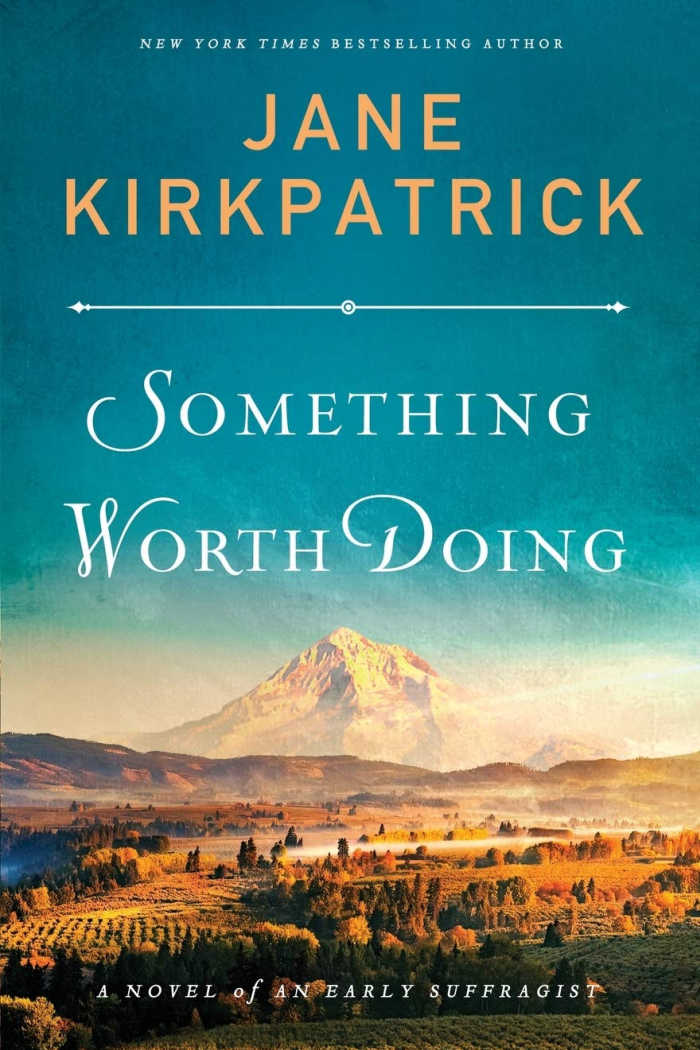 I received this book for review courtesy of the publisher; all opinions expressed are my own. This post contains affiliate links; as an Amazon associate, I earn from qualifying purchases.
Kirkpatrick offers a powerful fictionalized version of the remarkable life of Abigail Scott Duniway, a fierce advocate for women's rights. ~ Booklist
Something Worth Doing plot summary
In 1852, Abigail "Jenny" Scott leaves Illinois with her family, bound for Oregon. Along the way, she loses her mother and baby brother. In Oregon, as her father and sisters run a boarding house, Abigail starts a teaching job. Despite pressure from numerous men desperate for a wife help add another 160 acres to his homestead, Abigail is determined to stay single. Then scandal from her father's new wife forces Abigail and her sisters into hasty marriages. Just months after starting her teaching career and meeting the uncle of one of her students, Abigail marries Ben Duniway and moves to his remote homestead.
For Jenny, education was critical for boys and girls to grow to make good choices and be wise citizens too. This schoolhouse was her arena to awaken minds to the possibilities of their lives even when others appeared to control their destiny.
Over the next decades, Ben and Abigail face the ups and downs of life together. Between washing loads of laundry and helping with the homestead, Abigail writes novels and a column for the local newspaper. She and Ben welcome a daughter and then six sons, but Abigail suffers from difficult labours and postpartum complications. Their house burns down and Ben signs a promisory note for a neighbour that causes them to lose their farm. As they restart in town, Abigail opens a school, then a millinery to help support her family.
When Jenny wasn't finding respite in writing, she worked and often mused of what other women did to overcome the drudgery of their days. How did they build up their spirits? She'd think of loftier things, but then the daily regiment would take over.
Abigail becomes more and more involved in local suffragette action. She sees the hardship of life for herself and her sisters, and wants better for her daughter. Her writing pushes the idea of rights for women, and then she takes a chance on public speaking and finds she enjoys it. Although her father always frowned up women speaking in public, Abigail takes to the road, promoting women's vote in California, Washington, and Oregon. At home, she and her sisters battle their only brother for support.
Progress is slow and the suffragists don't always agree on the best way to get the vote for women. As Abigail ploughs ahead with her dreams, she reminds herself that this is something worth doing. She and Ben start a newspaper, which employs her sister (after losing her husband) and then her sons. Abigail makes new friends as she travels, and also earns the criticism of some who find her too strident or too pushy. With her goal of bettering women's lives ever in mind, Abigail pushes on.
My thoughts on Abigail Scott Duniway
As always, I loved the way that Jane Kirkpatrick brings a historical woman alive for modern readers. I was drawn into Abigail Scott Duniway's story from the very beginning. Her close relationship with her sisters is evident throughout the novel, and their struggles in marriage and business influence her fight for their rights. She and Ben face unemployment, illness, moves, and other challenges that women today can still identify with.
Ben is a gentle, positive influence in Abigail's life, and I liked how Kirkpatrick portrays the back-and-forth in their relationship. They don't have a perfect relationship, but they balance each other, showing how two people can be different and yet compliment each other in a marriage. Abigail resents some of Ben's choices, but also misses him deeply when he's away for work. Ben invents a laundry machine to help his wife and watches the children to allow her to pursue her speaking, writing and other business ventures.
For those of us who take our ability to vote and other rights for granted, Something Worth Doing shows us what a difference the work of Abigail Scott Duniway and others like her has made in the lives of women. Kirkpatrick also shows how we need to continue to challenge gender stereotypes. Although this novel tells of events that happened within the last century, I think Abigail Scott Duniway would still see injustices today that need to be fought against.
More About Jane Kirkpatrick
Jane Kirkpatrick is the New York Times and CBA bestselling and award-winning author of more than 30 books. Her works have won the WILLA Literary Award, the Carol Award for Historical Fiction, and the 2016 Will Rogers Gold Medallion Award. Something Worth Doing received Booklist's Starred Review as part of it's December 2020 end of year review. I enjoyed brief references in Something Worth Doing to women from some of Jane's other novels. In her travels, Abigail meets fellow writer Carrie Adell Strahorn from Everything She Didn't Say. Her brother attends the Pacific University founded by Tabitha Brown in This Road We Traveled.
Jane divides her time between Central Oregon and California with her husband, Jerry, and Cavalier King Charles Spaniel, Caesar. Learn more about Jane and her books by visiting her website.
Have you heard of Abigail Scott Duniway or the work of other suffragists in the US?