Every year, there are more than 150,000 weddings in Canada. If you're getting married, it's very likely you will have children at the ceremony and the celebration afterwards. With a little extra planning, your youngest guests will have a fun day and your adult guests will be able to enjoy your celebration, stress-free. You can organize a special wedding nanny to help, arrange games at the tables, and even get the children involved. They will enjoy being part of your big wedding day and making it a wonderful, memorable occasion for everyone. Here's a few ideas to help you get started planning how to keep the kids entertained at your wedding.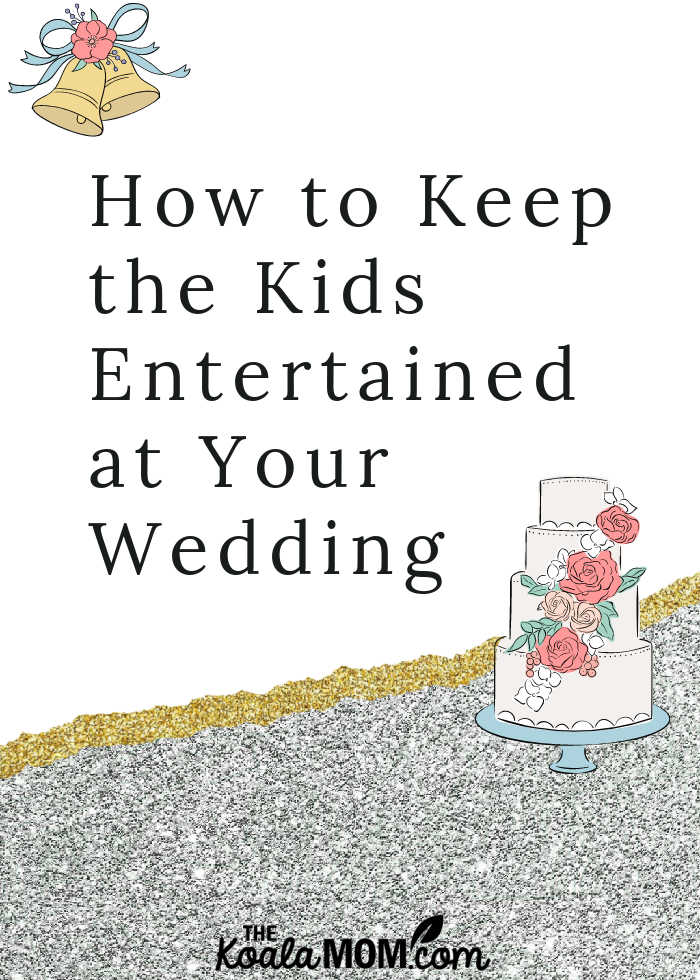 This post contains affiliate links; as an Amazon associate, I earn from qualifying purchases. 
Give the children jobs
Older kids at your wedding can really get involved in your big day. You can give children important wedding tasks such as being an usher, handing out orders of service, manning the guest book table, and showing guests where they need to be. You can even ask older children to read a poem or a meaningful passage from a book during the service or reception. Younger children many enjoy being flower girls and page boys, and they can even help to hand out wedding favours. Giving children this responsibility will help them feel special and proud to be part of your celebrations.
Organize a wedding nanny
For babies and toddlers, a wedding nanny is a great way to keep the kids entertained at your wedding. The nanny can help look after the little ones during the ceremony, and even help with feeding, mealtimes and naps during the day if you are having a wedding breakfast or party afterwards. Young children will still have a routine and can get cranky if they are tired. For children aged 4-11, you could arrange some games to play and some activity sheets if you are having a sit-down meal. You could even look at hiring a special children's entertainer.
If you do plan to organize childcare, it's a good idea to mention this in your wedding invitations and ask guests to RSVP for their kids as well. You'll want to know how many kids will be taking advantage of the nanny or children's entertainer so that you can arrange an appropriate space or even hire more help if necessary.
Mini-wedding photographers
The kids at your wedding will have an entirely different view and perspective than your official wedding photographer. It's a fun idea to ask them to help document your big day. You can arm them with disposable cameras and see what sort of pictures they take. Children will also enjoy taking part in a fun photo booth, where they can dress up or try on silly hats and moustaches—and you will certainly get some great photos to put in your wedding album.
Set up a kids' table
Set up a kids' table at your reception where the kids can hang out. This table could include kid-friendly snacks and appetizers (because nobody wants a hangry child!) such as popcorn, cookies, crackers, veggies and dip, or cut fruit. Simple activities such as colouring books, play dough, puzzles and more can keep the kids entertained while the adults dance, enjoy the program, or visit. You could also create a wedding-theme I Spy or scavenger hunt for the kids to do.
The kids' table could also include small crafts like beading, decorating picture frames, or creating their own favours. If there are likely to be more older children at your wedding, a board game table might be a great idea. Tweens and teens can play epic Monopoly and Risk games while their parents enjoy your courtship slideshow.
Plan Some Kid-Friendly Dances
If you're planning a dance at your wedding, include some kid-friendly tunes early in the playlist. Dancing to their favourite tunes will not only keep the kids busy, it will also let them get their wiggles out after sitting through dinner! One of my favourite memories from our wedding was watching some of our younger guests tearing up the dance floor with their parents.
Make it a Movie Night
Another idea for the reception is to set up a movie room for the kids. After the meal, while the parents enjoy the program and the dancing, the kids can scoot away to another room to watch a kid-friendly movie. Serve popcorn to go with the movie. You'll likely want to hire someone to manage the movie room, to make sure that kids aren't wandering the reception facility without supervision (or to call parents if a child needs them). The kids' table could also be set up in the corner of the movie room, for kids who get bored with the movie or want to do something else.
The bottom line is that you want guests old and young to have fun at your wedding. If there are special kids involved in your life, make sure they are included on your special day! Nieces, nephews, godchildren, the kids you used to babysit, your best friend's sons—they'll want to celebrate with you too. With a bit of planning, some professional help, and some creativity, children will add some extra fun and memories to your wedding day.
Did you include children in your special day? How did you keep the kids entertained at your wedding?