As the weather improves around Vancouver, I've been looking up field trip ideas for the girls. The Canadian Museum of Flight in Langley, BC, is a great local field trip. I wasn't sure the girls would get excited about old airplanes, but they did! Here's what you'll find at this airplane museum.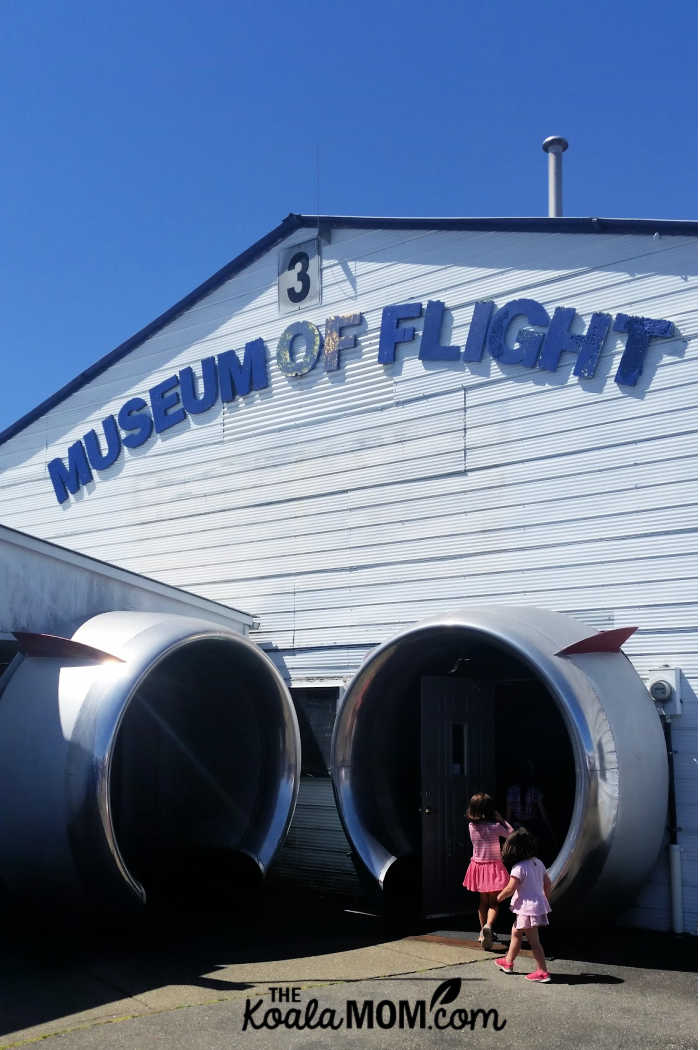 The Canadian Museum of Flight is a non-profit, volunteer-driven museum dedicated to restoring, preserving and showcasing Canada's rich aviation heritage. It was founded in the 1970s by a group of aviation enthusiasts to stop the exodus of historic aircraft leaving Canada for the US and Europe. This group pooled their resources to acquire as many historic aircraft as possible and incorporated the museum as a non-profit society.
We visited the Canadian Museum of Flight last summer with our Kidsworld Passes, which are a great deal on family fun and field trips around greater Vancouver!
Historic Planes
The girls' favourite part of the Canadian Museum of Flight was the historic planes outside. From World War 2 planes to a newer Snowbirds plane, there was lots to see and check out! I was thankful that this area was also fenced, as they ran around, in and out of planes. They really enjoyed being able to go into the planes.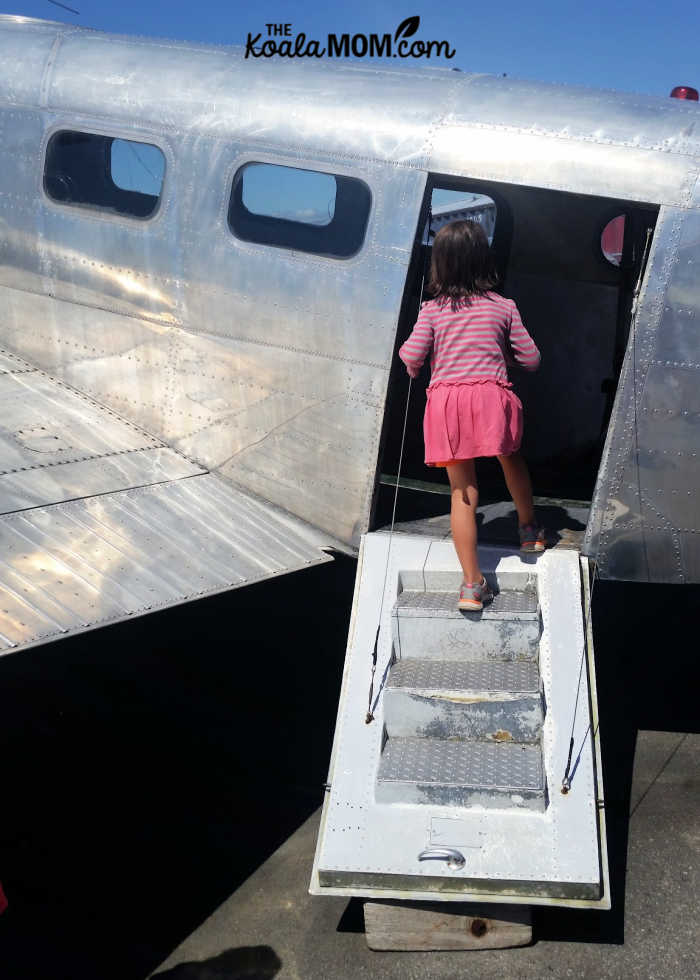 I really appreciated the fact that the museum had so many planes open for the kids to explore. Our favourite museums are hands-on like this, where the kids can just look around and ask questions about what they see. We haven't traveled by plane with the kids very often, but they could clearly see that these planes were much smaller and simpler than today's planes.
The Museum is a very "hands-on" facility. A large selection of our aircraft can be touched, and the children can feel that aircraft are made not only from aluminum, but also wood and fabric.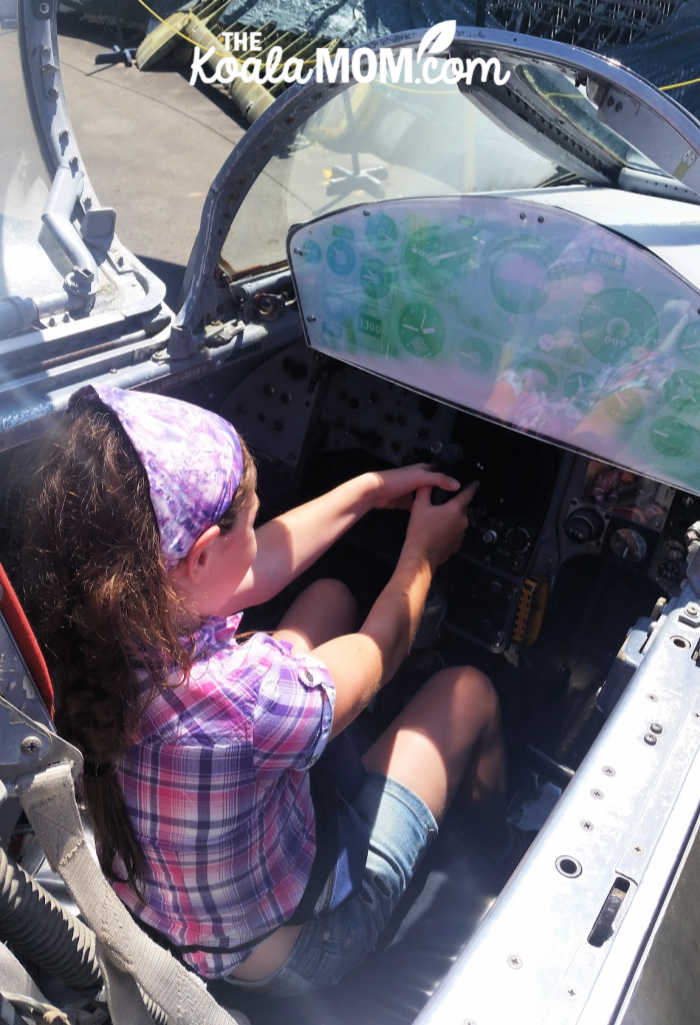 The Canadian Museum of Flight has almost thirty airplanes, including a Lockheed Starfighter, Sopwith Camel Replica, de Havilland Tiger Moth, and more. (No, I don't know what those planes are—they just sounded cool. Or maybe I've read the name in a World War 2 novel somewhere…) There is more about the planes under restoration on the museum website, if there's a history buff in your family.
Visitors can take a chronological walk around the Museum starting with WWI to present day, and can see how large a part Canada has played in aviation history (or you can just try to keep up with your kids, like I did…).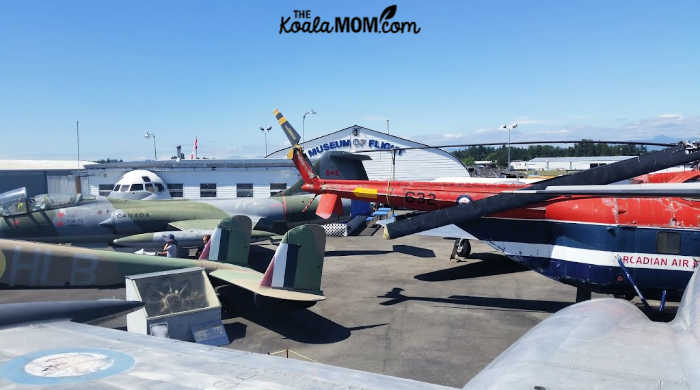 Inside the museum there is a lot of information about airplanes and their role in the world wars. The girls were less interested in this, as most of it required quite a bit of reading. They did enjoy seeing the mannequins of flight attendants and pilots over the years. There were pictures, maps, stories of planes and pilots, and flying accessories like goggles and helmets, as well as airplane parts, including engines.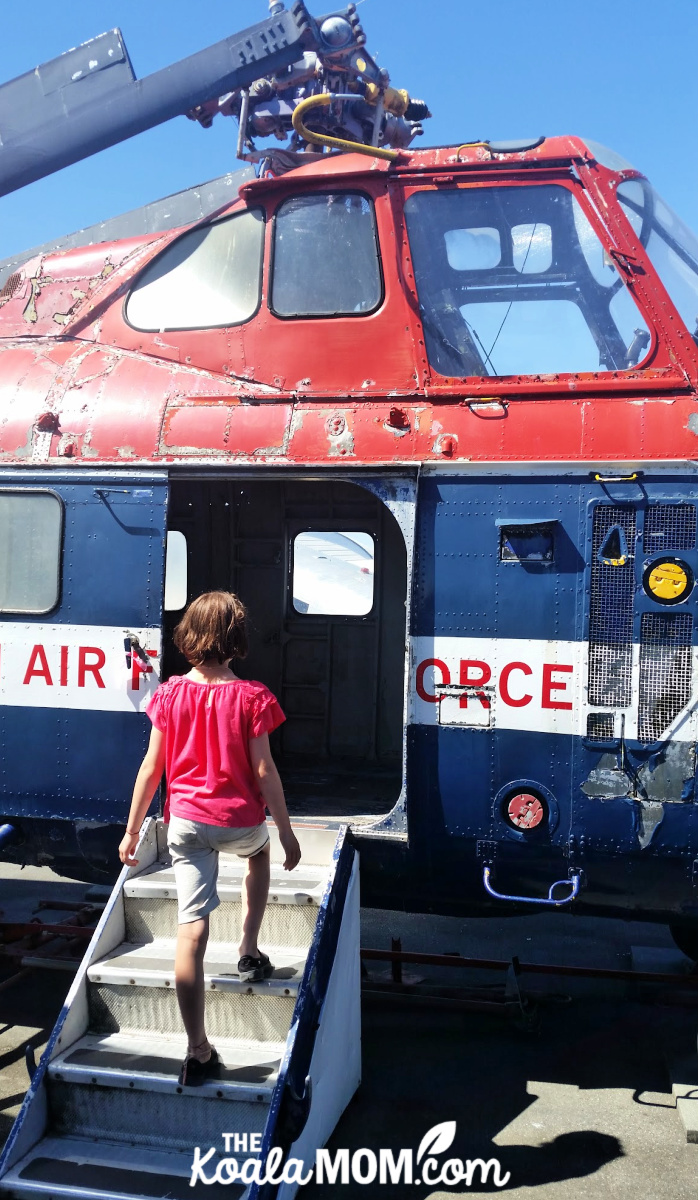 I don't expect my kids to return from a field trip to the Canadian Museum of Flight being able to spout off facts about flying or knowing which airplanes were involved in which war. I'm happy to let them absorb the history, ask questions if it interests them, and move on. We'll likely return to the museum again in a few years (maybe with my brother, a World-War history buff who's always dreamed of being a pilot and could tell the girls more about the planes than I can!). The Museum is constantly undergoing display changes to allow visitors to see something new each time they stop by.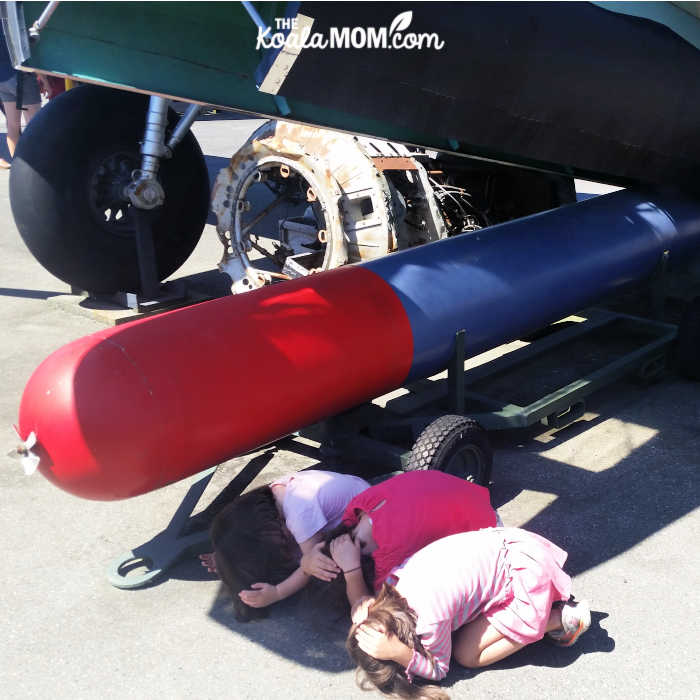 I think kids learn best when their imaginations are engaged, and the Canadian Museum of Flight allowed them to imagine what might have happened around some of these planes. They all had fun sitting in the cockpit of the fighter jet, pretending they were flying and shooting an enemy plane. When we came across a "bomb" being dropped by one of the planes, Lily got Jade and Pearl to crouch down with her with their hands over their heads, as if they were hiding during an air raid.
Visiting the Canadian Museum of Flight
Family admission to the museum is $25 (with kids under 6 getting in free).
The museum is generally open year-round Mondays through Saturdays from 10 am to 4 pm. Check the website to see what's happening on holidays, as they host special events for Family Day, Remembrance Day, and other occasions.
To help your kids learn more about Canadian history, check out my list of 100 Great Books for Canadian Girls (download my free printable to get the list of books in chronological order, from the 1600s to the World Wars).