With my first baby, I gave myself nine months to be pregnant and then expected life to return to "normal." My midwives told me to "take it easy" after baby was born, but I pushed myself to keep up with the laundry and dishes. It took me a few babies to realize that the fourth trimester is just as important as the first three. The first few months of baby's life are a time of huge adjustment, for both mom and baby, and should be treasured and handled gently.
This is something that 4T understands. Their postnatal boxes encourage moms to take care of themselves and their new baby during this fragile time. These boxes offer practical, natural solutions to the needs and uncertainties that come with the birth of your baby. 4T's mission is to take care of the new mother so she can come into bloom and build the important mother-child bond.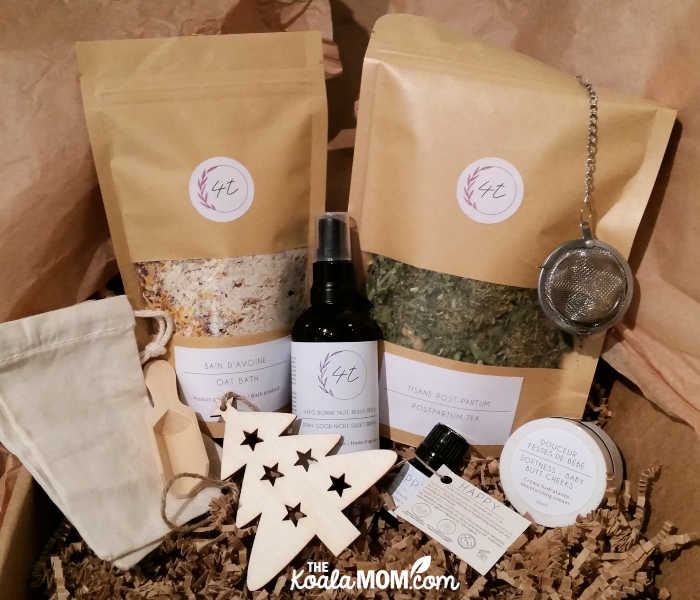 Just like a treasure hunt, pregnancy and childbirth are not easy for the mother and the family. This great adventure requires a moment of sweetness, especially during the 4th trimester. This period that takes place after childbirth and for about three months allows the body and mind to heal entirely. ~ Geneviève Côté, 4T founder
Postnatal Boxes
I was delighted to receive a 4T postnatal box to try out and share with you. While my baby is now running around wreaking havoc as a busy two-year-old, I remember all five of my births and postpartum periods well. And knowing the mistakes I made with my first (okay, and with a few later babies too!), I really want to help other moms understand the importance of self-care and taking it easy during the first few months after baby's birth.
4T has a variety of postnatal boxes, depending upon your needs. I decided to try out the Favourite, which features the most-requested products from new moms. This box includes oat bath, postnatal tea, a room spray, an essential oil, and a baby rash cream. In each of these, I can see the love and care that a new mom needs. (Pssst—these boxes make great baby shower gifts for new moms!)
Baths that Feel Good
Having baths in the first few weeks after baby's birth is something I look forward to. Even if the bath is only ten or twenty minutes, there is something very beautiful about sliding into the warm waters of a tub and relaxing completely. A bath is the ultimate self-care; too often as moms, we rush through our showers or forsake them all together because the baby demands our attention.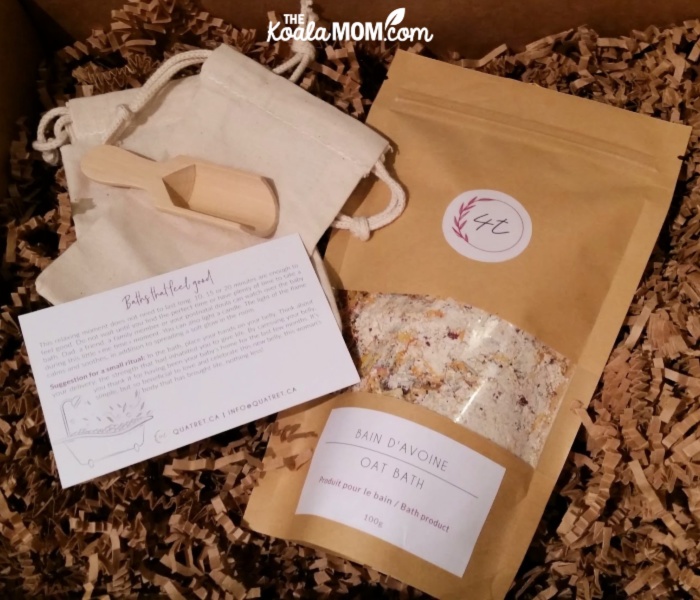 The 4T oat bath is gentle enough to be used by both mom and baby postpartum. It contains oat, coconut milk, and calendula, rose and lavender flowers. These gently clean and revitalize your skin and body. Postnatal baths are a great way to gently clean yourself after baby's birth. Warm baths can also help with sore muscles after baby's birth.
Many of my babies had their first baths in the tub with me. Have dad (or your doula or mom) help; they can hold baby while you prepare the bath and get in, then hand baby to you. When baby is ready to get out, dad can have a towel ready to snuggle baby for a bit while you get yourself out or enjoy more time in the tub. You could also soak in the tub first, while the water is hot, and then invite baby into the bath later, when the water is cooler and you're almost ready to get out.
New Mommy Tea
Tea is another calming, caring ritual. As new moms, it's important to drink lots to help our bodies produce milk for our babies. I love having a hot drink to sip, so I usually have a tea or coffee on the go throughout the day. After baby's birth, I try to avoid coffee for a bit as I don't want the caffeine to affect baby's sleep.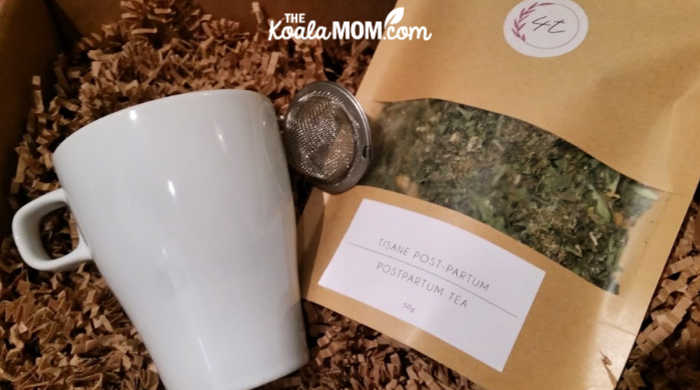 The 4T postnatal boxes include a tea ball for the loose leaf tea (but not a tea cup!). This postpartum tea contains lemon balm and holy basil to help brighten your moods. Keep the kettle hot and try to make yourself a cup of tea to sip while you're nursing baby, so you both get nourished. This tea has a subtle, refreshing taste that will appeal to any tea drinkers.
Sleep Well, Be Happy
Between your raging hormones after birth, and the constant night wakings to take care of baby, the first three months postpartum can be difficult. Pampering yourself with tea and baths can help. Another way to boost your moods, even with little sleep, is essential oils.
I've used essential oils for years and smiled when I saw the small bottle in this box. 4T's "Happy" blend contains bergamot (relaxing), lavender (calming and balancing), fragonia (harmonizing), pink grapefruit (calming and invigorating) and mandarin (anti-irritability and soothing). You can dab a drop of this blend on your wrists or diffuse it in your room. I find scents very powerful and love diffusing oils to uplift my mood.
The hydrosols vaporizer is meant to help you and baby sleep better. Hydrosols are safe for the whole family and can be used in baby's room after about three weeks. Mom can use it immediately; spray in your bedroom or on your pillow to help you relax and rest while baby is. Neroli calms mental agitations while lavender and chamomile soothe.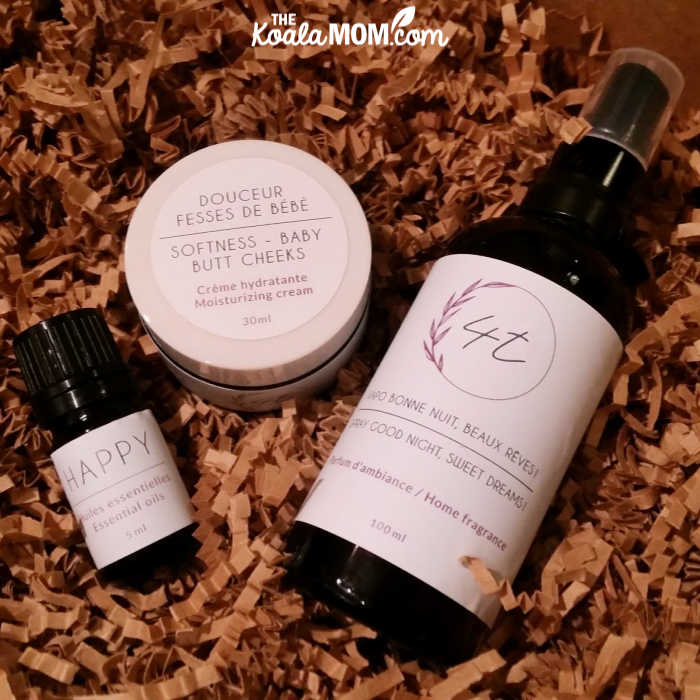 The lotion for baby's bum is another very practical gift in this box. Unlike other thick, sticky diaper rash creams, this cream almost melts as it goes on. A little bit goes a long way on baby's bottom and helps prevent diaper rash. Joey still gets the occasional rash, so I've been using this on his bum. I've been looking for natural products for him too lately and love knowing that all the ingredients in this lotion are safe and gentle.
More Postnatal Boxes
Postnatal boxes from 4T contain not only natural products, such as baths and teas, to help your body heal, but also tips and practical information. The Favourite included two little cards with more information about hydrosols (for those who are new to essential oils) and tips for creating a beautiful bath time ritual. For a first-time mom, 4T has an "extras package" available to download with more tips, recipes, and support (almost as good as having a doula in your home!).
4T offers a variety of boxes, perfect for every mom or circumstance. You can shop boxes for moms who've had C-sections or moms who've suffered a miscarriage or stillbirth. The products from the boxes are also available individually on the website, so if you like the lotion, teas or essential oil blends, you can keep ordering them after you've used up the products from your box.
You can also get natural care products in the 4T shop, including washable nursing pads and sanitary napkins. I recommend checking out the disposable padsicles kit. I've made padsicles for myself for after my last four births, but I've always tracked down the products myself. Having everything put together for you would make this so much easier! There's also deodorant, dry shampoo, and lotions to help new moms take care of themselves.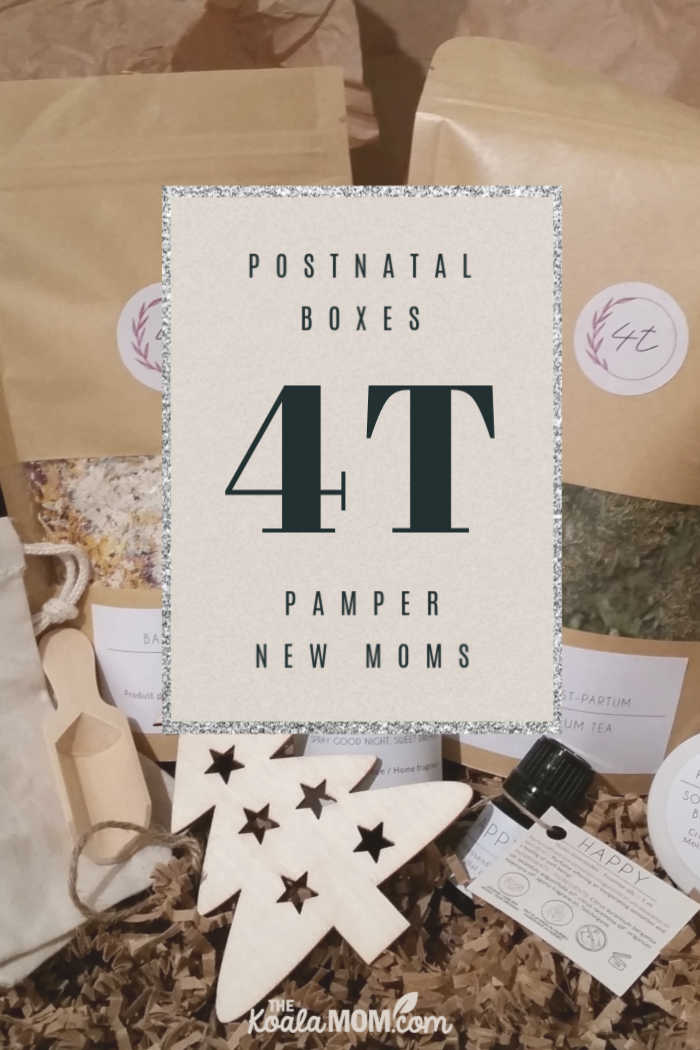 More about 4T
4T was birthed by Geneviève Côté, a mother of two and certified postnatal doula. Being a mother is, to her, the oldest and most beautiful role in the world. She accompanies new moms and families through the ups and downs of the postnatal period. Her care and memo cards remind mothers with humor and love that the basics are often the best way to solve any worries. 4T's postnatal care boxes are an extension of Geneviève's care and love for new moms.
Order a 4T postnatal box for yourself or for an expecting friend!
What's your favourite way of pampering and taking care of yourself after baby is born?