Winter weather is Vancouver is often wet and dreary. Homeschooling can get a bit humdrum as kids get tired of being inside. That's when a field trip makes a great break in routine and an opportunity for a different type of learning. The Museum of Anthropology at UBC offers plenty for students to explore and learn about.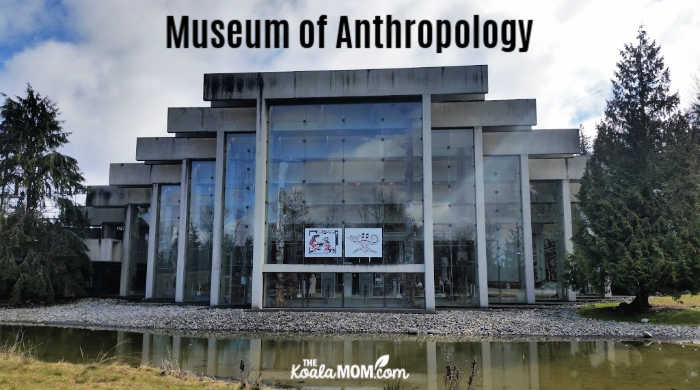 About the Museum of Anthropology
The Museum of Anthropology at the University of British Columbia is world-renowned for its collections, research, teaching, public programs and community connections. Founded in 1949 in the basement of the Main Library at UBC, its mission is to inspire understanding of and respect for world arts and cultures.
Today, Canada's largest teaching museum is located in a spectacular building overlooking mountains and sea. MOA's worldwide collections consist of more than 42,000 cultural objects and artworks created in Asia, Africa, Oceania, Europe and the Americas, with a focus on the Pacific Northwest.
MOA's Multiversity Galleries provide public access to more than 9,000 of these objects and artworks. The Audain Gallery and the O'Brian Gallery, MOA's
temporary exhibition spaces, showcase traveling exhibitions, as well as those developed in-house.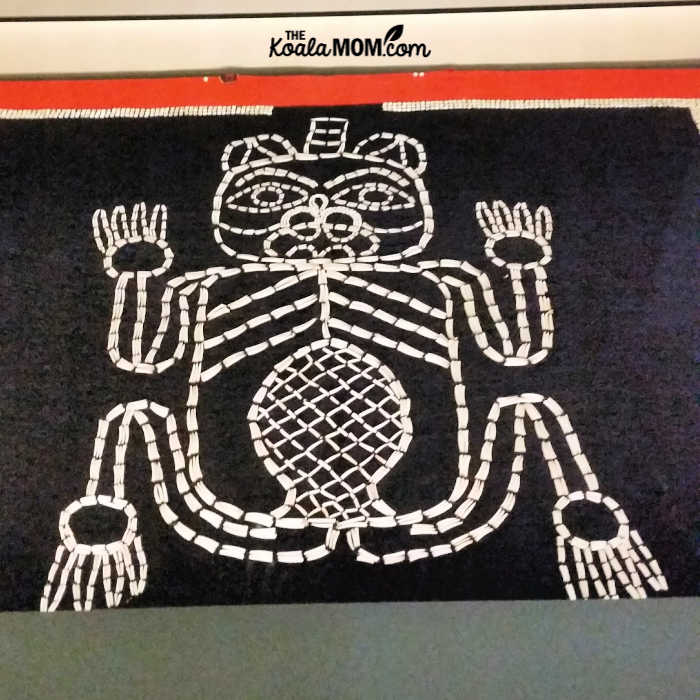 Plan Your Visit
Before heading to the Museum of Anthropology, drop by their website to see what the current exhibit is. Last year, we learned about puppets at the Shadows, Strings and Other Things exhibit. This fascinating exhibit taught the kids about theatre, history, and art all in one! It provided a jumping-off point for further discussion and learning.
Exhibits coming up this year at MOA include:
Playing with Fire: Ceramics of the Extraordinary (on until March 29, 2020)
In a Different Light: Reflecting on North West Coast Art (on until summer 2020)
Shake Up: Preserving What We Value (on until spring 2020)
Celebrate the Family Day Weekend in BC by dropping by MOA for hands-on activities, workshops, performances, and more! Check out the schedule online to see all events and register. (Kids under 12 need an adult with them.)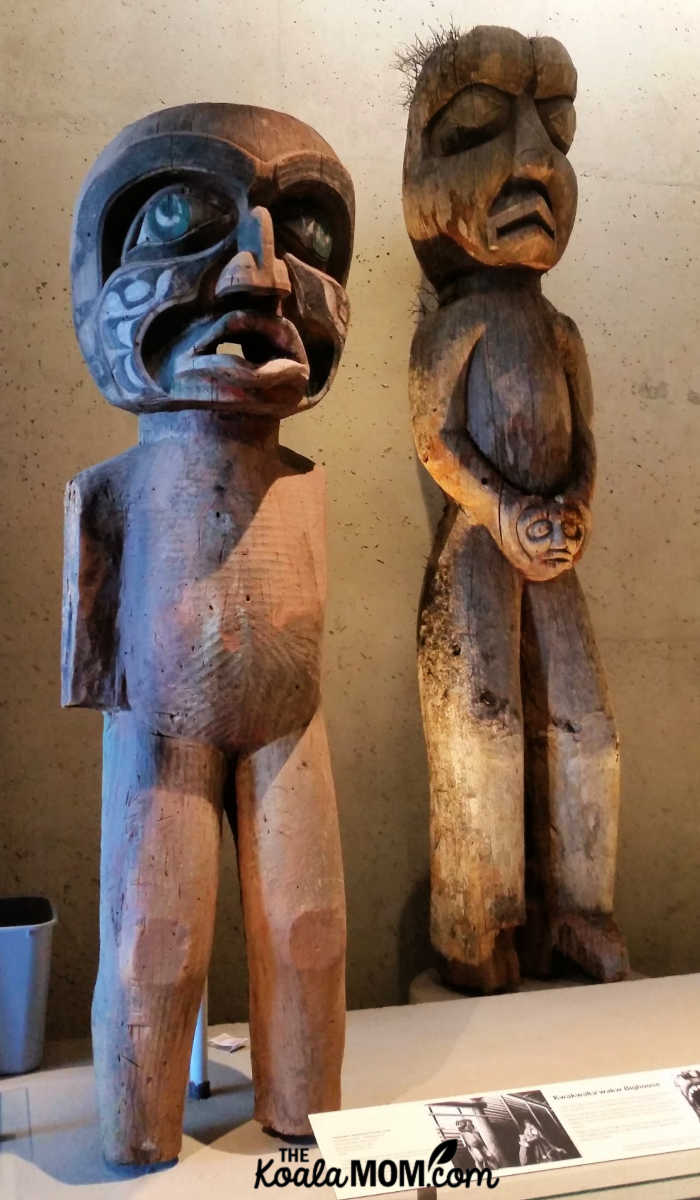 Exploring the Museum of Anthropology
If you are visiting between exhibits, or aren't interested in the current exhibit, there's still plenty to see at the museum. The First Nations artwork in the main hall always catches the attention of my kids. Jade really liked these welcoming figures, which loom high above our heads at the museum.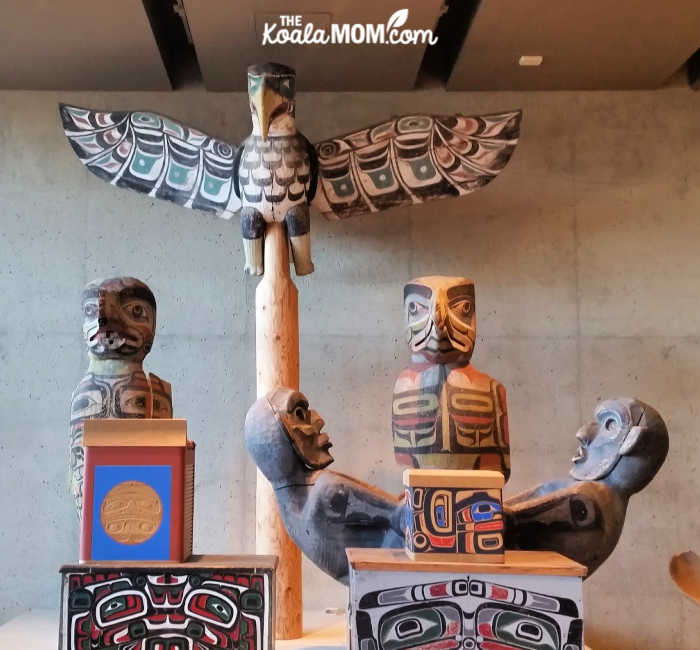 There are also listening and viewing stations at the museum. Kids could watch brief videos on iPads or use headphones to listen to interviews and stories. I really enjoyed hearing more about the relics in the museum and where they had come from and what they meant. I do recommend listening or viewing with your kids, to be able to discuss the stories later.
Many of the museum items have spiritual significance to the First Nations people. I always explain to my kids that some people have different beliefs than we do, but we can respect their beliefs, just as we'd like them to respect our beliefs. It's also easy to explain some traditions by relating them to our own; just as we have holy places and holy items, so do other cultures.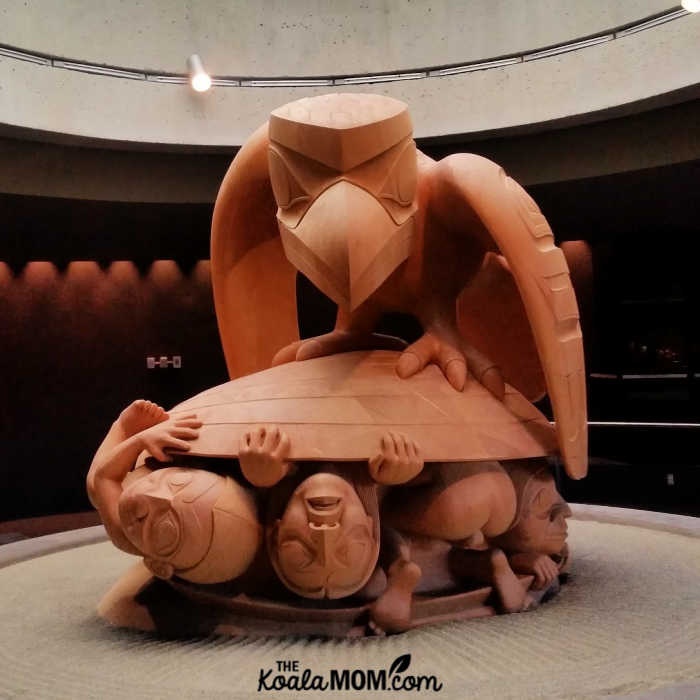 Organize a School Group
If you can get a homeschool group together, contact MOA about their elementary and secondary school programs. Last year, Sunshine and Lily were able to participate in a two-hour program at the museum, organized by a local homeschool teacher. They had fun learning about a potlatch with their friends.
I find the Museum of Anthropology is best suited for school-age kids. The exhibits include a lot of reading, which my younger kids can't do and aren't interested in. I have been to the museum with a baby in a carrier, and for other visits, I've gotten a babysitter for the younger kids and taken the older kids.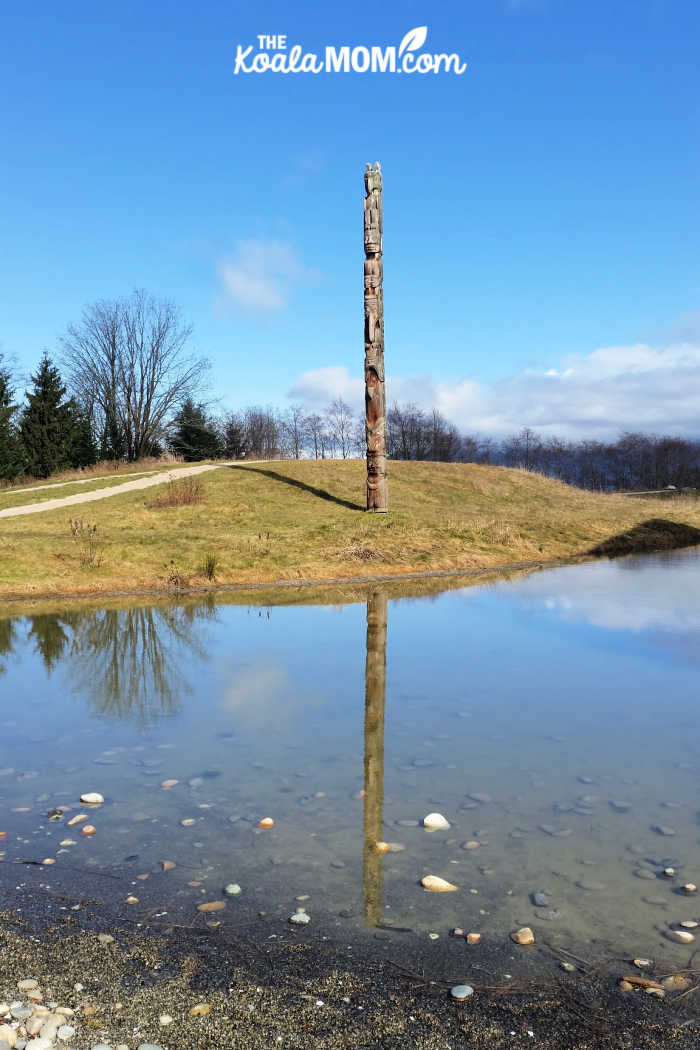 What to Bring
I usually get the girls to bring a notebook and pencil so they can sketch or write about what they see at the museum. You can also write down notes for things to look up later, like questions your kids have about something or stories they want to know more about.
There is a cafe in the Museum of Anthropology if you need to grab a coffee or snacks. You can also pack a lunch and eat it outside (weather permitting).
If you're a local homeschooler, check out my other field trip recommendations around Vancouver.