This summer, we've been doing fun Middle Ages history projects from Home School in the Woods. I have been absolutely blown away by the details and creativity in the Project Passport World History Studies. The girls have had so much fun learning about life in Medieval times through lapbooks, crafts, notebooking pages, timelines, recipes, and more.
If you've ever thought history is boring, you NEED to try this hands-on history project. You will never view the Middle Ages in the same way again! If your kids love history already (as mine do), then they will also love the Project Passports. Read on to find out more about this amazing history curriculum!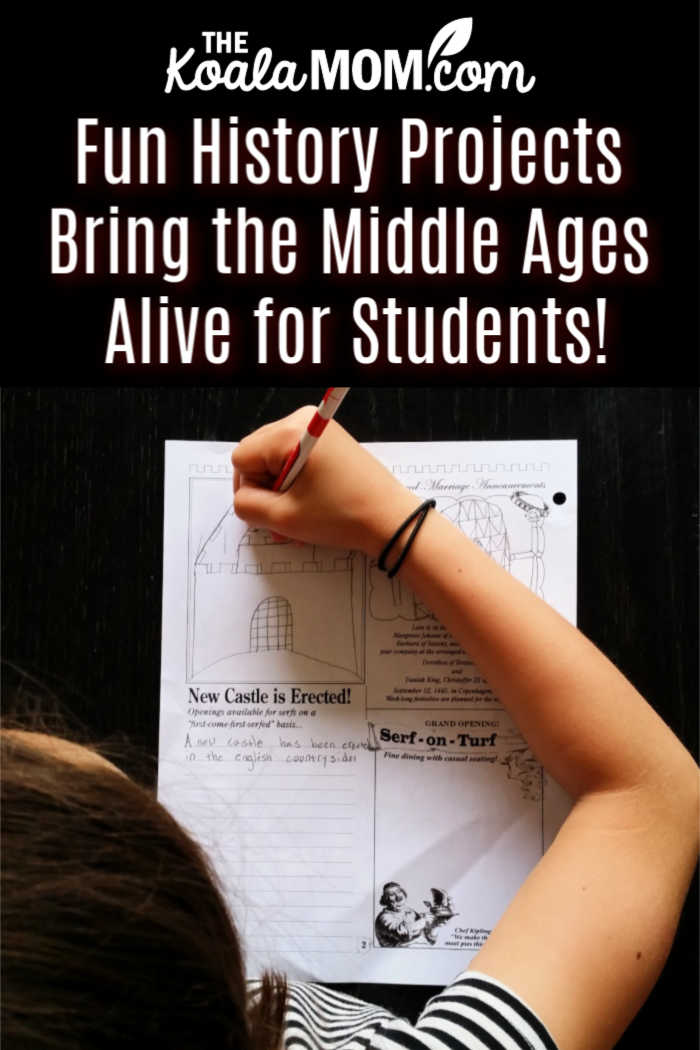 I received this product for review courtesy of Home School in the Woods and was compensated for my time in writing this post. All opinions expressed are my own; I was not required to write a positive review.

Project Passport: the Middle Ages
I have to admit that the Middle Ages are one of my favourite time periods in history. I think many people share this interest, based on the books and movies set in this era (and even fantasies that have very Medieval tones to them). It's easy to get caught up in the romance of knights and ladies, the age of chivalry, the excitement of the jousting, the glory of the cathedrals. There's so much about this era that captures students' imaginations!
Now, we are on summer break. And the girls have been enjoying that. So at first, when I said we were going to do some Middle Ages history projects, they groaned at me. Once I started printing their passports, however, they came to see what was happening. Soon, they were just as excited about each activity as I was.
We studied the Middle Ages as part of our history curriculum about two years ago, so this topic wasn't new to the girls. What I liked about Project Passport is that it makes history very hands-on for kids. They aren't just reading about life in the Middle Ages or looking at drawings in books. We've been busy cutting, colouring, folding, building, listening, reading, writing, and more.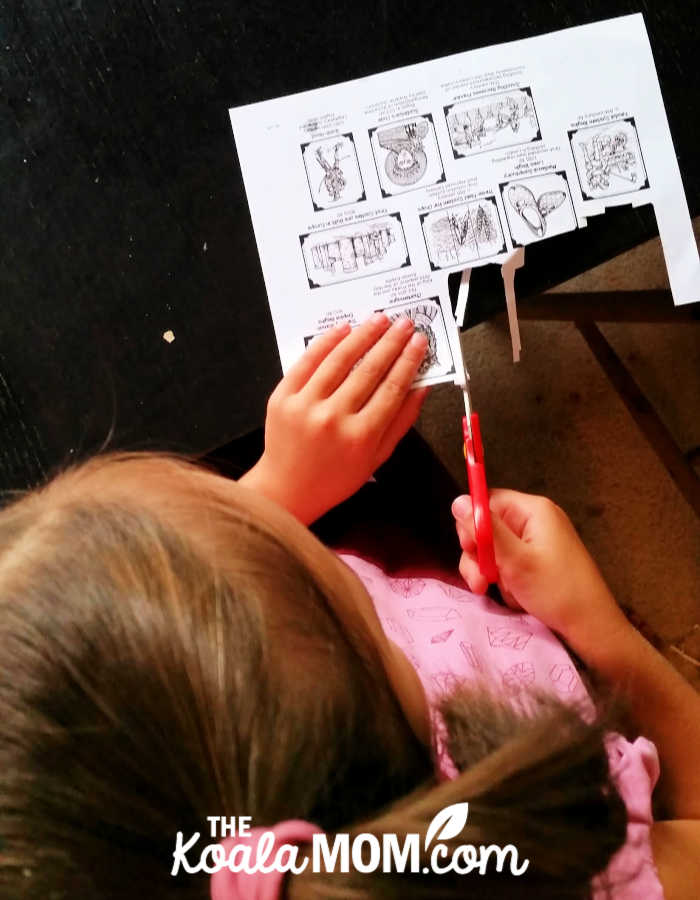 While we've done these Middle Ages history projects over the summer, you could easily take a semester or a school year to cover the materials. The girls were having a lot of fun with Project Passport, so we simply spent several hours a day doing history. If we were trying to complete other school subjects during the day, I'd probably limit them to one craft or project per day and spread it out over the semester.
You could supplement the Project Passport with other books and movies to turn it into a full-year unity study. There is a list of Additional Resources provided that includes nonfiction, historical fiction and biographies (including a list of G. A. Henty books that fit this time period), audiobooks, videos and music. If your children enjoy learning about this time period, Project Passport makes it easy to really dive in!
For example, when my husband heard I was doing Middle Ages history projects with the girls, he said we should watch A Knight's Tale. Sunshine and Lily enjoyed it. As we continued learning about the Middle Ages, A Knight's Tale provided ample discussion points, such as whether the movie costumes were accurate (um, maybe not!) and how common William's ambitions would have been (most people probably accepted their station in life). (Do look up reviews before viewing the movie with your kids. I had to chatter through a few "mushy" sections of the movie to distract the girls, but thankfully the movie is old enough that much was left to the viewer's imagination.)
Using the Project Passport
The Project Passport World History Studies are available as a digital file, either on CD or as a .zip download. Every day, I opened the folder on my computer, clicked "start" to open a webpage, and then scrolled down to the next "stop" on our journey. There are 25 "stops" or lessons in the passport, with two to four activities per stop.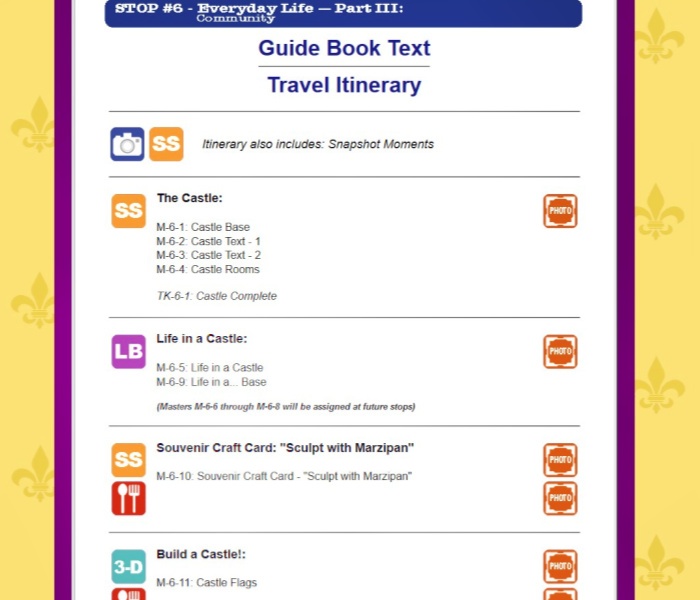 Each stop includes the Guide Book Text (2-3 pages about this stop), Travel Itinerary (the "how to" for each activity in the stop), and then various projects. These might include the timeline, Scrapbook of Sights, Medieval Times newspaper, lapbook activities, crafts, games, audio tours, and more. Each day was a little different to keep things exciting and interesting for the girls.
The Project Passport World History Studies are recommended for grades 3-8. I did this unit study with my oldest three girls, in grades 1 through 5 this year. I read aloud the "core text" for the girls and divided the other activities according to their abilities. Jade can't read or write on her own yet, but she did a lot of the colouring, drawing, and cutting for various projects, while Sunshine and Lily did the writing.
These Middle Ages history projects can easily be used with either one student or with several. For example, I've had the girls doing "group" projects and working on the newspaper, timeline and other crafts together. You could just as easily print a newspaper for each of your students. It would be fun to see each of their papers once they are done!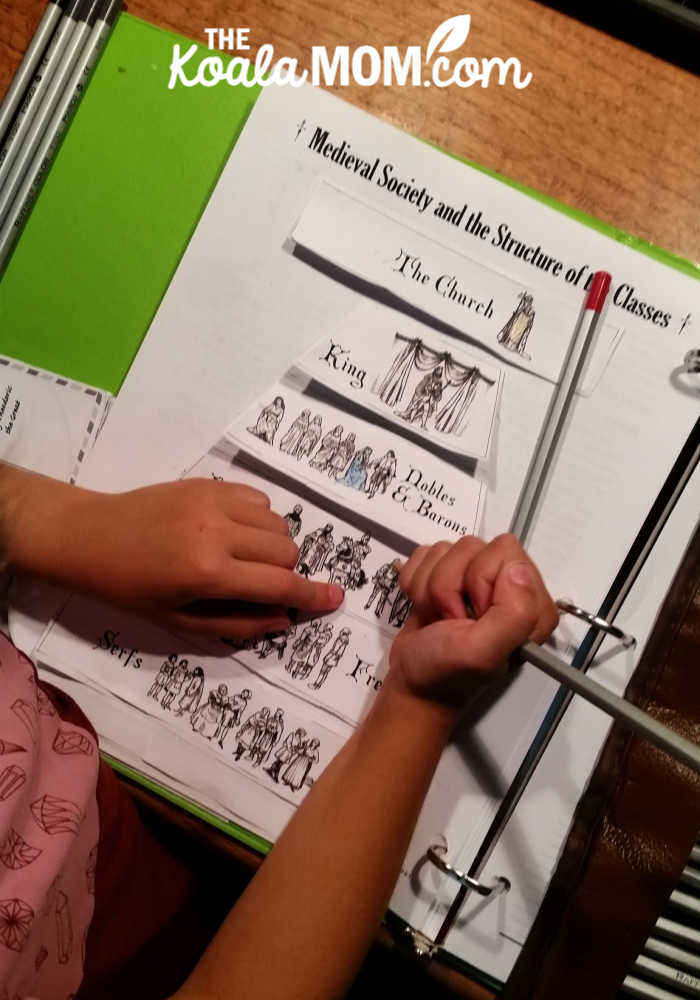 I really liked the way that the Project Passport appeals to a variety of interests and ages. Jade has had fun cutting, colouring and gluing with her big sisters. Lily really enjoys writing, so she's worked on most of the articles in the Medieval Times. She's also done a lot of the drawing for the Times and the postcards. Sunshine likes cooking and crafts, so she's had fun trying historical recipes and doing some of the hands-on projects.
Lily has been really excited about writing the Medieval Times. Headlines are provided, and she gets to fill in the articles and some of the pictures. She's had a lot of fun being a "reporter" and adding stories as we've worked through the various sections of the paper. Home School in the Woods has an excellent article about why newspapers are a great learning tool, noting, "This exercise is meant to be fun and inviting for children, especially for those who may not yet have much experience with writing. It allows them to paraphrase a historical event in their own words while challenging them."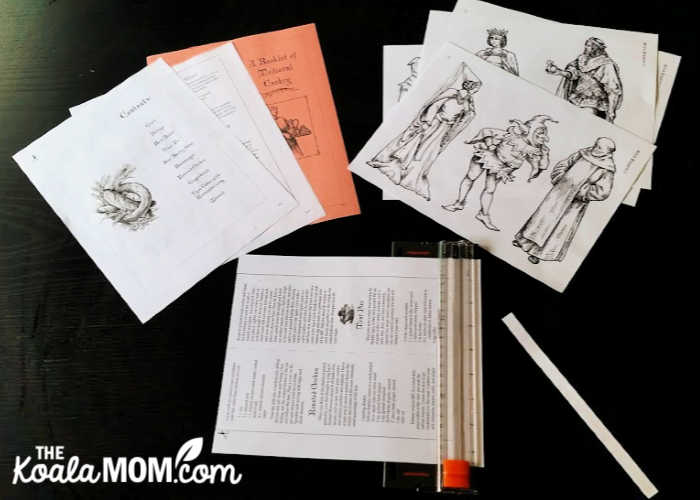 When your children are finished their Middle Ages history projects, they'll have a large portfolio to share with family, friends, or their homeschool teacher. How you compile their work is up to you. We haven't used lapbooks in our homeschool, though I know many homeschoolers who enjoy doing that. I put all of our papers and projects into a binder and would like to coil bind it all when we're done, so that we can use it in a few years when we study Medieval History again.
TL:DR Notes
Why we loved the Project Passport from Home School in the Woods:
easy-to-use unit study that covers the Middle Ages from 500-1500 AD
fits a variety of ages and interests
hands-on projects include newspaper, postcards, timeline, lapbook, and more
read, write, listen, colour and create to reinforce learning
history becomes fun and interactive
More about Home School in the Woods
Home School in the Woods has five different Project Passports World History Studies: Ancient Greece, Ancient Egypt, Ancient Rome, the Middle Ages, and the Renaissance & Reformation. They also have many other history studies resources for homeschoolers, including Timeline Trio and Time Travelers U.S. History Studies.
Home School in the Woods also has many products available a la carte. These are great if you don't want to jump into a big unit study or simply need some materials to supplement another history program. For example, we've downloaded and created the Journey Through the Middle Ages File Folder game, which would go great with this Project Passport. You can also get the newspapers, timelines, and other products on their own.
Subscribe to the Home School in the Woods newsletter to receive a FREE mini study on famous authors!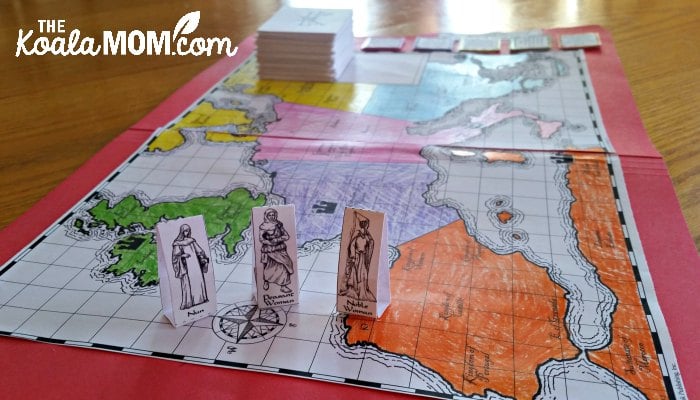 ENTER TO WIN an amazing history studies collection from Home School in the Woods! One winner will receive The ENTIRE COLLECTION of both Project Passport (5) and Time Traveler (7) products—$311.90 VALUE! The winner can be anywhere in the world because this is a digital product.
Do you study history in your homeschool? What's your favourite historical era?