Dining out with kids can be difficult. Family restaurants often lack the menu selection or vibes that we look for when eating out, but pubs and other nice restaurants aren't kid-friendly. So I was very excited to hear about the Blenheim, a family-friendly pub in Kitsilano. This German-style eating house has a kids' play area in the corner, casual pub atmosphere, and a kid-friendly menu. We recently visited for a family brunch.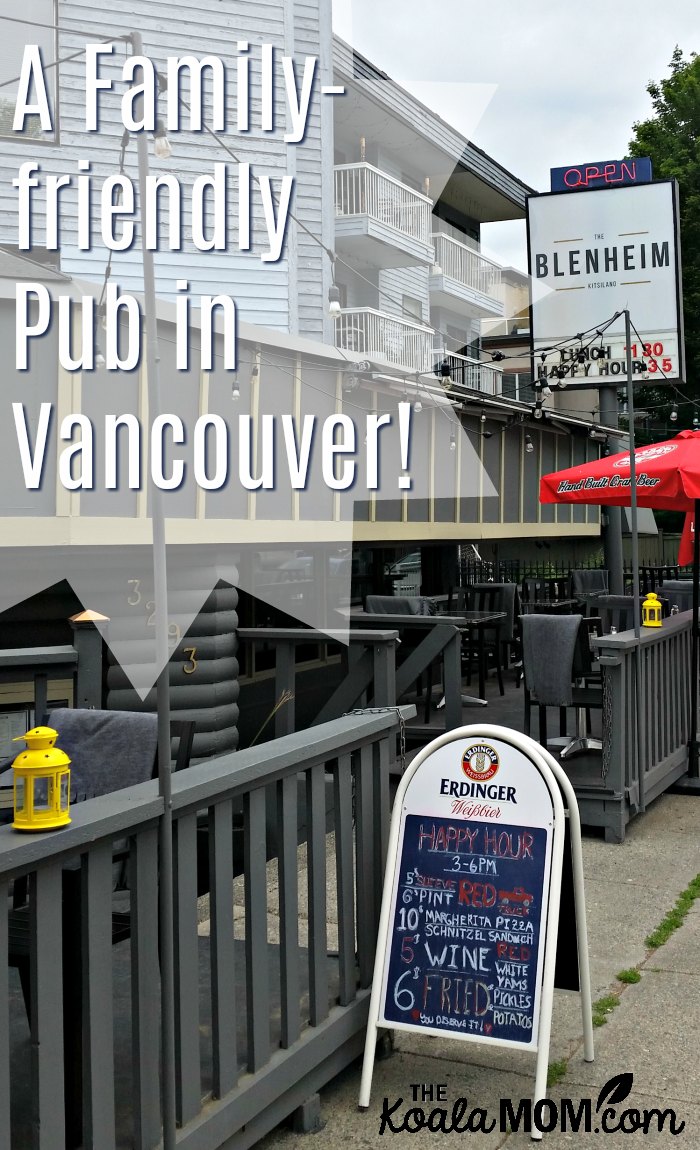 Disclaimer: the Blenheim invited us down to their family brunch and hosted us for this meal. All opinions expressed are my own.
"Let's go for brunch," my husband said when we looked at the menu online. I'd also noticed the brunch menu, but he's usually the one who takes the longest to read the menus when we go out, so I made brunch reservations for us.
We planned to go on a Sunday morning so we'd have time to explore Kitsilano afterward. (Unfortunately, the weather didn't co-operate with our beach plans, but we still had a lovely day!) This was our first visit to the Kitsilano neighborhood, but we definitely plan to be back again.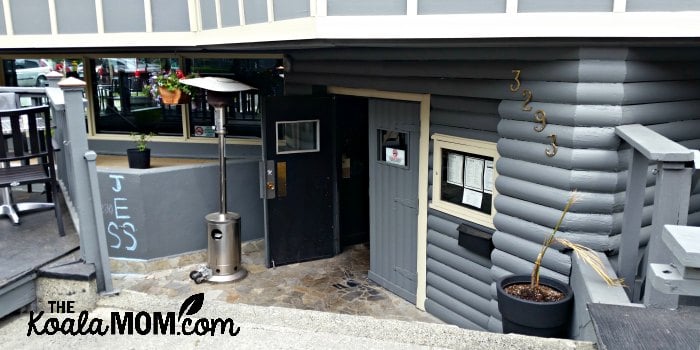 The Blenheim is located below a condo or apartment building on the corner of West 4th Ave and Blenheim Street. There's plenty of patio seating if the weather is nice, plus spacious tables inside. The hostess showed us to a long table on the right side of the restaurant, right next to the kids' play area. I thought it was great that the restaurant has two areas, to be able to cater to those with kids and those without.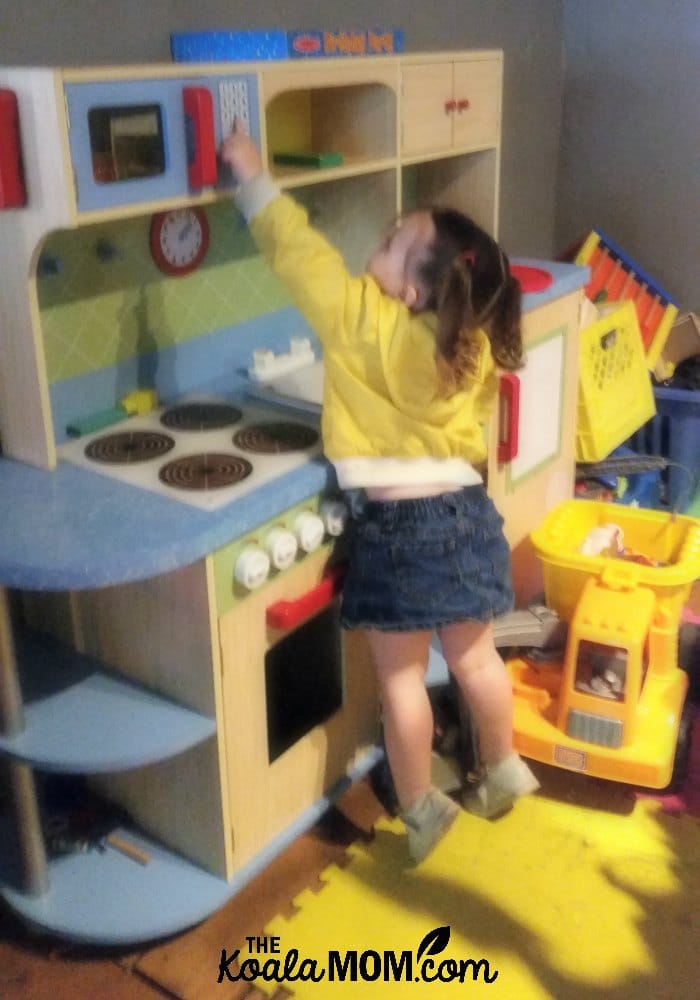 Our girls headed for the play area right away. There was plenty there to keep them busy! While they explored, my husband and I were able to drink our coffee together and chat about the week. It was, by the way, very good coffee.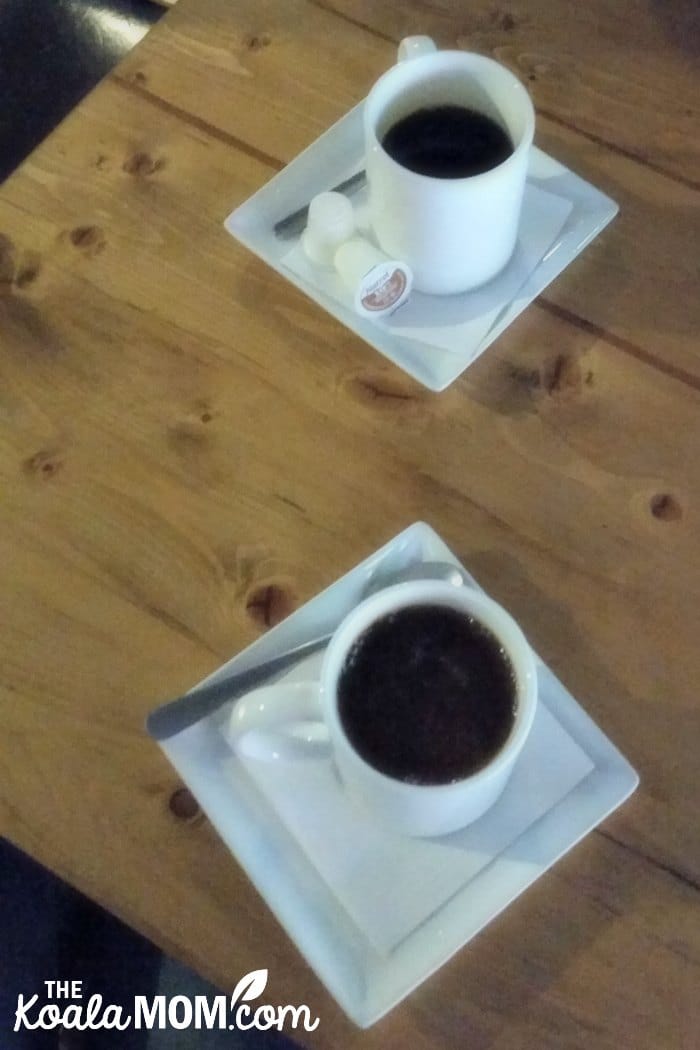 While the pub was quiet on a Sunday morning, our waiter told us that it gets busy in the evenings. He said the play area is quite popular with kids, and he enjoys seeing all the little people playing there. As we ate, a few more parents dropped by for the family brunch and a couple other kids came to join ours.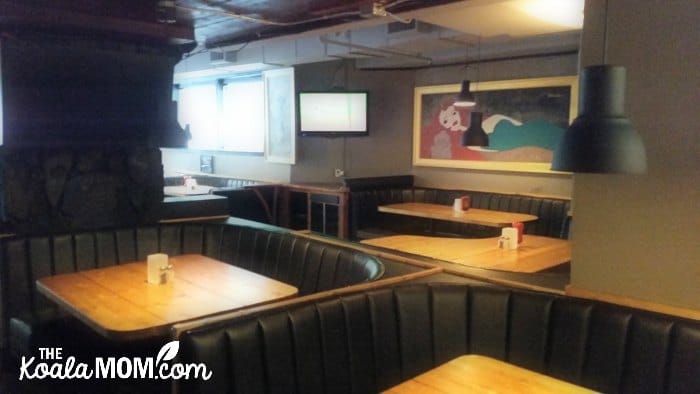 Even if the atmosphere in a restaurant is good, it's the food that makes or breaks the visit. We ordered fairly quickly because we'd already looked at the menu online. Because the kids were happily playing (instead of whining about how hungry they were and repeatedly asking "When is the food coming?"), it seemed like our food came really fast.
I ordered the Stuffed French Toast. It was absolutely amazing. The French toast was stuffed with a cream cheese and fig filling, then breaded in a crusty topping and fried. It was topped with frozen fruit and whipped cream. French toast is one of my favourite breakfasts and this French toast was probably the best I've ever had.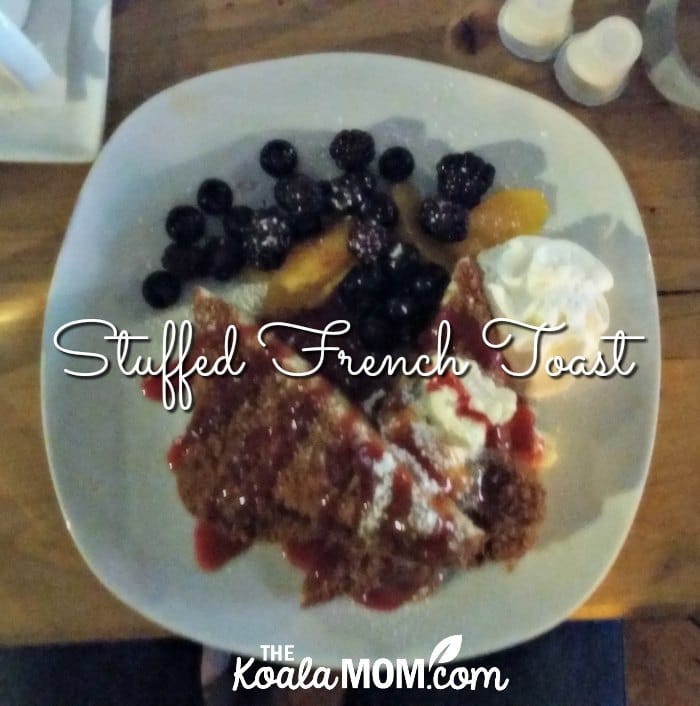 What caught my husband's eye when we were looking at the menu online was the Montreal Hash. (Notice I go for the sweet and he goes for the savoury!) The hash included Montréal smoked meat, hash browns, onions, peppers, corn, and BBQ sauce. It was topped with 2 poached eggs, hollandaise, and served with toast. It's a hearty breakfast!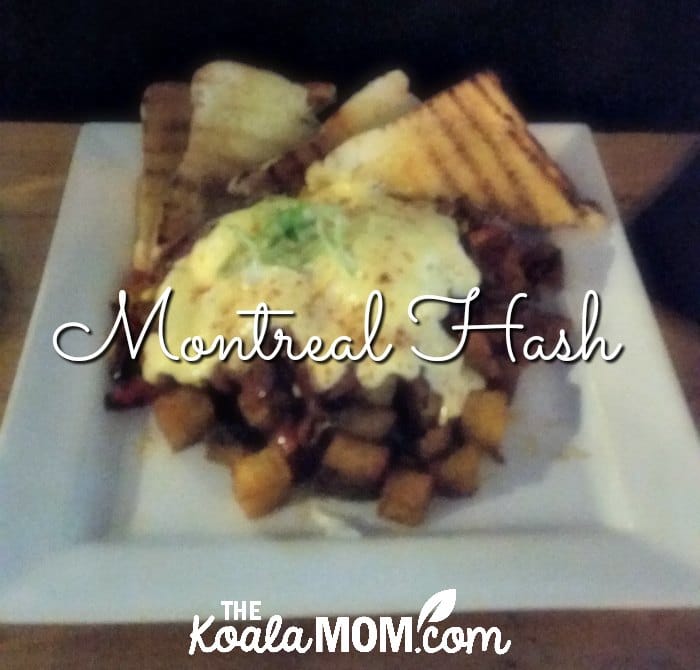 Lily, our eight-year-old, noticed the Breakfast Sandwich and decided to try that. It has a fried egg, cheddar cheese, and bacon on an English muffin, along with hash browns. However, when she got it, she took one bite and said it was spicy. The breakfast sandwich also has a homemade chipotle aoli, which my husband and I thought was delicious. He traded her sandwich for a few pieces of his toast, and everyone was happy.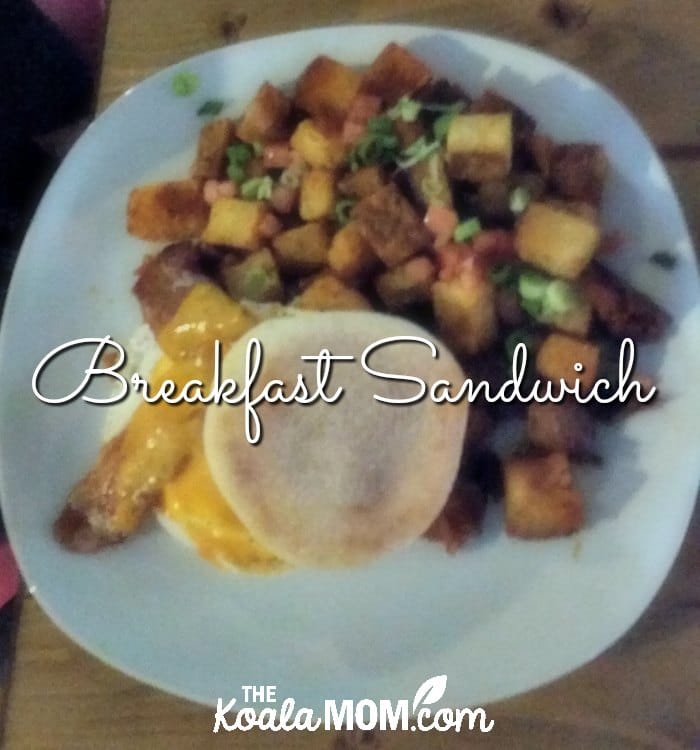 Sunshine, Jade and Pearl had the Kids Classic Breakfast—1 egg, bacon or sausage, hash browns and toast. Our girls love breakfast sausage, but the sausage that came with Jade's breakfast was more like a Farmer Sausage. My husband and I liked it and she ate her toast and eggs. Sunshine and Pearl enjoyed the bacon that came with their breakfast.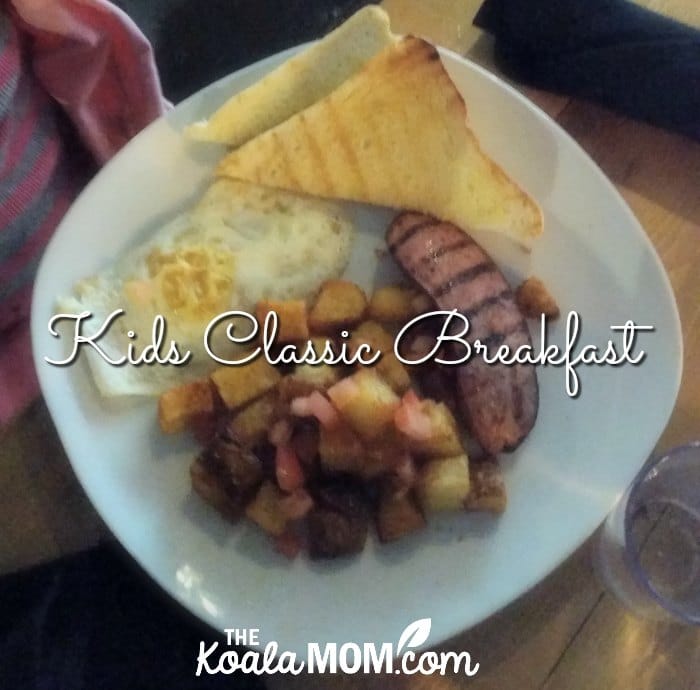 When it comes to kids, we're never sure how many kids' meals to order. Some restaurants seem to skimp on the kids' meals, and our girls are left hungry. The Blenheim isn't like that. As you can see, the Kids' Classic Breakfast was a generous plate! Sunshine (age 10) ate hers, but Jade and Pearl needed help with theirs.
Pearl (age 2) is probably the hardest to order for, as she'll sometimes eat like a bird and other times like an elephant. Our waiter did offer to bring a fruit bowl for her instead of a full breakfast, so you could always ask for that for your child (or have two children share one breakfast, as we often do too).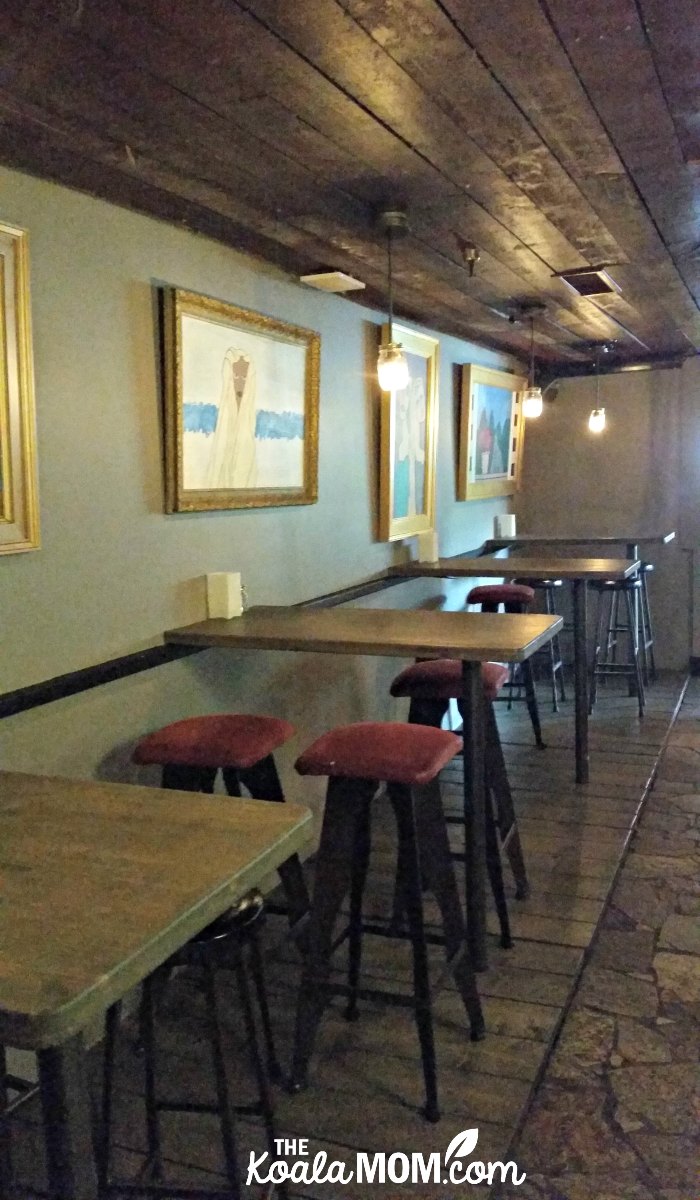 The Blenheim's brunch menu is available on weekends from 10:30 am until 2 pm. I just noticed that the Stuffed French Toast is no longer on the menu, but there is now an Eggs Benedict—one of my other favourite breakfast options. Like us, you can browse the menu online before dropping by to save time on ordering when you get there. (Although your kids may prefer if you read the menu at the restaurant so they can play longer!)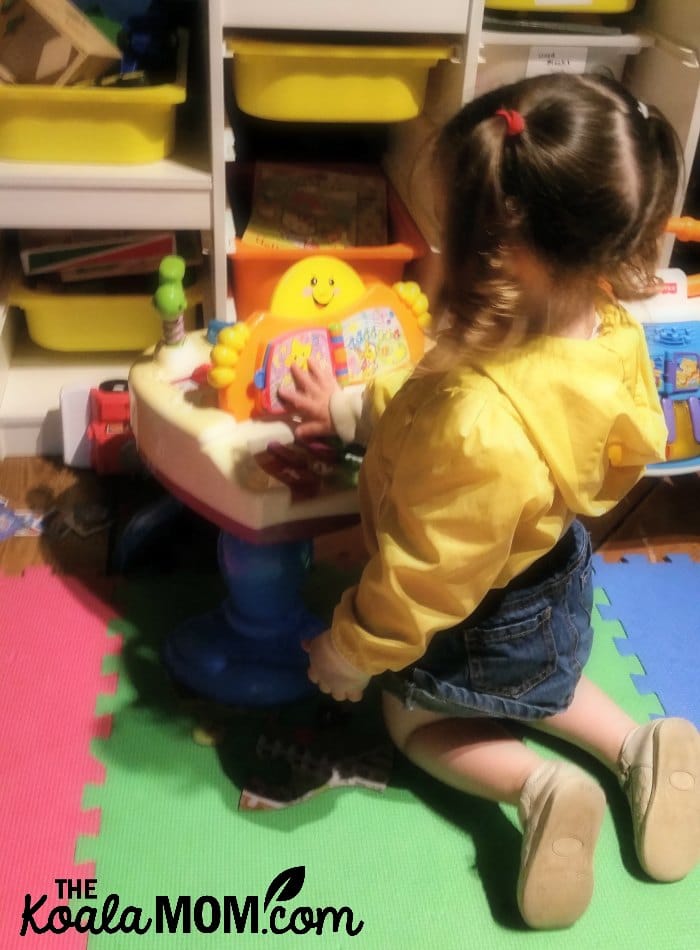 After we'd finished our food, the chef stepped out to chat with us. He said he's working on developing the kids' menu and has more ideas for fun foods to add. We told him how much we'd enjoyed our family brunch. He also mentioned that he likes to source local, organic food in his cooking. Being able to talk to the cook really added to the small-town, family feel of this pub.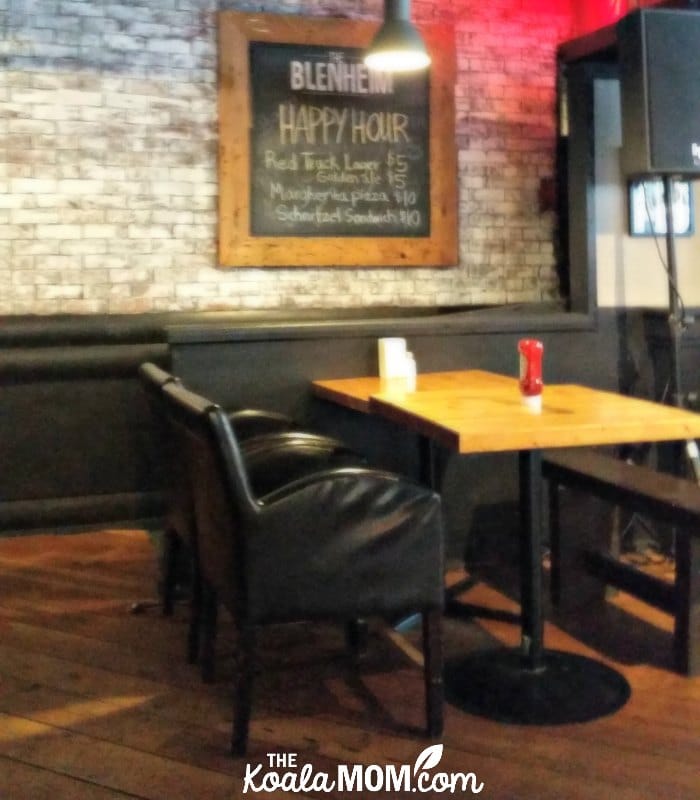 I also want to add a note about the washrooms. As a mom, washrooms are a big deal. There's nothing like having to leave your table in a restaurant to change a toddler's poopy diaper, only to discover that the washroom is tiny and dirty and the diaper change is now going to be really awkward. The washrooms at the Blenheim blew me away. They were spacious, clean, stylishly decorated, and even had a change table.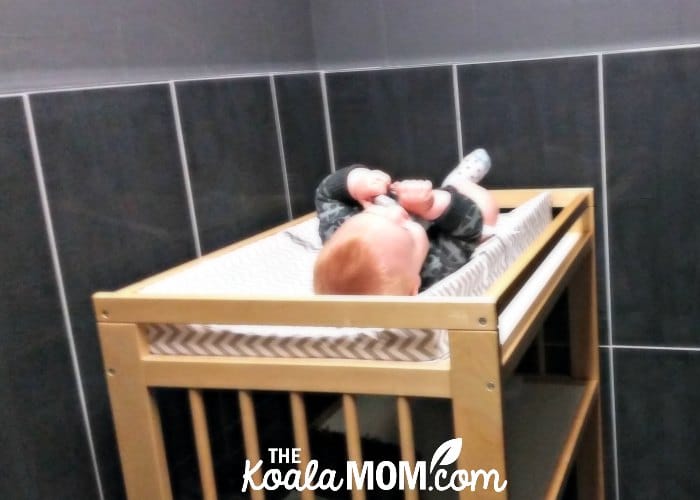 The Blenheim Pub has thought of everything to make dining here a family-friendly experience. From the kids' menu to the play area to the change table, everything a family needs to enjoy a family brunch together is provided. There was lots of space in the restaurant if you're bringing a car seat (as another family did) and high chairs are available for toddlers or infants. It's hard to find restaurants that make eating out this easy, so high fives to the Blenheim (and lucky you if you live in Kitsilano!).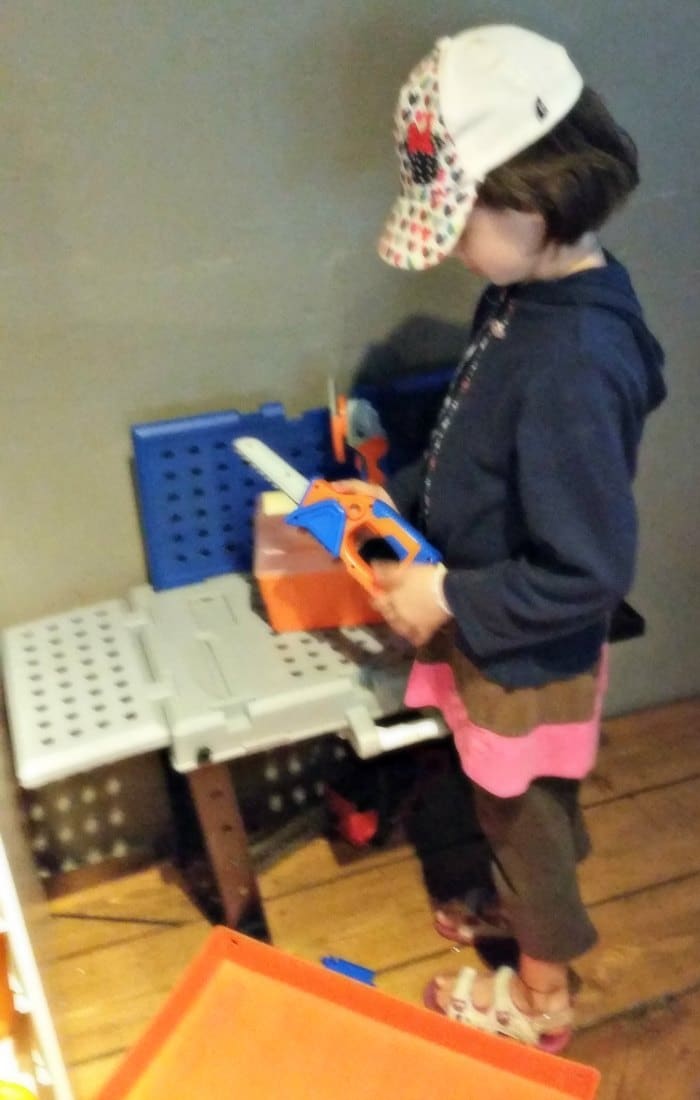 If you're in the Kitsilano neighborhood, drop by the Blenheim for a family brunch or dinner. If you're not in the neighborhood, find a reason to head down there! There's plenty to do in the neighbourhood either after brunch or before dinner. The pub is worth the drive—just tell them the Koala Mom sent you.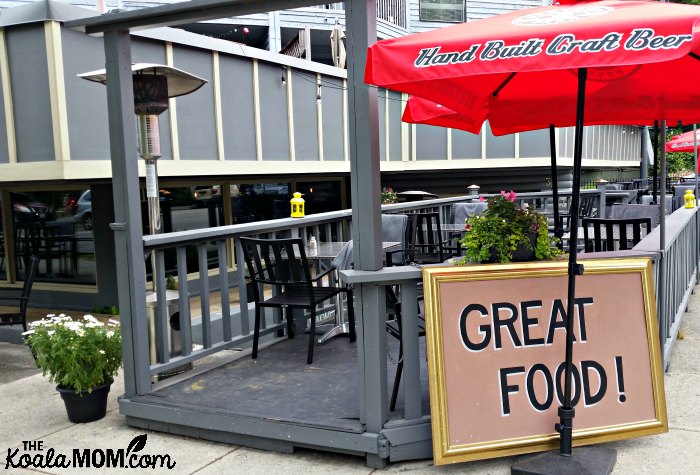 What do you look for in a family-friendly restaurant? Do you enjoy a family brunch?