Between the Old Testament and the New Testament is a gap of several centuries often known as the Silent Years. During this period, God didn't speak prophetically to His people, the Israelites. It's in this time period that Angela Hunt sets her latest series of novels. Judah's Wife: A Novel of the Maccabees tells the story of Judas Maccabeus, the man who led the Maccabean Revolt one and half centuries before Jesus' birth.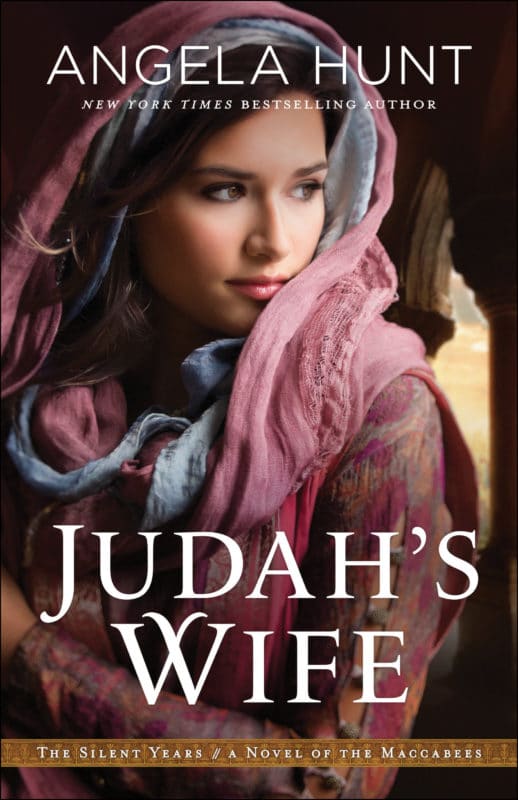 This post contains affiliate links; as an Amazon Associate, I earn from qualifying purchases. I received this book for review courtesy of the publicist.
The Plot of Judah's Wife
Leah knows violence. She sees it every day when her father comes home. Her mother tries to protect Leah from her father's fists, but Leah has grown up doing her best not to anger him. Marriage to Judah Maccabeus offers her an escape, a peaceful happy life outside of Jerusalem. But when Judah and his brothers go to war against their Greek oppressors, Leah's happy new life falls apart. How can she live with a man of violence after what she endured from her father?
Judah is the youngest of five brothers and the son of a temple priest. Their family has remained loyal to Yahweh despite the persecutions from the Greeks. Leaving Jerusalem and starting a new life in Modein gives them a chance to live according to the Law, without fear of the Greeks. But when the persecution comes to Modein, Judah's father takes a stand for Yahweh. As Judah becomes commander of the armies of Israel, he's caught between what God is calling him to do and what his wife wants.
My Thoughts on Judah's Wife
Judah's Wife has all the historical details I expect from an Angela Hunt novel. She also dives deep into her characters, bringing Judah and Leah alive for modern readers. While Judah and his brothers are historical figures, their wives are Angela's creations. I appreciated the richness she brings to her characters. Judah and his brothers are as different as one would expect, and Leah's struggles are real and relatable.
While many find history boring (even historical fiction), I have always enjoyed it. I find that history speaks to us, because history often repeats itself. We can learn from those who've gone before us, no matter what time period they've lived in. This is what Leah realizes at the end of Judah's Wife. She becomes the storyteller of Judah's deeds, spreading the news about how Yahweh has been delivering His people through Judah. She says (spoiler alert!),
"Judah would continue to live through his story, and I would faithfully tell it. He could continue to lead his men through his example. And as long as his story lived, the people of Israel could take courage and know that Adonai had not neglected them."
Judah's Wife is based on the books of 1 and 2 Maccabees, which are found in Catholic Bibles or in Protestant Bibles that include the Apocrypha. This book reminded me that while I've read other books of the Apocrypha, I haven't yet read Maccabees. Reading Judah's Wife has made me want to pull out my Bible and dive into these books.
About writing Biblical fiction, Angela says,
"What a trustworthy biblical novelist does is take the scripture and bring it to realistic life with layers of color and texture and sensory details. … Most of all, we keep the scriptural account as our touchstone, taking care not to violate it.  But the parts that spring from our imagination, we freely admit are fiction."
Next in the Silent Years Series: Jerusalem's Queen.
More about Angela Hunt
Angela Hunt is the author of more than 140 books, both fiction and nonfiction. Her books have won the coveted Christy Award, several Angel Awards from Excellence in Media, and the Gold and Silver Medallions from Foreword Magazine's Book of the Year Award. She has a masters, doctorate and Th.D in Biblical studies. When she's not home reading or writing, Angie travels to teach writing workshops at schools and writers' conferences. She also loves photography and big dogs.
To find out more about Angela or her books, drop by her website or follow her on Facebook or Goodreads.