Presentation House Theatre (PHT) and Mexico's famed Marionetas de la Esquina present the Canadian premiere of award-winning playwright Amaranta Leyva's enchanting puppet show, Sleeping Beauty Dreams. If your children enjoy fairy tales and puppet shows, read on to find out more about this show!
The show will be at Presentation House Theatre in Vancouver, BC, from January 26 to February 4, 2018.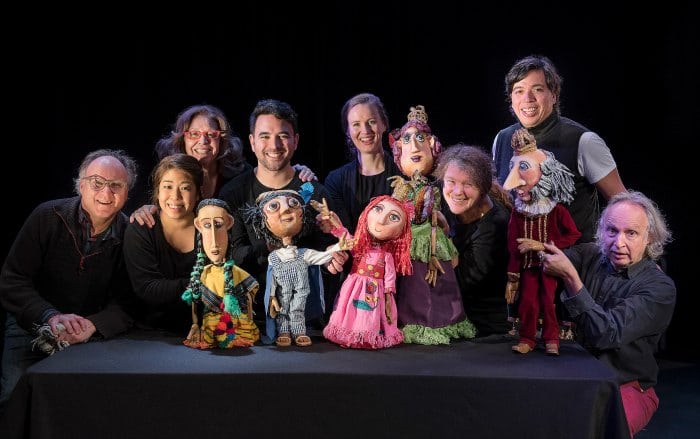 Co-directed by Lourdes Pérez Gay and Kim Selody, Sleeping Beauty Dreams re-imagines the famous princess as an overprotected daughter looking for a way to break free of her castle walls in order to search for true love and her true self. This international collaboration is a contemporary look at this classic tale with a local ensemble cast whose humorous storytelling and whimsical puppetry awaken this sleeping princess as never before.
My husband took our oldest three girls to see the puppet show. He said it was very well done. We've enjoyed fairy tales with a twist in various TV shows and movies, so he enjoyed seeing what Leyva did with the story. To him, Sleeping Beauty Dreams was about fear and overcoming fear. Each of the parents feared something, and tried to instill that fear in their children to keep them safe. Instead, the children faced their fears and overcame them, teaching the parents to do the same.
Lourdes Pérez Gay is the Master Puppeteer  and Co-Director of Sleeping Beauty Dreams. He says, "We are excited to team with Presentation House Theatre to share this charming production with Vancouver audiences. In re-imagining this classic fairy tale through the humour and honesty of puppetry, we see the princess trying to break free of her castle walls to find her true self. In essence, this is a fresh coming of age story."
Sunshine (age 9) and Lily (age 7) also enjoyed the show. They tried to convince me to take them back to see it again! Lily says it was cute. She really liked it when (spoiler alert!!!) Sleeping Beauty and the boy figured out that the dragon and the curse they'd feared weren't real. Jade (age 4) liked the princess.
Kim Selody, Artistic Director of Presentation House Theatre and Co-Director of Sleeping Beauty Dreams, says, "While aimed at children five years of age and up, Sleeping Beauty Dreams has much to offer today's parents. Here we have a boy largely left to his own devices and a girl whose parents keep her within their own four walls because they have been told if she pricks her finger, she'll die. In many ways, it's an examination of two parenting extremes as seen through the eyes of children: latch-key kids and helicopter parents."
This show is ideal for families with young children ages 5 and up. My husband and I have enjoyed live theatre since our dating days, so we love seeing family friendly shows like this. It's a great way to introduce the girls to live theatre. It's also fun to chat with them about the differences between movies and plays, and between different versions of the same story.
For more information about the show and the venue, or to buy your tickets, drop by the website.
Have your children attended a play or puppet show? Do they enjoy fairy tales?
I was provided with four tickets in exchange for thisreview; all opinions expressed are my own. Photo credit: Emily Cooper.