Publishing an ebook is an excellent way for bloggers to create an income stream. As a blogger, you already have readers and writing experience. However, there's more to selling an ebook than just writing it and offering it to your readers. If you are considering creating an ebook, here are 5 key metrics you'll want to know about to track your ebook marketing effectiveness.
Believe it or not, marketing ebooks doesn't have to feel like shouting into a void, hoping your efforts pay off down the line. With a working knowledge of an analytics program and marketing lingo, you can easily track your marketing methods and see how they impact your bottom line. You can also determine which sources are good returns on investment and which need some adjustment to become worthwhile.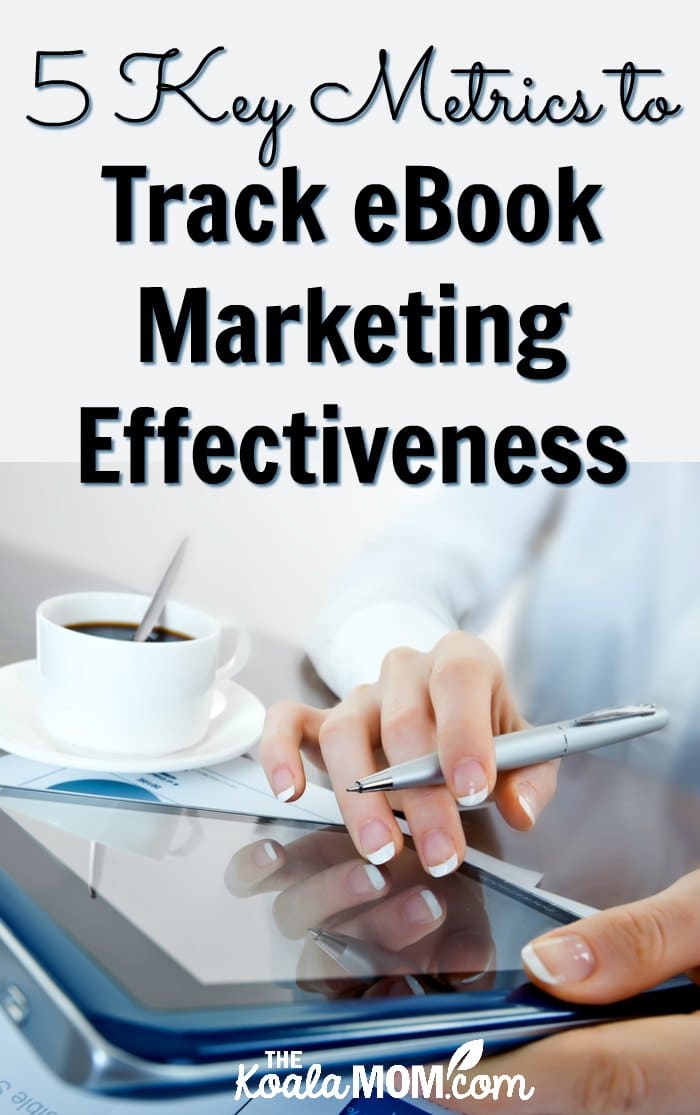 These five key metrics to track your ebook marketing effectiveness will give you a general idea of how well your website is acquiring customers and whether or not they're finding what they need once they arrive.
Customer Acquisition Cost (CAC)
You brought 100 new customers to your online ebook store last week. That's great, right? While new customers are never a bad thing in their own right, you may actually be spending more to get them than they are spending at your store.
The basic formula for customer acquisition cost (CAC) is (Total Cost of Marketing and Sales Efforts) / (# of Customers Acquired). You must compare the CAC to the average amount each customer spends in your store to determine if your current customer acquisition methods are worth their weight in gold.
If it costs you $5 to bring in a customer and most people end up spending $7 on your website, it may be time to test out more economical marketing solutions for a more desirable margin.
Website Traffic
The most fundamental metric in e-commerce is website traffic—the total number of people visiting your website and a breakdown of where they come from. The number of visitors provides a broad overview of traffic to your site and gives you an idea of your website's growth over time. Meanwhile, segmenting traffic by channel helps you drill down into your efforts to see what's working and what needs some extra attention.
When it comes to traffic, keep an eye on these channels:
Direct: Customers who type in your site's URL or use a saved bookmark
Referral: Visitors who arrive from a link on another website
Organic: Traffic from unpaid search engine results
Social: Visitors who came to your site from a social media platform
Bounce Rate
Persuading online users to visit your website is a great first step, but it's only part of the story. In order to sell ebooks, your customers have to stay on your website long enough to complete a transaction. Bounce rate tracks exactly how many visitors exit your site after landing on only one page, also known as single-page visits. High bounce rate means more people are arriving, taking a quick look around and leaving. Why might they be doing so?
There could be a disconnect between your marketing endeavors and your ebook store. This is a good time to tune up your paid advertisements, make sure every social media post links to the most appropriate website landing page and ensure your home page is optimized for quick absorption and navigation.
Click-Through Rate (CTR)
There's a huge difference between getting eyeballs on your marketing messaging and garnering actual clicks. That's where click-through rate (CTR) comes in. The basic formula for calculating CTR is (Clicks) / (Impressions) x 100.
High CTR rates indicate your content (whether it's an email blast or a paid advertisement) is engaging enough to compel online users to take time out of their day to click. A low CTR indicates your ads may lack a details or a sufficient call to action.
Mobile Traffic
In one study, mobile made up 26 percent of the total traffic, but only 10 percent of total revenue came from mobile. This shows how shoppers use mobile devices for timely research but often wait to buy until they're behind a laptop or desktop computer. Keeping track of mobile metrics like traffic and conversion rates will help you know where to direct your marketing efforts.
These five key metrics to track ebook marketing effectiveness will give you a multi-angled approach to assessing the effectiveness of various campaigns and platforms.
Useful resources:
Have you considered writing an ebook? What tips would you share to track your ebook marketing effectiveness?
This guest post was written for the Koala Mom; all opinions expressed are the writer's.