Invitation caught my eye because three of the four authors are among my favourite writers, and I've heard good things about the fourth. Bill Myers, Frank Peretti, Angela Hunt and Alton Gansky are friends who decided to try something new together. Each of them were to write as one of the characters in the series, and they'd write it like a TV series—several novellas that fit together into an overarching plot. Thus Harbingers Cycle One was born.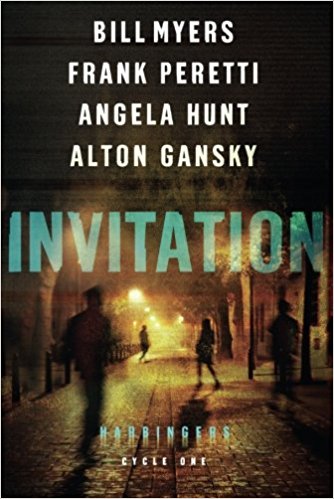 Invitation: Cycle One of the Harbingers Series
introduces each of the main characters. Brenda (Myers) is a tattoo artist who sees images of the future. The Professor (Peretti) is an atheist, dedicated to teaching people about logic. Andi (Hunt) is the Professor's sidekick, a young redhead who sees patterns in everything. Tank (Gansky) is a gentle football player with a healing power.
In "The Call," the main characters are brought together by coincidental (or not) circumstances. Each brings a different perspective to a mysterious, supernatural school and a young man who asks for them help in getting out. In "The Haunted," the four find themselves again together (through events that no longer seem coincidental) as the Professor is invited by a friend to solve a haunt house mystery. In "The Sentinels," Andi invites her three new friends to join her at her grandparents' beach house to help solve a strange mystery. In "The Girl," the friends don't even need an invitation to know that Tank needs their help in solving the mystery of a young girl's appearance (and disappearance).
Because the stories are novellas within a novel, Invitation was a pretty quick read. I enjoyed the characters, each of whom are unique and quirky and fun. It was fun to see their friendship develop through the novel, as they each grow to know and trust each other.
However, because each story in Harbingers Cycle One is a novella, I felt as if two of the stories were left unfinished. I kept waiting to see if the young man from "The Call" would show up in another story, or if the strange beings from "The Sentinels" would appear again.
I've read most of Frank Peretti's novels, and plenty of other novels about supernatural beings. I still found it a bit hard to believe in haunted houses or alien beings. I did enjoy the first and last novellas, but those also involved the least suspension of disbelief.
If you enjoy reading these authors, or supernatural novels, you may enjoy the Harbingers series. For more about the series, drop by the Facebook page. Hunt, Gansky, Peretti and Myers have been working on the novels for quite a while (it's up to Cycle 20 now), but the books are being re-published by Bethany House.
Have you read Harbingers Cycle One or any other novels by these authors? What did you think?
I received Invitation: Harbingers Cycle One for review courtesy of the publisher; all opinions expressed are my own. This post contains affiliate links; as an Amazon Associate, I earn from qualifying purchases.