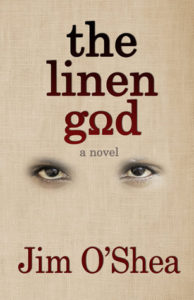 While Christian fiction is a huge genre, Catholic fiction is much harder to find. It seems that Catholic writers have focused their attention on nonfiction. Thus it's refreshing and fun to find a good Catholic novel.
That's why I picked up the linen god when author Jim O'Shea asked me to review it. I was also mildly curious about the topic of his novel—the Shroud of Turin—and hoped to learn more about it through a good story.
Manny Lusum is obsessed with the Shroud of Turin.  He's almost finished his PhD thesis which will prove that the Shroud is genuine when he has the chance to see the Shroud during its visit to New York.  Manny's discovery that the Shroud there is not the original Shroud rocks his world—until he's swept into a conspiracy by his best friend, Grace, and her mom, a journalist tracking down the story behind three grisly murders in Rome.
Grace is in love with Manny, though she won't admit it to herself, much less to anyone else, because Manny is in seminary.  She doesn't totally understand Manny's obsession with the Shroud—or his Catholic faith—but she's swept into the whirlwind surrounding the conspiracy when she finally meets her father.  As Grace struggles to deal with all of the information being thrown at her, she must also help Manny through the toughest time of his life.
Jim O'Shea pens a suspenseful story that pulled me in with the first few chapters and kept me reading until the very end.  At times, I felt a bit lost in all the information about the Shroud and how all the lose ends were going to meet, but I was never bored.  Manny and Grace are delightful, interesting characters with a great relationship, and every other character in the book felt equally real.
I confess I knew next-to-nothing about the Shroud before reading the linen god, so my curiosity was piqued.  Jim includes an image of the Shroud on his website, along with two websites for readers wanting more information.
Jim O'Shea is a graduate of the University of Missouri and long-time resident of Missouri.  He worked for twenty-five years in the software industry and now "spends his time crafting suspense novels that often tackle the complex relationship between science and religion."  the linen god made me think of Dan Brown, except that Jim actually checked his facts and got his history straight.  The book also reminded me of Frank Peretti's books, which challenge the reader to think more deeply about faith and current issues.
For more information about Jim and his books, check out his website.  I was thoroughly impressed by Jim's debut novel and look forward to seeing his next book on the bookshelves.
I received this book for review courtesy of the author; all opinions expressed are my own.