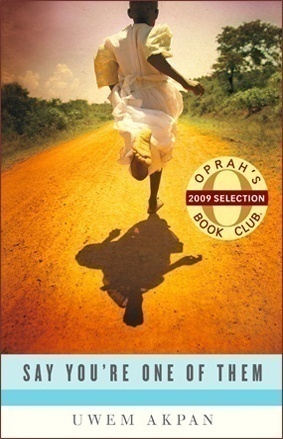 Uwem Akpan's debut collection of short stories, Say You're One of Them, has been chosen for book clubs across North America. That's how I first encountered it—through a book club I joined while working at Starbucks. This stunning book is one that should be discussed and passed around.
Say You're One of Them is a collection of five short (or not-so-short) stories set in Akpan's native Africa. All the stories are written from a child's perspective, telling of events and every-day life that most North Americans can't even imagine.
I received this book courtesy of Starbucks as an employee perk; all opinions expressed are my own. This post contains affiliate links; as an Amazon Associate, I earn from qualifying purchases.
Say You're One of Them overview
The first story is reminiscent of the movie Slumdog Millionaire, while others delve into the Rwandan genocide, child slavery, and religious/cultural wars in Africa. The stories reveal a sense of sadness that just because of a different language, a different skin colour, a different way of doing things, people would hate and kill each other. Uwem packs his stories with the variety that is Africa: different tribes, different religions, different countries.
Uwem Akpan has a definite talent, a way of making a place come alive in a very few words. Most of the stories take place in a very small space: a tent in a slum, a bus on the road, a balcony on a house. Uwem also captures the characters, from the confused nineteen-year-old trying to decide whether to be Muslim or Christian to the eleven-year-old boy trying to protect his younger sister yet also annoyed by her.
Most people read fiction to escape, to go to a place where life is happy and easy and everything wraps up neatly by the last page. Uwem challenges that idea of fiction. He says in an interview in the back of the book, "I would like to see a book about how children are faring in these endless conflicts in Africa. The world is not looking. I think fiction allows us to sit for a while with people we would rather not meet." His book boldly looks at the tough things happening in another country.
Say You're One of Them is not an easy read. Most readers want a happy ending, a nice feeling when they put the book down, and Uwem does not provide that in any of his stories. His writing is true to life in Africa, suggesting that there are few happy endings. His book should make readers think twice about what happens on the other side of the world and what they can do about it.
More about Uwem Akpan
Uwem Akpan was born in Nigeria and has studied philosophy, English, and theology. He holds an MFA in creative writing from the University of Michigan. Akpan has won several awards and rave reviews for his short stories and his debut book.
He is also a Jesuit priest and serves at a parish today in Nigeria, pursuing his writing in his spare time. On his website, Akpan says, "I was inspired to write by the people who sit around my village church to share palm wine after Sunday Mass, by the Bible, and by the humour and endurance of the poor." His faith is evident in the stories, though his characters come from a range of religious backgrounds.
If you enjoy this book, you may also enjoy The Last Hunger Season by Roger Thurow, which takes a look at a different area of Africa: farming.