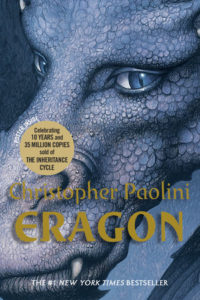 For the past month, I've been immersed in the fantastical world of Alagaesia. My husband picked up Christopher Paolini's entire series several years ago, but it was only recently that I started reading Eragon. I heard about this novel—penned by a homeschooled teen—back when I was writing my own novels, and I've always been curious about it. I can only say that I'm deeply impressed (and can't wait to start the next book).
Eragon is the story of a farm boy who becomes a dragon rider. His path and that of a dragon's egg coincide by magic when Eragon is out hunting. When the egg hatches, a bond forms between boy and dragon that sets into motion events  Eragon never expected. Forced away from his home and his family, he finds himself on the run with his dragon and the village storyteller. Soon, he discovers nothing is what he thought it was—including the village storyteller.
In Eragon, I could see influences of Anne McCaffrey and J. R. R. Tolkien upon Christopher Paolini. This is a tale of dragons and dragon riders, of dwarves and elves and humans colliding. Alagaesia stretches before the reader in majestic detail, from the mountainous Spine to the underground halls of Farthen Dur, from the empty Hadarac Desert to the walled and bustling city of Teirm. It was hard to put the book down, as I wanted to find out what happened next. The plot was filled with delightful surprises as well as a few points that I guessed before they were revealed (such as Brom's true identity).
While Eragon's adventures are enough to propel the plot forward, I also appreciated his character development. At the beginning of the novel, he's a farm boy. He's a skilled hunter, devoted to his uncle and his cousin, yet content in his life. By the final battle of the novel, he has traveled thousands of miles, killed Urgals, fallen in love, made both friends and enemies, and grown in wisdom. Eragon has a strong sense of right and wrong. He will do anything for those he loves and seeks justice and peace.
If you enjoy fantasy novels, I recommend Eragon. This is a novel I'd let the girls read in a few years (when they've read The Hobbit, probably), as there was no questionable or adult content. Lovers of Tolkien will find much to appreciate in Paolini's work. And I'll just warn you now—if you start Eragon, you might as well pick up the next four novels too. You won't want to stop reading until you've reached the end of Eragon's story.
Christopher Paolini was born in California and grew up in Montana. He was a homeschooler who enjoyed reading and writing, and self-published Eragon in 2001. Two years later, it was picked up by a traditional publishing house and became a worldwide sensation. His fourth and final novel, Inheritance, was published in 2011. For more about Christopher, drop by his website. You can also explore the books on the Alagaesia website.