Sunshine, Lily and I had the chance to fly to the North Pole last week! We visited FlyOver Canada for a preview of their Christmas special. It was definitely special! All three of us had an awesome time. The girls couldn't stop talking about everything they saw while flying over Canada—and how many elves they saw flying over too!
Sunshine, Lily and I received complimentary ride and snacks at the media preview; all opinions expressed are my own.
Visiting FlyOver Canada
This was our first visit to FlyOver Canda. It's located at Canada Place in downtown Vancouver. We found parking in a nearby parkade (for a hefty price—take the SkyTrain if you can). Then we followed the Canadian Path, admiring the lights of the city across the harbour. FlyOver Canada was decked out for the holidays with lights, pretty trees, and more.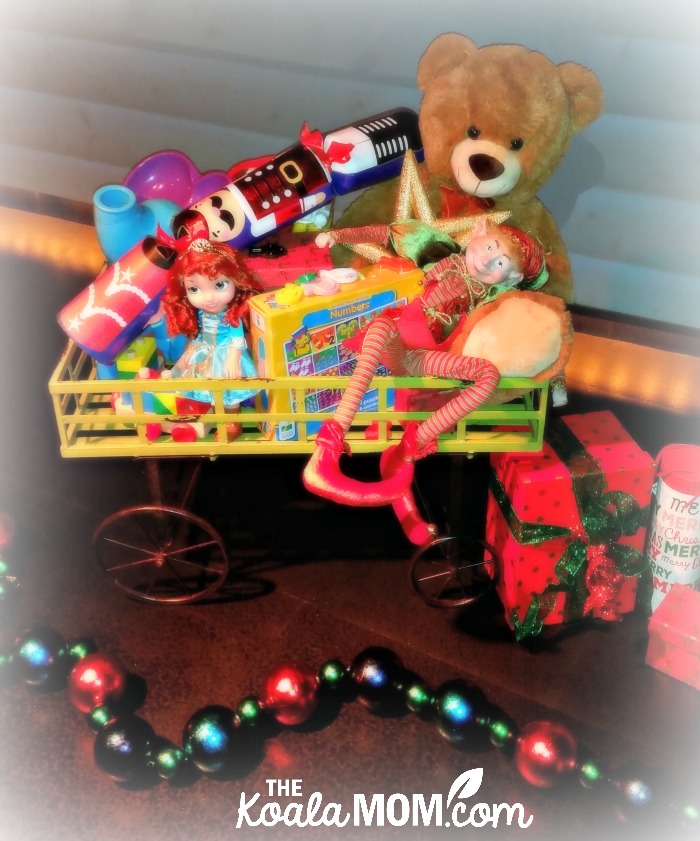 We got there just in time to line up for the 5:30 show. While we waited in line, Buddy and Buddy the Elves kept us entertained. They quizzed the girls about Christmas and told us stories about their reindeer friends. Then we were ushered into a waiting area with snow falling outside the windows and Christmas decorations all around. Santa appeared on screens all around to welcome us and ask for our help in finding his elves, who'd decided to go on holiday in Canada at CHRISTMAS of all times!
We followed the FlyOver Canada staff into the boarding area. They lined us up in groups. Mrs. Claus gave us a welcoming message and some safety information. Finally we were off to board the ride. Sunshine, Lily and I ended up in the top row of seats with Buddy and Buddy. The lights dropped and we were flying over Canada!
FlyOver Canada exceeded all my expectations. Within the first few seconds of the ride, I was totally blown away. The girls beside me kept exclaiming over everything we saw below us. Several times, I lifted up my feet because it seemed like the mountains or scenery we were flying over really was right below us. We held out tightly for most of the ride!
The scenery was absolutely gorgeous. It was fun to recognize places I knew, like Niagara Falls or Canada Place, as we flew over. Other places made me wonder where in Canada we were flying. FlyOver Canada definitely showcases our country's most beautiful scenery! I'd love to see a list of all the places we visited, especially the stunning fjord we flew over early in the ride.
The Christmas Special at FlyOver Canada
The last stop along the way was Santa's Workshop in the North Pole. It was the girl's favourite part of the ride! We zoomed past polar bears and elves and saw Santa take off in his sleigh. Then our seats slid back into position and the ride was over, entirely too soon. I could have gotten on again right away…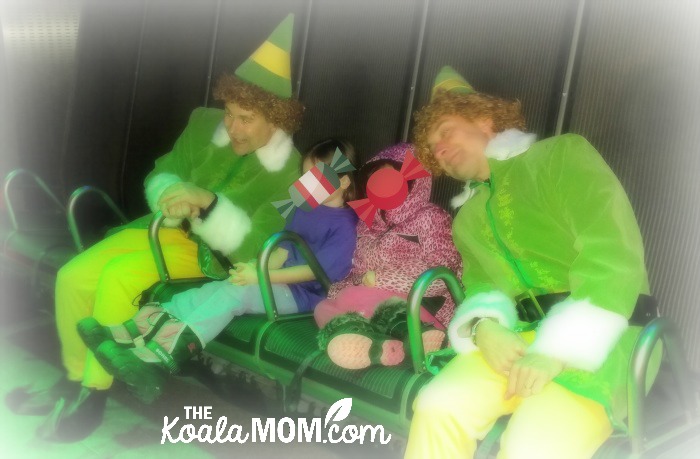 …except that we had treats to try! We took some pictures with Buddy and Buddy and then headed back downstairs. There was hot chocolate with Baileys and mulled wine for the parents (another reason to take the SkyTrain!), and regular hot chocolate or apple cider for the kids. We all had a Slavic Roll, which was a scrumptious pastry filled with fruit or cream. It was deliciously messy.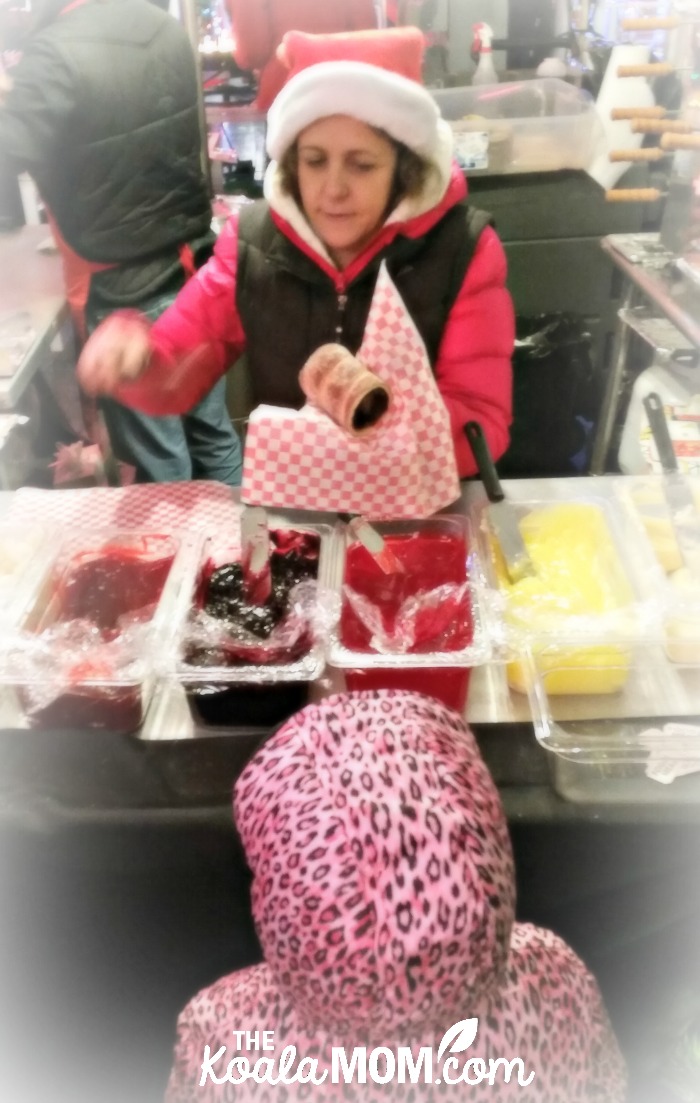 From there, we tried the s'mores, roasted to perfection over an open fire right in front of us. I think we waddled out of there back to our parkade. (Maybe it was a good thing we didn't park too close!)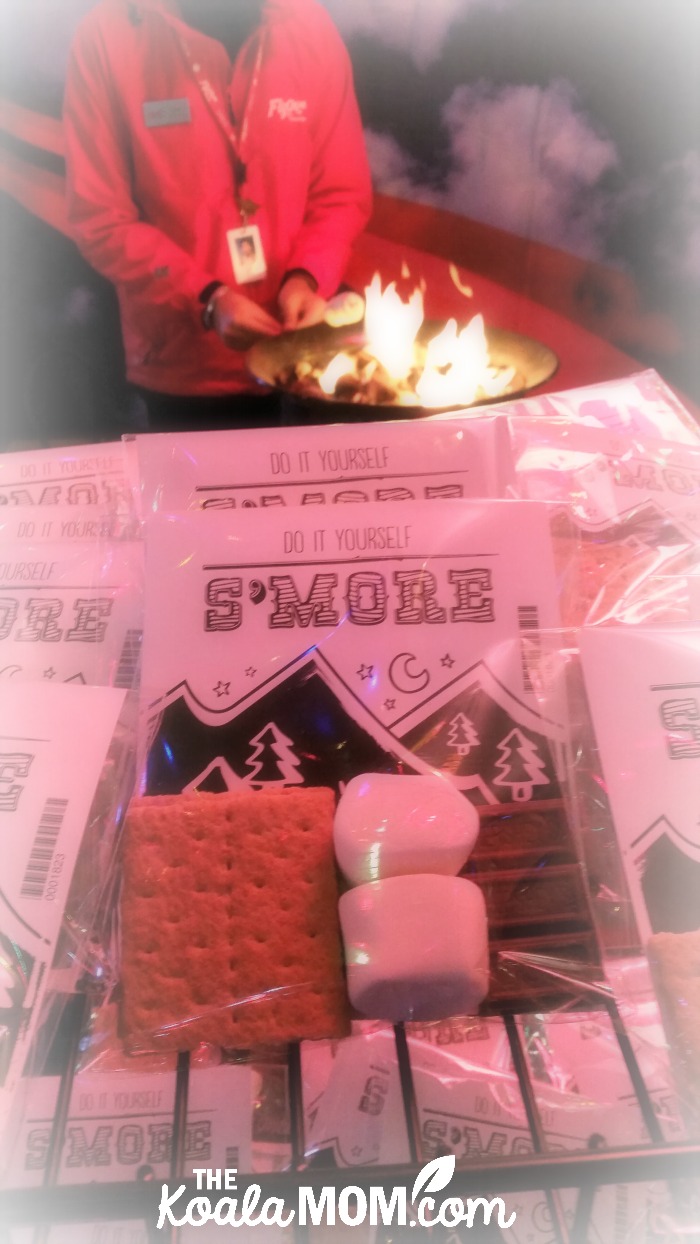 Get Your Tickets to FlyOver Canada Now!
If you're in Vancouver for the holidays, I highly recommend making FlyOver Canada part of your Christmas traditions. The girls practically bounced all the way home and declared they want to do it again next year. (It also makes a great mother-son date!)
Kid-friendly: Yes. The ride was an amazing way to see Canada and get in the holiday spirit. I love all the treats there for the whole family. However, kids must be over 40″ in order to ride, so measure before you leave home. Jade and Pearl stayed with a babysitter while I took Sunshine and Lily to this event.
Baby-friendly: Nope. No babies allowed on the ride. Pregnant women are also not recommended to ride, according to industry guidelines (although it's a gentle ride).
Fees: A family of four can expect to pay about $90 to ride. Save 10% by getting your tickets online before going down there. You can also get a Holly & Jolly combo to save money on your admission to Flyover Canada and the Vancouver Christmas Market.
FlyOver Canada is open seven days a week, year-round. The ride itself is 8 minutes long. Shows start every 20 minutes. The Christmas Ride runs from November 24th to January 2nd (closed December 25th). The ticket and line-up area is partially exposed to the weather, so dress appropriately. For more information and to plan your visit, drop by the website.
For more holiday fun around the city, check out my list of family Christmas activities in Vancouver.