Getting a family photo done has been on my to-do list since before Pearl's birth. We haven't had a nice family picture taken since Lily's fifth birthday (and that was an informal shot by a friend of mine). My mother-in-law has hinted she'd like photos of our girls, to go with the photos of her other granddaughters.
Earlier this summer, my husband saw an ad for photo shoot with a new photography studio in New Westminster. We decided to jump on it and I'm glad we did! We had a lot of fun with Memotime Photography. Now we have a beautiful set of family photos, for our own walls and for family.
Memotime Photography is located in New Westminster near the River Market. They have a beautiful, bright studio there. It was tempting to stay in the air-conditioning for our photos, but I liked the idea of going to the nearby New Westminster Pier Park. I thought the girls would be more relaxed and natural there.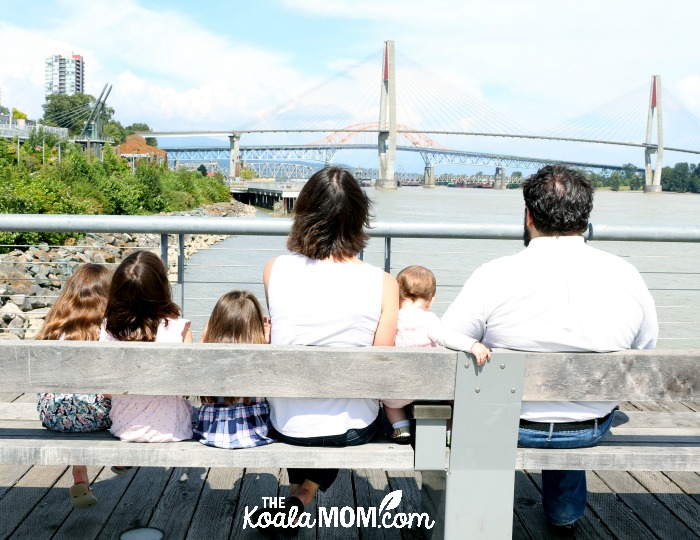 Pier Park is one of our favourite places in New Wesminster. There's lots to do there and plenty of places to take photos. The girls soon got into the picture-taking and began suggesting places to pose. They are used to me taking tons of pictures, so they had fun.
Yoshi was our photographer and I was very impressed with how he worked to get the girls smiling. They were a bit unsure of him at first, especially Jade (who had a few three-year-old moments during the photo shoot). Yoshi was fun and patient, playing peek-a-boo behind his camera and threatening to tickle them. Sunshine and Lily soon started laughing and running ahead with him. Jade took a bit longer to warm up, but by the end of the photo shoot, she also played along with his games.
We started near the studio, beside the Salvation Army, at one of the historic buildings around the Quay. The brick backdrop created a fun vibe for the photos. Then we headed over the bridge to the park, where the girls posed on the grass among the pilings. Later, as we walked, Sunshine saw a rock she wanted to sit on, so we got a great picture of me with all four girls there.
After going over the pedestrian bridge at the other end of the Pier Park, we came back along Front Street. It's now closed to traffic, so I didn't have to worry about traffic. Here, we found a ton of fun backdrops in the different business walls. We posed with a dark green wall, a pink wall, a white wall. Sunshine and Lily got into the "street vibe" with a graffiti wall.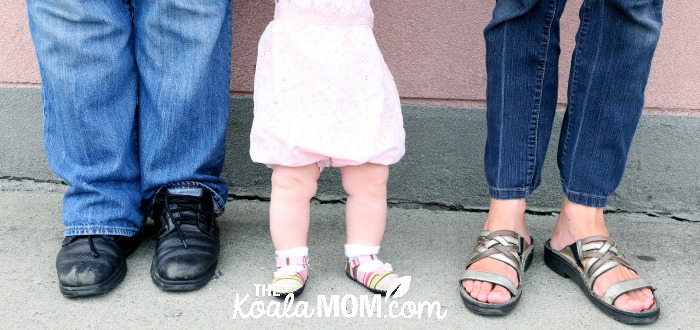 Finally, we arrived back at the studio to pick our photos. While we grabbed a quick coffee across the street (taking photos is thirsty work!), Yoshi sorted and edited our photos. Then we got to sit down and take a look.
I'm used to snapping dozens of photos of the girls and getting one (maybe two) good ones, so I was really happy with how many great photos Yoshi captured. The girls really relaxed with him and had fun, and it came across in their smiles.
I also appreciated Yoshi's creative ideas. While the girls love posing, and I sometimes see good places to take a picture, I appreciate a professional photographer's artistic eye. I wouldn't have thought of using some of the backdrops or poses Yoshi suggested, but they worked out well. It was nice to trust his eye and expertise, instead of trying to take the picture and then finding out it didn't turn out as I imagined it would.
While I take a ton of photos on my phone, I also appreciate the difference good equipment makes. I can see the difference between the pictures I take and the pictures Yoshi took with his DSLR. Because we'll be enlarging many of these photos for our walls, it is nice to have high resolution pictures. Yoshi's camera also captured my busy, wiggly girls better.
Overall, I was really happy we took a chance on a new photo studio and got our family photos done. If this is something on your to-do list , I recommend checking out Memotime Photography in New Westminster. If you live in other parts of the city, it's worth the drive (and there's plenty to do in New Westminster while you're there!). They also have an office in Calgary, Alberta.
For more information about Memotime Photography, check out their website. You can also find them on Facebook.