This Sunday is a long-awaited event, for both Catholics and the world. Mother Teresa of Calcutta, one of the world's most beloved nuns, will finally be canonized a saint by Pope Francis. To celebrate Mother Teresa's canonization, I've gathered a list of resources and articles about her life and work. Plan a party, do some colouring, or just wear the shirt!
Activity Ideas to Celebrate Mother Teresa's Canonization
10 Simple Ways to Celebrate the Canonization of Mother Teresa with Your Family—The canonization of another Saint is worth celebrating for sure! I want my children to be excited about this historic day. It is my hope that this blog post of ideas/links I have collected will inspire others (and myself) to honor and celebrate Mother Teresa's canonization with our families.
Feast Day Fun: Blessed Mother Teresa of Calcutta—Blessed Teresa is known for her virtue of compassion and for being the "icon of the Good Samaritan", caring for the sick and the poor in India. She models for us the Scriptural Works of Mercy… meeting both the Corporal and Spiritual needs of each person she encountered.
Mother Teresa Products
Mother Teresa Quote Colouring Pages—if you or your children enjoy colouring, check out these beautiful colouring pages. Each of the 8 pages features an inspirational quote from Mother Teresa. These are a free PDF download.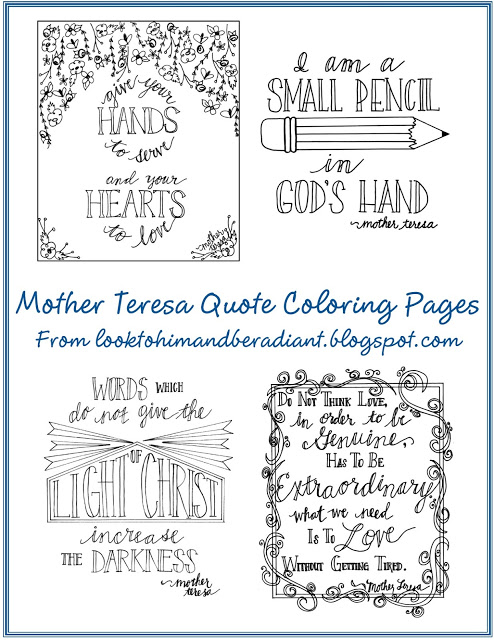 Rosary Teething Chews in Mother Teresa's colours—this beautiful blue-and-white rosary is soft and chewable for teething babies. Perfect for them to play with while Mom prays a rosary and reflects on Mother Teresa's life!
Mother Teresa Wooden Peg Doll—if you collect wooden peg dolls, check out this adorable little doll. Each doll is handmade and fits well with Little People playsets. Spend $20 or more in the shop during September and get a Mother Teresa doll for free. Dolls are about $10 plus shipping.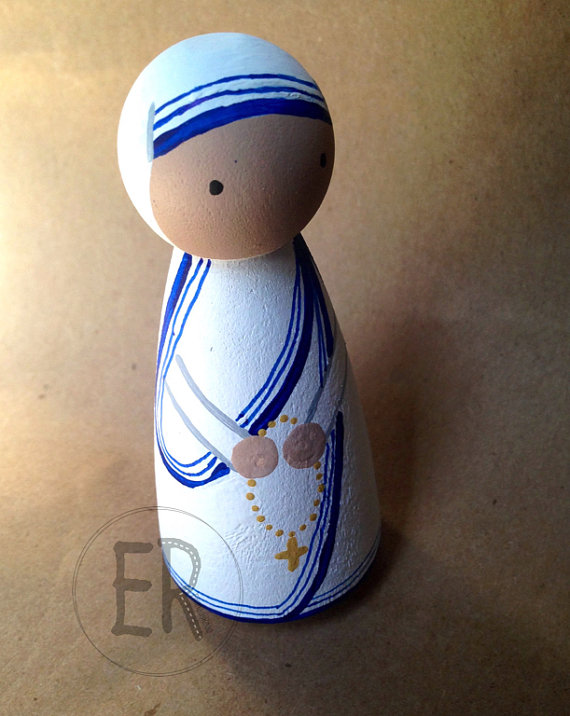 Holy Heroes CD and Colouring Book—the story of Blessed Mother Teresa is one of our favourite Glory Stories. This story is a great way to introduce your children to this amazing saint.
Do Small Things with Great Love T-shirt—this T-shirt is a great visual reminder of one of Mother Teresa's most famous quotes. She's famous for doing great things, but she started by doing small things for the ignored people of India. We can do the same in our little corner of the world! T-shirts start at $20.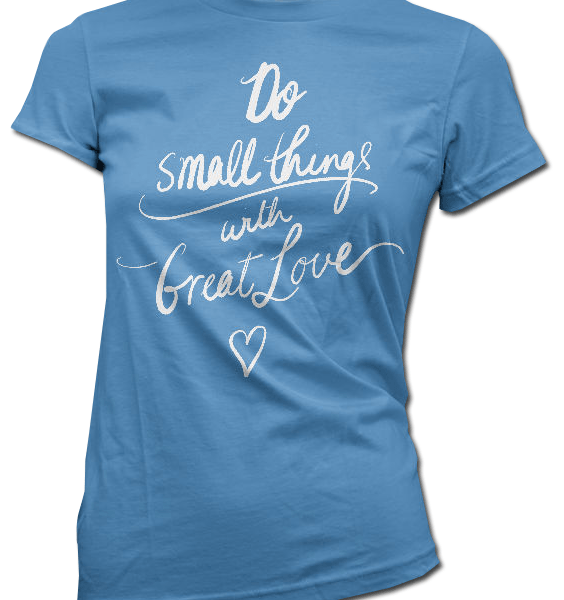 Advice and Inspiration from Mother Teresa
Mother Teresa's Advice for Teachers—Tosha and Jeanice walked into my classroom and gave me one of those looks only women have the power to give. The look that says, "I don't like you and I don't trust you." I felt it penetrate me.  It was my first year as a teacher, and I was doing my best to act un-phased. But I was phased.  The way they looked at me got me to the core.  And I will admit, I was a little intimidated.
Celebrating a NEW (and favorite) Saint: Saint Teresa of Calcutta—I've watched with excitement and joy as the Church beatified and will soon canonize this amazing woman. For the second time in my life, a living saint I "knew" during their life on earth is to be canonized and added to our official list of saints in heaven! This is so exciting!
Why It's Important to Celebrate Mother Teresa's Canonization Even When You're Not Catholic—As a child, I always remember people referring to Mother Teresa and her work and "saintly" life.  I saw pictures of her on TV and magazines periodically.  It wasn't till I was a bit older that I understood the enormity of what she represented and not until recently how much she impacted a whole generation through her mercy.
A Personal Tribute to Mother Teresa: My Mystical Journey to Darjeeling—It happened one morning during my High School English class when I was asked to select and write about my role model. Mother Teresa's image with the iconic blue and white habit immediately came into my head. Looking around, I noticed that others were writing about Madonna, Sandra Day O'Conner, and Geraldine Ferraro, to name a few. And, I began to wonder why I had selected a woman so detached from this world living a life of self denial with a singular focus to care for the poorest of the poor. And so began my journey of self discovery.
A Life of Blessed Mother Teresa of Calcutta—Just over one hundred years ago, a young girl named Agnes was born on August 26th in Yugoslavia. She would someday become known as Mother Teresa of Calcutta. I didn't join the Catholic Church until ten years after her death, but I still remember hearing about her. This little Catholic nun caught the attention of the entire world for her work in India's slums.
Are you excited about Mother Teresa's canonization? How is your family celebrating?