Every time I take Pearl for a diaper change, I smile. Happy Baby Cheeks really lives up to their name—both Pearl and I are super happy with their cloth diaper service. The diapers fit her great and I don't have to wash them.
What exactly does Happy Baby Cheeks provide? If you're curious about a cloth diaper service, I thought I'd break it down to exactly what they do—and why that excites me.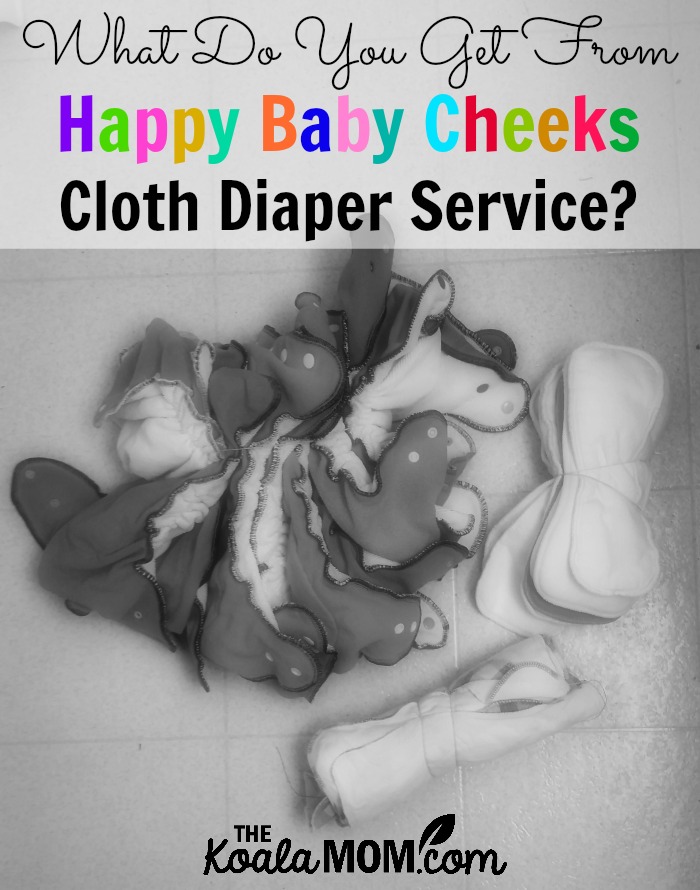 Cloth Diapers from Happy Baby Cheeks
The most obvious part of a cloth diaper service is their cloth diapers. Happy Baby Cheeks offers either premium cloth diapers (which are fitted and have snaps) or pre-fold cloth diapers (which are square, require folding to fit the baby's bum, and use a Snappi fastener).
I've always preferred the fitted style of diapers, so that's what I'm using. Pearl is in size medium right now and they fit her perfectly. The inside of the diapers is a soft orange fleece and the other side is yellow terry cloth. There are several snaps on the diapers, so you can adjust the diaper to your baby's waist. Elastics in the diapers help them fit baby a bit better and prevent blow-outs.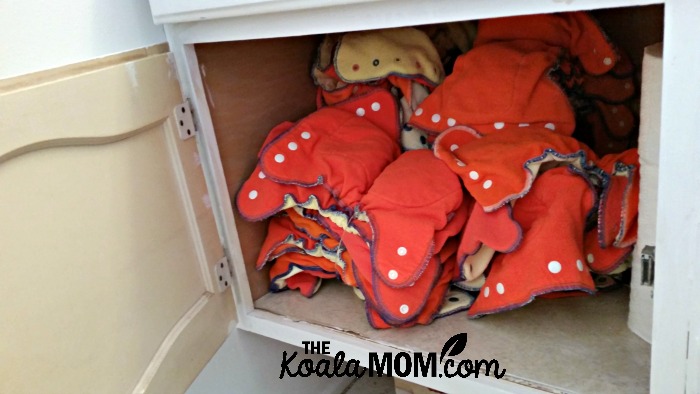 Happy Baby Cheeks has Cloth Wipes too!
This is a new addition to Happy Baby Cheeks service, and I'm just as excited about it as the owner is. I first tried cloth wipes after Jade's birth, having seen my sister-in-law use them. I loved the idea of the wipes for the same reason I love cloth diapers: less money spent on disposable items, less garbage. However, I didn't really like my system for using them and eventually went back to wet wipes.
This time around, I have my diaper change station in the bathroom. We have a large counter beside the sink where my diaper mat goes. I put the cloth wipes in an old wipes container, right beside the sink. When Pearl needs a diaper change, I simply grab a wipe, get it wet under the tap, and then take off her diaper, wipe her bum, and toss both diaper and wipe into the diaper pail.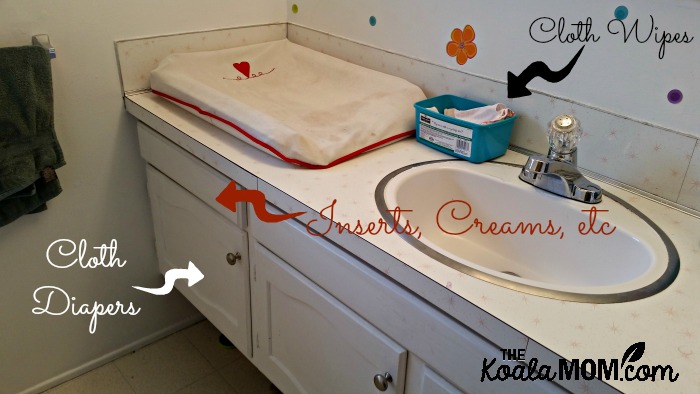 The wipes have come in handy for more than just Pearl's bottom. Jade is potty training right now, which has resulted in more accidents that I'd like. We're often in the bathroom, wiping her up after an accident, and you guessed it, I just grab a cloth wipe for her too. Because we've realized recently she has eczema, I feel much better about using just water on her skin than whatever chemicals are in a disposable wipe.
I've also used the cloth wipes as burp clothes and for cleaning up spit up (Pearl has had more gas and spit-ups than any of my other babies!).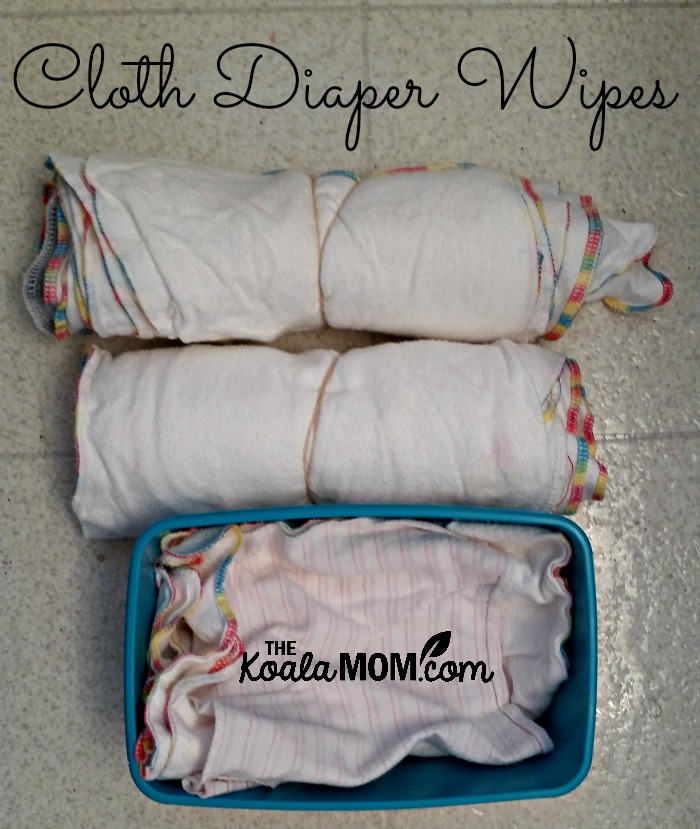 Happy Baby Cheeks Provides Everything
Cloth Diaper Inserts
For night-time use, or for babies who really wet their diapers, Happy Baby Cheeks provides cloth inserts. These look like a cloth pad and can be added inside the diaper for extra absorption. I've found these helpful at night, because Pearl really doesn't like wet diapers and tends to squawk as soon as she soaks her diapers. Using the inserts helps her sleep longer at night because she doesn't feel as wet.
Diaper Covers
You can either buy your own diaper covers or rent covers from Happy Baby Cheeks. I had some covers which I'd gotten from another mom, so I'm using those. They don't usually need washing, unless a diaper has a poopy blowout. Then I simply rinse the diaper cover in the sink and hang it to dry, or towel it off if I need it right away. I have both Velcro covers and pull on covers and don't really have a preference; both are easy to use (just as long as I'm awake enough to remember to put the cover on over the diaper…).
Diaper Bag and Pail
We have a big diaper pail sitting in the corner of the bathroom (which I bought from my first cloth diaper service, when Sunshine was a baby). Happy Baby Cheeks brings us clean cloth diapers in a huge sack every week; I simply put the clean sack in the diaper pail to hold the diapers, and pull it out when it's full of dirty diapers.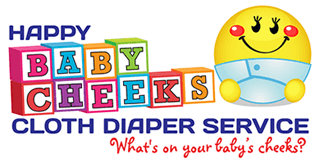 Have you ever tried a cloth diaper service? Do you cloth diaper your children? Do you have any questions about cloth diapering? In my next post, I'll tackle some FAQs of cloth diapers and diaper services—so leave me a comment and I'll try to answer it.
I am receiving 6 weeks of complimentary diaper service from Happy Baby Cheeks for this post. All opinions expressed are my own.