The way to a man's heart is through his stomach, goes the old saying (or joke). Whether that's true or not, Valentine's Day is certainly the time of year to indulge in some sweet treats. Whether your special man has a sweet tooth or prefers plainer fare, here are some ideas for Valentine's Day treats you can make yourself.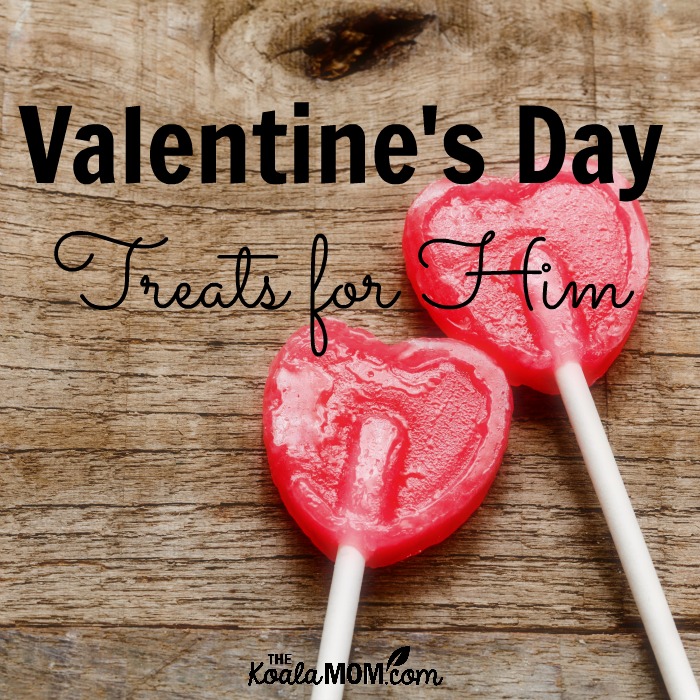 Valentine's Day Sweets for Him

Easy Peasy Dipped Valentine's Day Peanut Butter Cookies
Peppermint Schnapps Brownies with Fireball Whiskey Icing and Dusted Cinnamon Hearts
Heart-shaped Sugar Cookies or striped Heart Cookies
Easy Chocolate Lollipops for Two
Strawberry Flavoured White Chocolate Hearts
Valentine's Day Cupcakes with Raspberry Buttercream
Chocolate Dipped Strawberries (always a classic!)
Who says icing is for cupcakes? Try Strawberry Buttercream Sugar Cookies!
Chocolate Raspberry-topped Mini Cheesecakes
Heart-filled Chocolate Cupcakes
Valentine's Day Marshmallow Pops
Yummy Red Velvet Crinkle Cookies
Easy Strawberry Shortcake with Pie Crust
Chocolate Peanut Butter Bars with Cinnamon Hearts
Healthy Valentine's Day Treats
Love Bug Mini Cheese Ball Snacks
Healthy Fudge-Stuffed Strawberries
Strawberries with Coconut Cashew Crumble
Valentine's Day Snack Foods
Valentine's Day Drinks
Valentine's Day Smoothie (stick two straws in it and share it!)
Fruit Nut and Oatmeal Smoothie
For more Valentine's Day treats, check out my Pinterest board:
What are your favourite Valentine's Day treats to make?