Miscarriage and stillbirth are not easy topics to discuss. There's still an attitude that you shouldn't tell anyone you're pregnant until after the first trimester, implying that if you lose the baby you won't say anything about it. Condolences are sent to those who have lost loved ones, but if the loved one is a baby, we're often at a loss about what to do or say.
"Many people … feel the trauma and tragedy of the death of adults and young lives. Obituaries validate their existence. But with a pregnancy loss, there are few memories, and the ones that exist live only for the woman and perhaps her husband.  … Many do not acknowledge a developing child as a viable life, and those who do may not understand why this type of individual was so significant and should be mourned. How are we to grieve someone society does not expect us to grieve?" ~ Kathe Wunnenberg
I have many friends who've faced miscarriage and stillbirth. The first few times a friend told me about losing a baby, I felt awkward. I didn't know what to say and so, I'm ashamed to say, I said and did nothing. One friend of mine has now faced five miscarriages and I cried with her for her last. I realized this loss isn't just hers. That little baby is a baby who will never get to play with my daughters. A baby I'll never hold. A baby who will never impact our world. The loss isn't just hers; it's much greater than that.
My friend Anna, whose daughter died in birth last year, now reaches out to other grieving moms by creating "Mother Mary" baskets. In these baskets, she includes comfort items like candles, chocolate, spa supplies and resources. When I began to create such a basket for a friend, I was surprised by how hard it was to find resources to support grieving moms. Anna had one book about miscarriage which she recommended, and we called several bookstores in Vancouver and Victoria to see if they carried it—only to find that they didn't have that book or any others on miscarriage.
So when I saw Kathe Wunnenberg's book Grieving the Child I Never Knew: A Devotional for Comfort in the Loss of Your Unborn or Newly Born Child, I grabbed it. This is a much-needed book. Miscarriage affects 1 in 4 women and stillbirth, as Anna has realized since experiencing it, is also much more common than we think. Kathe's book comes from her own experience of three miscarriages and the death of an infant.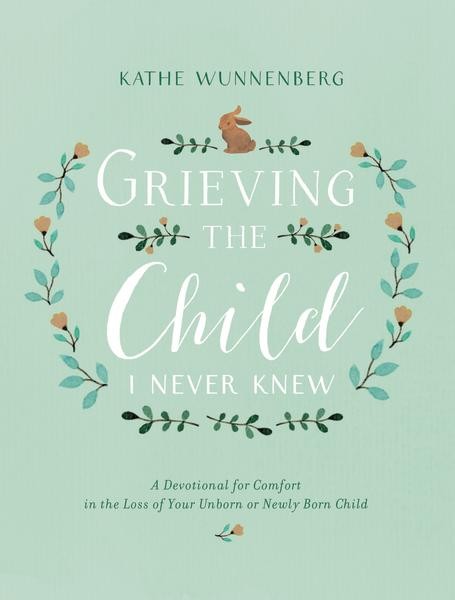 Grieving the Child I Never Knew is divided into seven parts: hiding, suffering, questioning, forgiving, relating, seeking, and sharing your story. Each chapter is brief and begins with a short Bible verse, followed by the devotion, then a prayer and "Steps Towards Healing" or journal questions. Kathe includes concrete tips and ideas for moving towards healing after the loss.
The front of the book includes a list of readings for specific days that might be especially hard for grieving moms, such as Mother's Day, the due date, family gatherings, or helping family members deal with the loss. Kathe also includes suggestions for 8 ways to use Grieving the Child I Never Knew, from from a 31-day companion to a small group Bible study and more. At the back of the book is a Prayer Guide for Special Days, Discussion Guide, and Scripture Index.
"Grieving the Child I Never Knew is not a how-to book with pat answers about greiving the loss of a child. My hope is that this book will become your personal companion … my prayer is that [it] will be a tool to guide you a deeper understanding of who God is and will meet you in the pain of your loss and point you to Him." ~ Kathe Wunnenberg
This book is a beautiful hardcover book with thick pages, images of leaves and rabbits, and a ribbon for marking your spot. Kathe writes from her own place of pain and healing, sharing honestly about her experience and what helped—or didn't. Whether you are buying it for yourself or a friend, I'm sure it will be a treasured book.
Kathe Wunnenberg is the author of four books and the founder and president of Hopelifters Unlimited, a resource and training organization she started in 2005. She has faced infertility, miscarriage, adoption, infant loss, depression and more, but uses her hurts to help others. She and her husband and their three living sons make their home in Phoenix, Arizona. You can also connect with her on Facebook and Twitter.
I received this book for review courtesy of BookLook Bloggers; all opinions expressed are my own. This post contains affiliate links; as an Amazon Associate, I earn from qualifying purchases.