Last week, I had the opportunity to join several other Healthy Family Expo blog ambassadors at Cypress Mountain for a private snowshoe tour. I think I spent most of January counting down the days to the tour. I haven't been snowshoeing since I was a teen and I was so excited to get up into the mountain and play in the snow.
On the night of the snowshoe tour, I left Lily and Jade with a babysitter, dropped Sunshine and Pearl off with my husband at Sunshine's violin lesson, and headed for the mountain. One of the things I like about Vancouver is how close everything is. Here in greater Vancouver, it's raining most days and the grass is green. Within an hour, however, I was parking my Jeep next to a snowbank on top of a mountain.
I wasn't the only one enjoying the snow on a Thursday night; parking was at a premium up there! I soon found the other mom bloggers and we stood around trying to see who looked like their Facebook profile picture before we just gave up and began introducing ourselves. We were given our snowshoes and headlamps and shown how to put them on.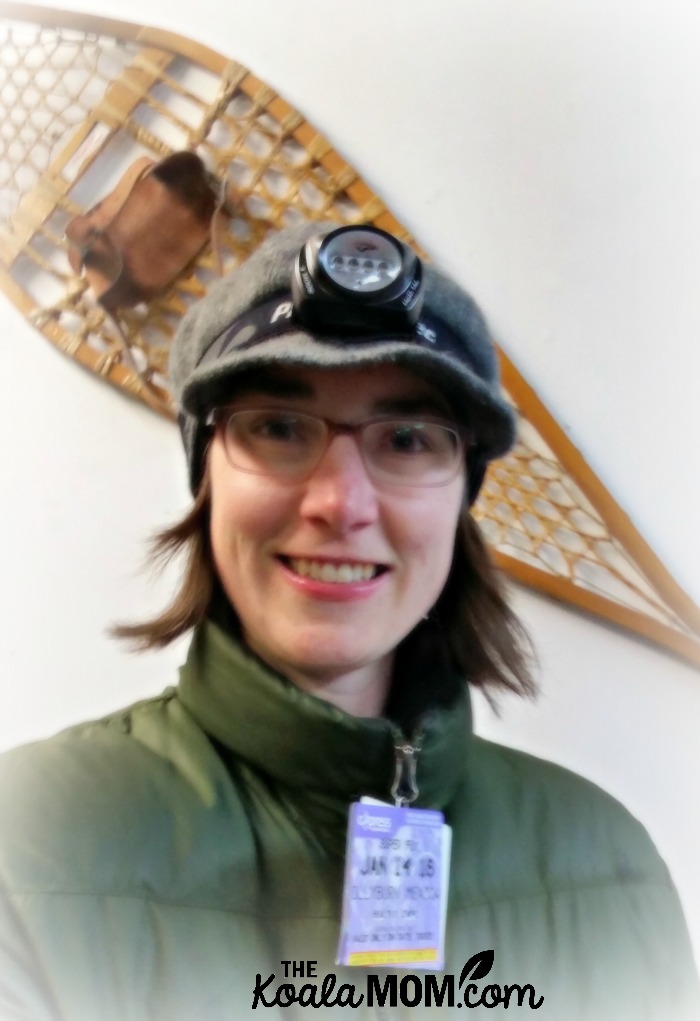 I grew up snowshoeing on the traditional wooden "beavertail" snowshoes with leather bindings, like the ones behind me in this picture. At Cypress, we used modern plastic snowshoes with crampons on the bottom. Our guide Kelvin explained that the other snowshoes are great for the powder snow on the prairies, but here in the mountains, we need more grip for the crunchier snow. I sure appreciated the crampons that night.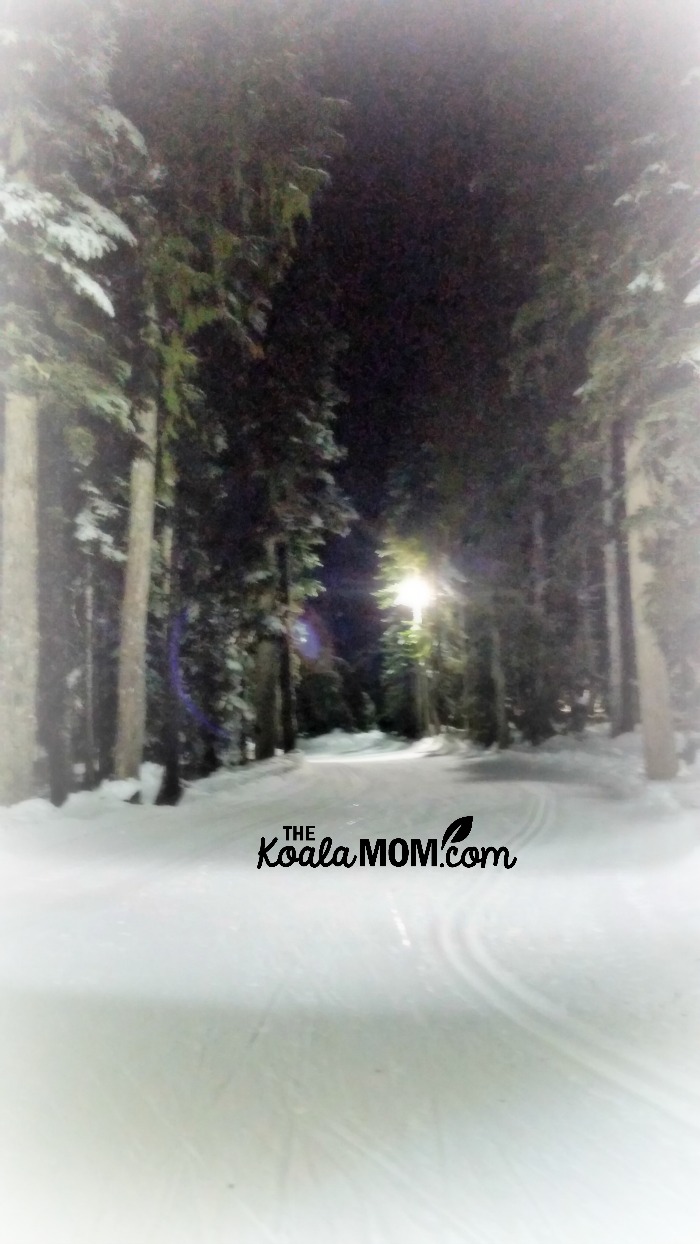 Soon we were crunching off across the snow towards the woods. I joked with another blogger that we sounded like an army coming through. The snow was crisp and well-packed and noisy there, though Kelvin assured us it would be quieter in the woods. We also had to watch out for skiers, who came swishing down the packed and set trails.
Thursday was a beautiful, clear night. The stars were shining above us and I caught glimpses of the constellation Orion as well as the crescent moon during our trek. In the trees, there was no wind. Most of us soon unzipped our coats and I carried my mitts instead of wearing them.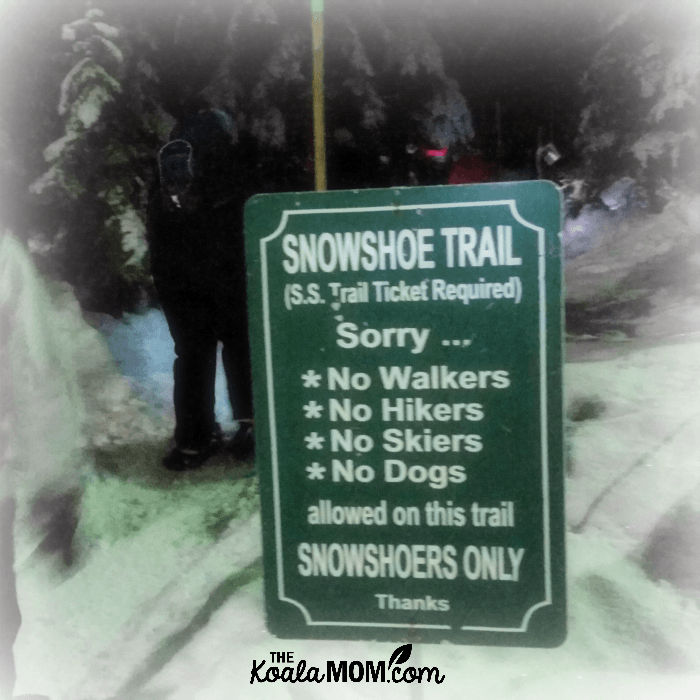 At the beginning of our tour, Kelvin assured us that he had never lost a person on a tour before. He had a great sense of humour and paused frequently to tell stories or give us information about the local area. He told us about the trees, how the snow weighs down branches to create a natural cave around some tree trunks, how balsam fir sap has Vitamin C in it. He also said Cypress Mountain used to be the "Whistler of its day" in the 20s.
Halfway through our trek, though, part of our group went right (trying to stay on the easy trail) and the rest of us ran after Kelvin going left. When only five of us caught up to him, he said, "Oh no! I said go left." We took a water break (provided by Happy Water) while he chatted on his walkie talkie with Trudy Ann, his partner, who'd followed the others. We teased Kelvin that he'd never lost a person on a tour before but now he'd just lost half the group!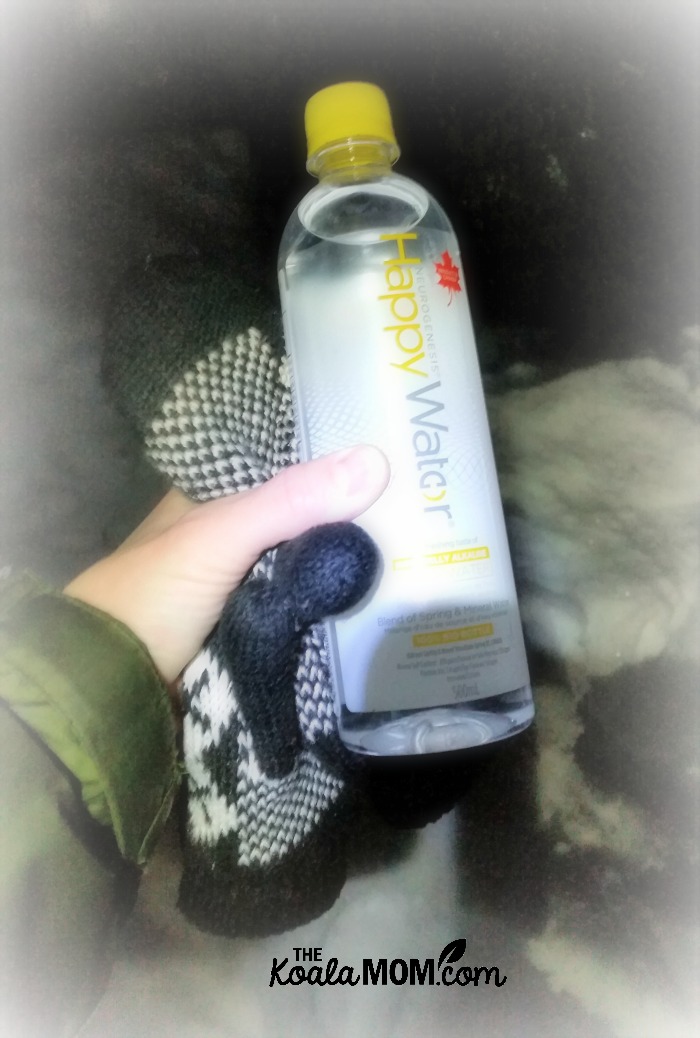 We continued snowshoeing and soon met up with Trudy Ann and the other mom bloggers. Then Kelvin showed us the treat he'd planned: sliding!!! He had a plastic bag in his backpack for each of us and demonstrated the proper way to sit down on your bag, lift your snowshoes, and slide down a slope on your bum. Most of us did that, shrieking like our kids would if they'd been there.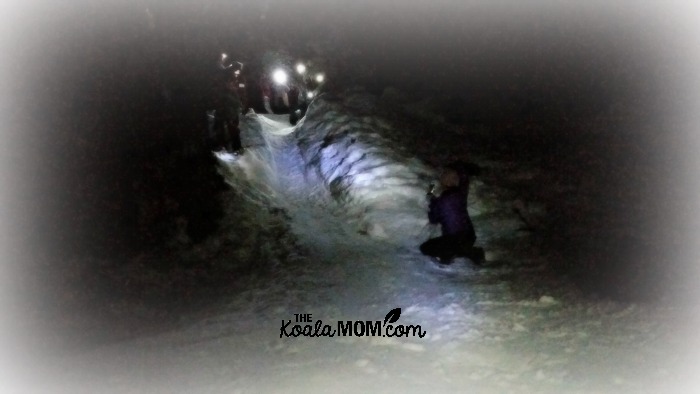 From there, our trail followed the creek through the woods. Kelvin showed us some "crevasses" where the warm, still flowing creek water could be seen down in the bottom of a hole in the snow. He warned us about people falling in. Then we tramped on.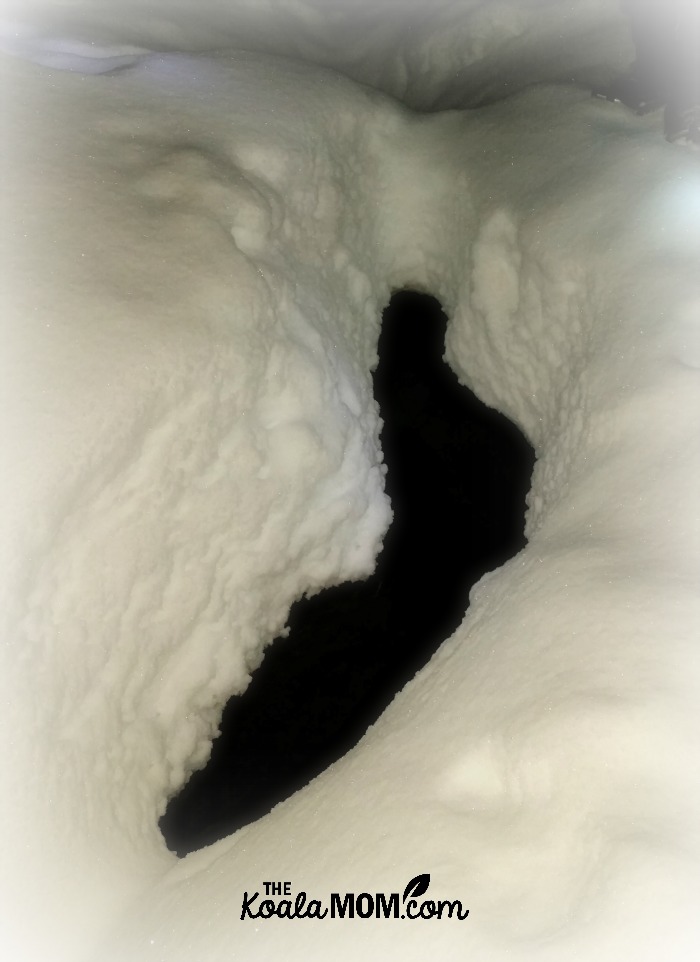 It was so peaceful up in the woods on Cypress Mountain. It made me wonder why we'd ever left Alberta and ended up in the big city. In the dark, with our headlamps bouncing off the snow and trees, there was a sense of magic out there. I wished for a better camera, because my little Samsung S5 just wasn't capturing the beauty of snow-tipped trees or snow contours.
Finally, we were back down at the reception area. We dodged a few more skiers to get across to the rentals office and returned our snowshoes. Then we gathered in the lodge for hot chocolate and cookies. Usually, this tour includes a chocolate and cheese fondue at Hollyburn Lodge, but unfortunately, that lodge is under construction this year. The cookies were still good.
Kelvin and Trudy Ann hung out with us for a bit longer, telling stories and joking. Then we moms reluctantly decided we should head back home to see how our families had fared without us (placing bets on whose kids would actually be in bed when we got home).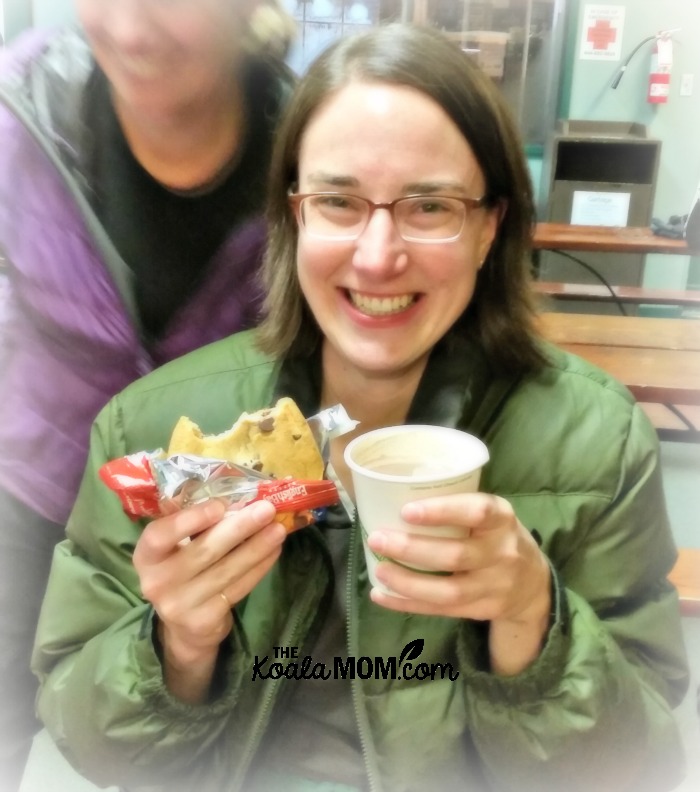 I stopped halfway down the windy road at the Vancouver viewpoint. All twinkling lights, the city looked beautiful. The Lions' Gate Bridge was lit up in pretty swoops and little bright boats bobbed on the harbour. Then I flew home along the highway and found all my girls (even Pearl) sleeping contentedly.
If you're looking for winter fun in the Vancouver area, check out Cypress Mountain. They offer tours and lessons for snowshoeing, cross country skiing, and downhill skiing and snowboarding as well. Learn more on their website or find them on Facebook, Twitter or Instagram.
For more about our snowshoeing adventures, check out:
Cypress Mountain provided this complimentary tour to the blog ambassadors of the Healthy Family Expo; all opinions expressed are my own.