When we visited the UBC Botanical Gardens at Thanksgiving, we also dropped by the Beaty Biodiversity Museum nearby. Located in a modest-looking building, the museum features an enormous blue whale skeleton hanging in the atrium. It's worth a visit just to walk around and stare at the skeleton, which we did for a while before buying our tickets.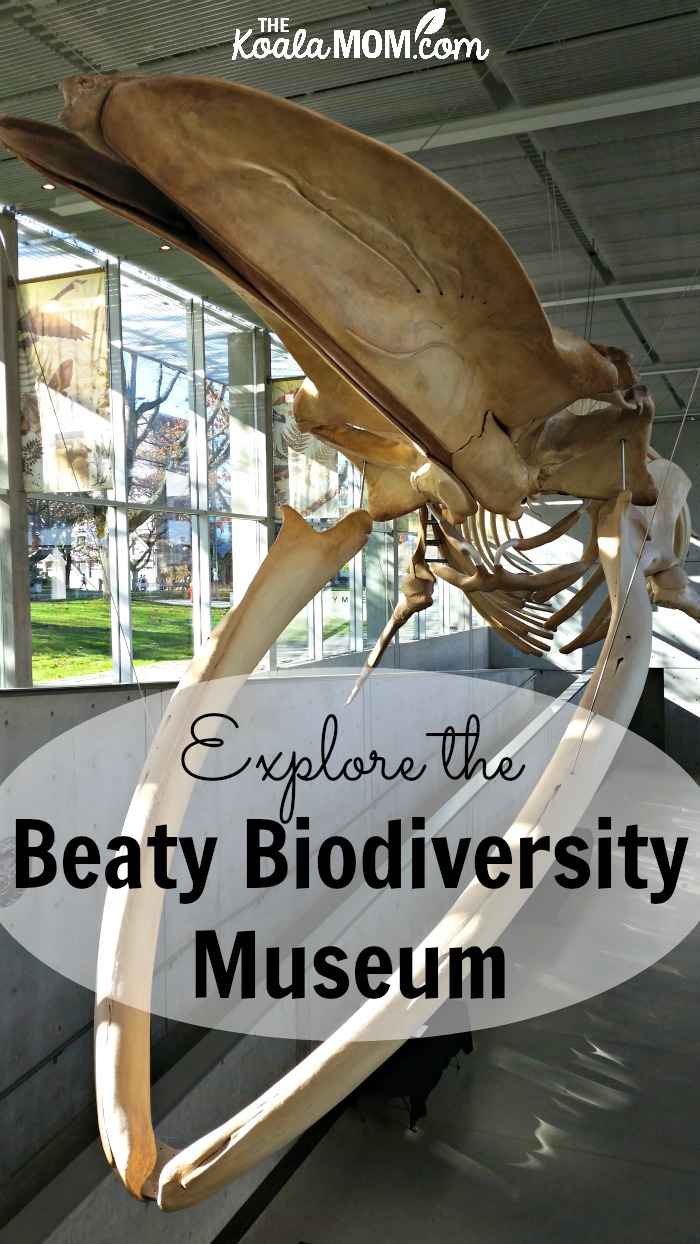 At admissions, the lady told us we were just on time to catch a tour, so we hurried down the ramp to the museum. Most of it is located underground, which I thought was neat since sunlight would hurt most of the specimens anyway and having the building underground allows for a green space on top.
We joined two university students listening to the tour guide talk about the whale skeleton. The girls enjoyed the chance to feel some whale baleen and then we were headed into the museum itself.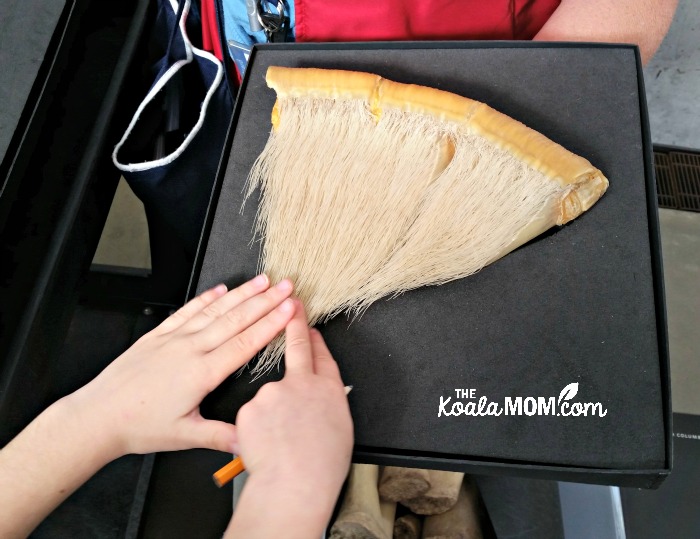 I wasn't sure how long the girls would be interested in the tour, but they actually stuck with it for the whole time (about half an hour). There was lots of hands-on stuff to see and touch during the tour. Jade quickly lost attention, so I spent my time wandering back and forth with her.
The museum is long corridors of cupboards—more like an archive than a museum, actually—with the specimens locked inside. Every fourth or fifth cupboard had a glass door and a neat display of the items inside. Several of these doors were located below the waist, at Jade's height, so we played peek-a-boo with them. She ran down the hall until she found a door, and then we stopped and looked inside.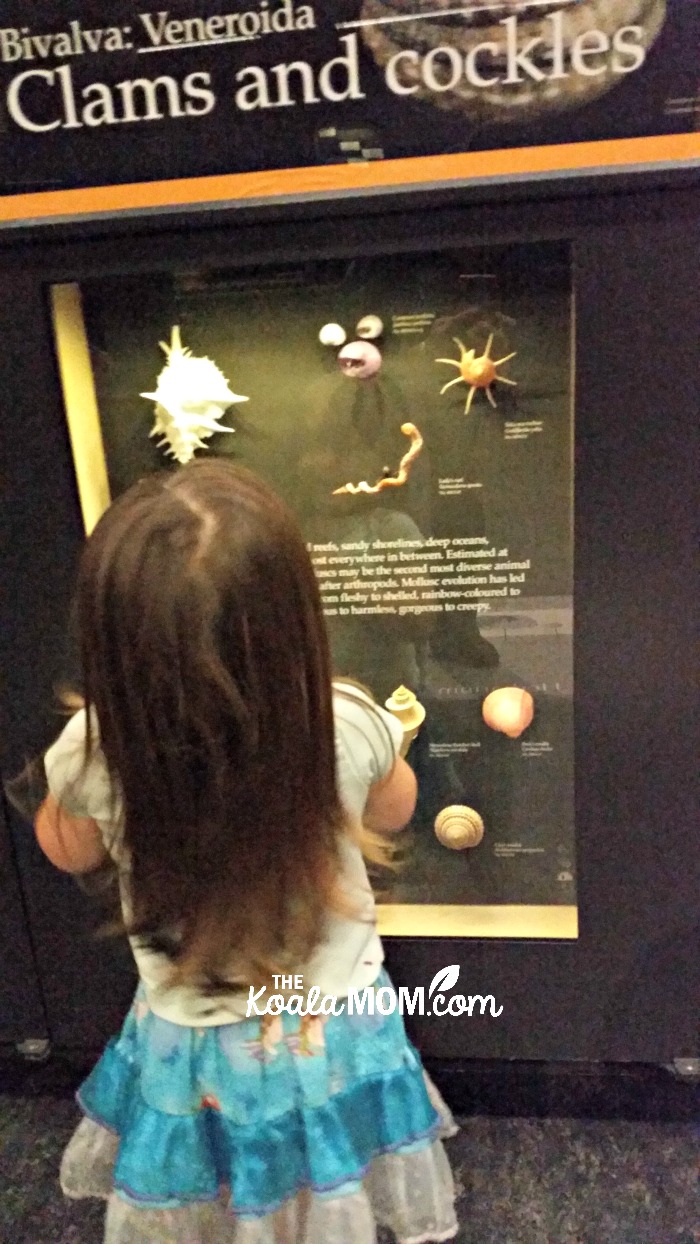 She enjoyed the first several doors, which had neat things like crabs and shells that she recognized. The first moss door was also exciting (I was surprised when I asked her what it was and she said, "Moss," and then I remembered their moss gardens), but after we'd wandered three hallways of mosses, she got bored.
So we sat down to watch a movie playing on the wall, about bats. Then we wandered down the hall to another movie on the wall. There we also discovered the kids area—a table with instructions and supplies for creating an origami whale and krill, a story area, and dress-up costumes.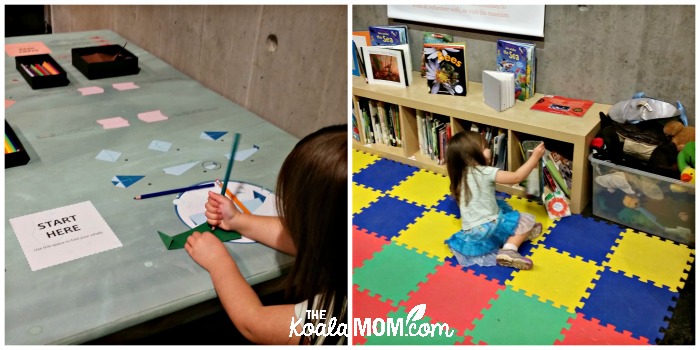 We made a few origami whales and Jade coloured them. Sunshine and Lily finished their tour and dressed up before coming over to check out the origami. Jade was heading to find a story when we decided to go see the movie about the whale skeleton upstairs.
Like the tour, I wasn't sure how long the girls would be interested in a movie about digging up a whale skeleton, but we watched the whole thing. It was filmed like a reality TV show—lots of "oh no this problem came up and now we don't know if we can use this whale skeleton for our museum what are we going to do?" moments. It was kind of fascinating to see all the problems encountered in digging up a skeleton (from a whale that hadn't completely decayed) and trying to get the bones ready to hang from the ceiling.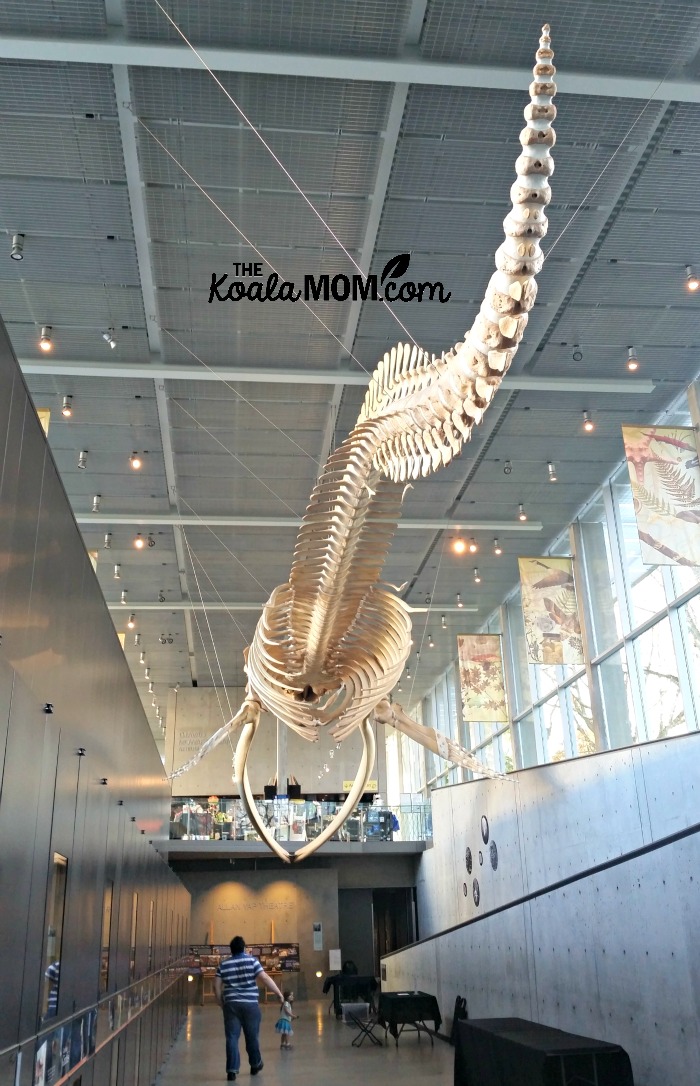 After that, the museum was closing. We wandered quickly through the gift shop and then headed out. I don't think this museum will be on our repeat visit list, but it was interesting to check out once. If your kids are studying plants or animals in science, a field trip to the Beaty Biodiversity Museum could be interesting for them.
Baby-friendly: Yes, there was a ramp and wheelchair or stroller access to the entire museum. There was also a change table in the large washroom.
Kid-friendly: Yes. The girls were given a scavenger hunt at the beginning of our visit (though that might just be for their 100-year anniversary this summer) and had fun trying to find the items on the list. They also enjoyed the tour and many of the displays were located at kid height. The kids' area offered quite a few activities for kids too.
Fees:  A family pass to the  museum is $35; kids under 4 are free. You also have to pay for parking around the university (or catch transit).
To find out more about the Beaty Biodiversity Museum, drop by their website or follow them on Facebook for event updates and Pinterest for program descriptions. For more places around Vancouver to explore, check out my Pinterest board:
I received a complimentary pass for two adults to the Beaty Biodiversity Museum courtesy of Vancouver Tourism; all opinions expressed are my own.