Donita and I met in university nearly a decade ago, through mutual friends. We completed our first two years together before she transferred to another institution, and we both went through the "he likes me, he likes me not" phase of starting to date our husbands around the same time. Today, I'm delighted to welcome Donita to my blog to share what she does as a work-at-home-mom.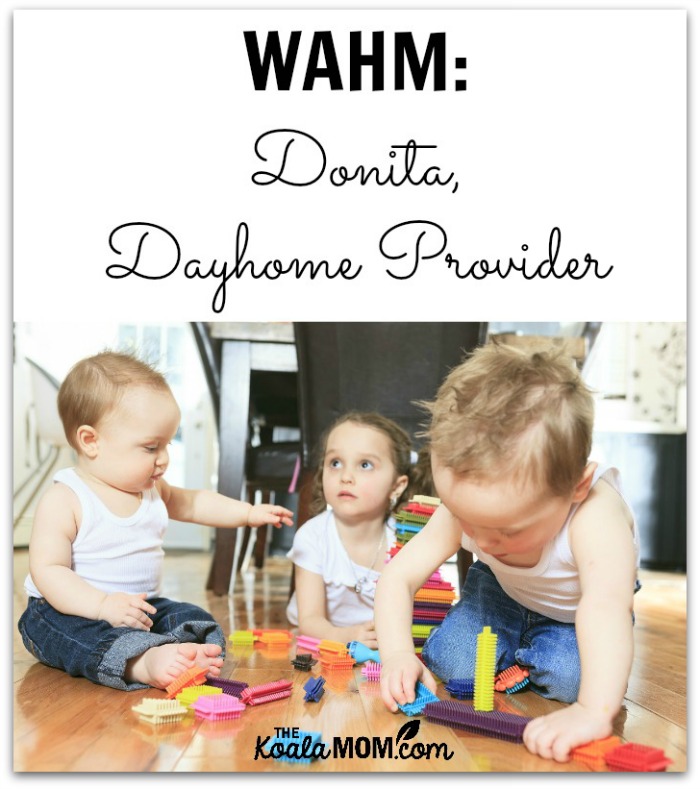 I am a teacher by profession, but after my oldest was born, I did not return to the classroom.  That day may come once my kids are older, but in the meantime, I'm finding ways to supplement our family's income by working from home as a dayhome provider.
Currently our son is four and our daughter is two.  For a year now I've been running a dayhome.  Because it is important that I still feel like I have time and space in my day for my own children, I haven't taken on a full-time roster of kids.  I have so much admiration for dayhome providers with a house full of babies and preschoolers for 10 hours a day, but I know my limits, and that's more than I could handle!
I have a 2-year-old boy who comes four days a week from 7:30-3:30, and four school-age kids who get off the bus at our house at 3:45 and stay until 5:30.
I work with a dayhome agency, and I run a licensed, accredited dayhome.  This means that the agency handles all the contracts, payments, legalities and insurance.  Many people like the freedom of running a private dayhome, but I really appreciate not having to negotiate payment and collect fees from parents, even though it means there is a higher standard for safety, nutrition, planning and activities that I need to meet.  Staff from the dayhome office stop by periodically to see how things are going, but I have never felt anything but support from them, and it has been a good relationship so far.
In terms of my daily schedule, I am able to do a few light chores in the morning while the kids play, maybe a load or two of laundry or a quick wipe down of the bathroom.  Otherwise, I just supervise their play, make snacks, break up squabbles, make snacks, change diapers, make snacks… You all know how it goes.
After lunch, the littles have naps and my 4-year-old has quiet time.  During that time I usually sit with my own lunch, check Facebook, and eat handfuls of chocolate chips.  Just keeping it real for you.  Unless I have something really pressing that needs to get done, I use the quiet time to clean up lunch, set the table for afternoon snack, prep afternoon snack, and if I'm especially ambitious, prep supper.  I'll try to spend a little quality time with my son too, maybe reading a story or going outside with him for a few minutes.
The most intense part of our day is when the big kids get off the bus.  Our house is small, and even though I do my best to set expectations for behaviour, they've just put in a long day at school, and there's a lot of boisterous activity.  We do snack at the table, and each kid gets a turn to share about their day.  Then we head outside, regardless of weather.  We're fortunate to have several playgrounds nearby, so that's usually what we do.  We're back home around 5:00, and on a good day the kids will play (sort of) quietly or read until their parents come.
My husband and I feel like over the next few years we'll be evaluating each year what is best for our family.  This dayhome scenario is not perfect, and there are some frustrating days for sure.  A big challenge is that our kids have been exposed to "school influence" earlier than they would have otherwise, and we've had to have discussions with the big kids about words they are not allowed to say or things they are not allowed to talk about in our home. And, as you all know, the pre-supper hour is difficult even on a good day, so to still be doing the "dayhome thing" while my kids are hungry and grouchy is challenging.
Ultimately, all I have to do is talk to some of my friends who are full time teachers with young children, and I feel much more peaceful about where we're at right now.  When my kids wake up sick in the morning, it's okay.  When we have mid-day appointments, our little dayhome buddy just comes along.  If I'm not feeling well, they get a little extra TV time.  I appreciate the ability to still be a full-time parent, and I think our kids have benefited from having to share and learn to play with others.
I feel like I'm really meeting a need for the families I work with, and I'm grateful to be able to have this kind of option for our family.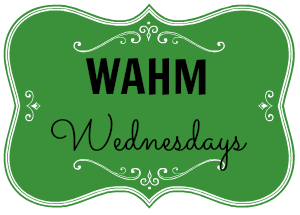 And that's what works for Donita! If you are a WAHM, what works for you? I'd love to hear about it! This post is part of a series, WAHM Wednesdays, in which work-at-home moms share how they do it. If you'd like to contribute, email me at bway_writer at yahoo.ca. Or come back next Wednesday to hear from another WAHM!