On Monday, Sunshine said (for the first time this summer), "I'm bored." I said, "Great. Let's do some science." I'd been planning to start Christian Kids Explore Earth & Space, now that we're back from vacation and done their bike safety camp. I wondered if they'd balk at starting school again in the middle of summer. They were quite happy, however, to sit down at the table together and start a lesson with our new Christian science curriculum.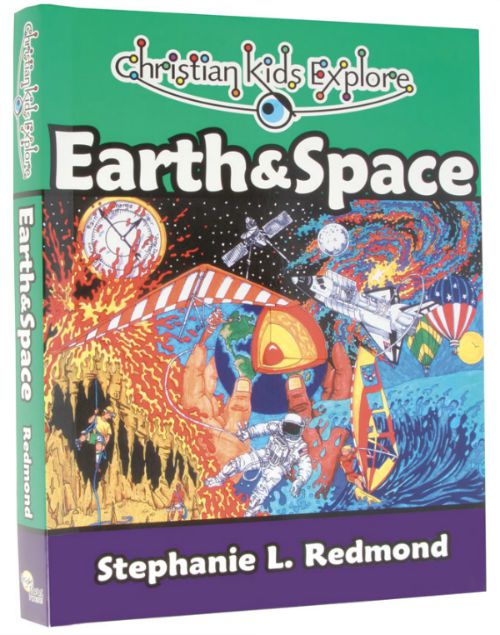 I am an ambassador for Bright Ideas Press; I received compensation and curriculum for the purposes of this review. All opinions expressed are my own.
Why I Like This Christian Science Curriculum
We are using Christian Kids Explore Earth & Space, a multi-grade Christian science curriculum from Bright Ideas Press. I was really excited to get into this curriculum for two reasons.
First, it approaches science from a Christian (and creation) point of view. We started our first science lesson by reading and discussing the creation account in the book of Genesis. There is also frequent mention of the planning and design evident in the world that point to a Creator behind it. For example, the earth is the perfect distance from the sun to support life, without either burning or freezing us.
I've really enjoyed the ways faith is worked naturally through each lesson. Faith is part of our everyday lives, including science, and often when I look at the world around me, I'm amazed at God's creation. So I appreciate having a Christian science curriculum. There are also Scripture memory cards to accompany the lessons, though we haven't used those yet.
Sunshine's notes on the days of creation: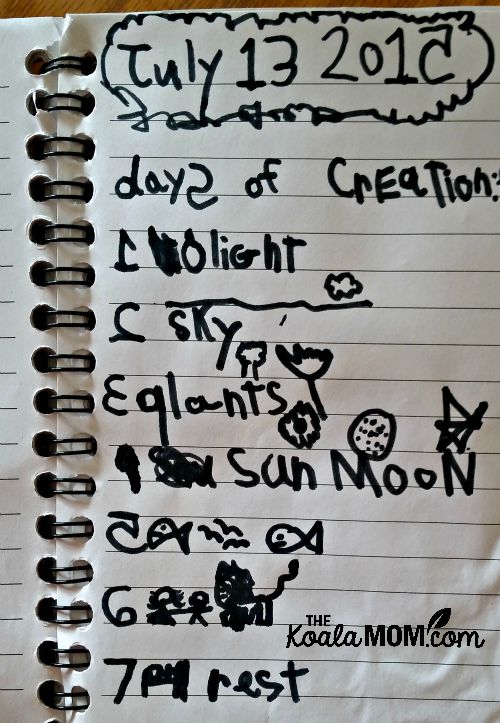 Second, this Christian science curriculum uses a classical approach to learning. I recently heard about this style of learning in another context and thought it sounded cool, especially for homeschoolers doing multiple grades at the same time. This curriculum is geared towards kids in grades 3-6, so I have been simplifying it a bit to use it with Sunshine and Lily (going into Grades 2 and K/1). At the same time, I can see how we could expand upon the lessons once they are in older grades. In fact, Sunshine already had a library book that fit perfectly with our first lesson on the continents and oceans.
A page from Sunshine's Christian Kids Explore Earth & Space science notebook: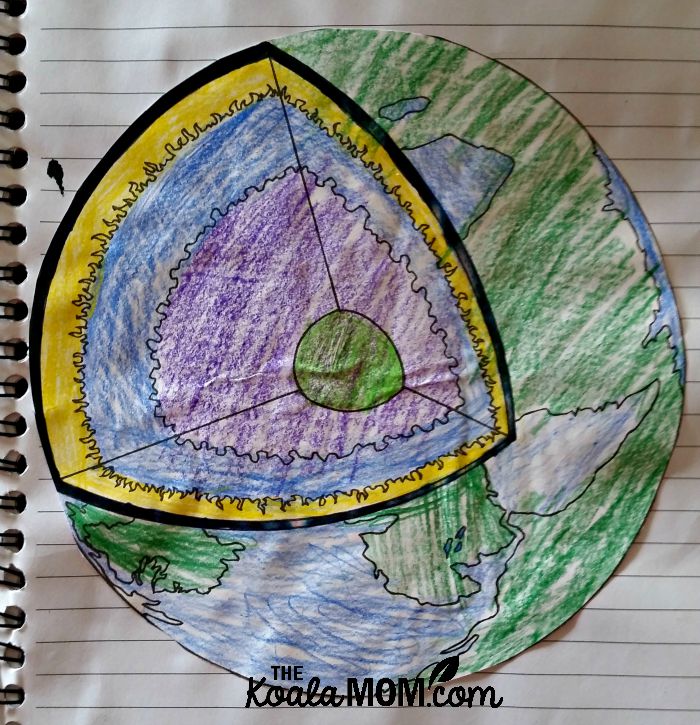 Using Christian Kids Explore Earth & Space
Christian Kids Explore Earth & Space includes twenty-four lessons, broken into six units. All extra materials—maps and colouring pages, memory lists, recipes and supplemental activities—are included in the appendices for handy photocopying or reference as you need them. The curriculum also includes a CD-ROM containing the student activity pages.
I found this Christian science curriculum very easy to use. On Monday morning, I opened the book and read the introduction, then the first lesson. I photocopied the day's colouring pages and maps and helped the girls find their notebooks. Then we started the lesson. We've spent about half an hour a day doing science this week, depending on how interested the girls are in the lesson and the activities.
A diagram Sunshine made of the layers of the earth: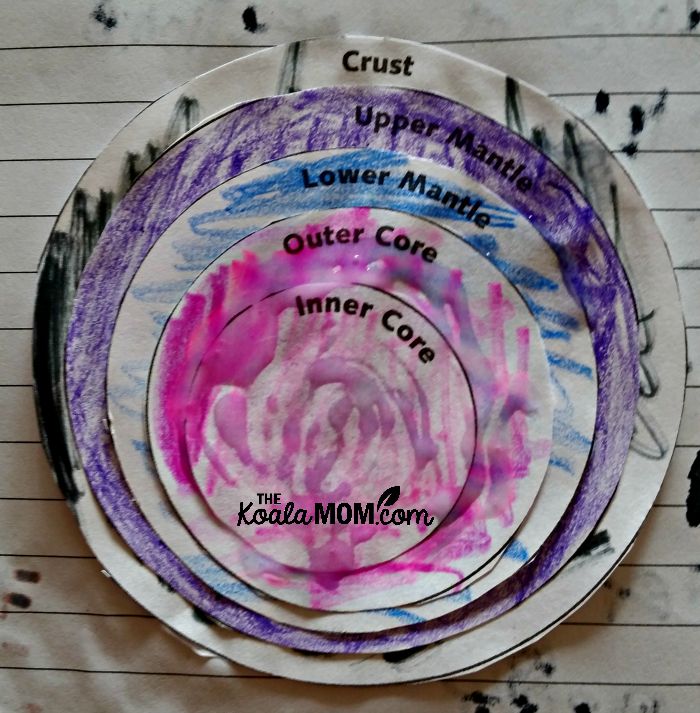 Each of the chapters or units in Christian Kids Explore Earth and Space looks short, but has quite a lot of material to unpack with your kids. My girls really enjoy the hands-on activities, such as the colouring or experiments. Using the library for extra resources has also helped them to get more excited about the topics we're covering.
Christian Kids Explore Earth and Space has been quite easy to use for multiple grades. With both Lily and Sunshine in school this year, I've been looking for subjects that I can do with them together (since they tend to be curious about the other's school work anyway!). Science has been a good subject to combine grades; I just require more writing or more detailed answers from Sunshine than Lily.
Studying Caves with Christian Kids Explore Earth & Space
One of the girls' favourite units in Christian Kids Explore Earth and Space was the unit on caves! We read this unit together and looked at the colouring page, though the girls didn't want to do any colouring that day.
They were quite excited for the experiment, though. We used Epsom salts to try to create a stalactite. The girls had fun mixing the salt into water and watching it dissolve (giving us a great chance to talk about how minerals dissolve in water in a cave):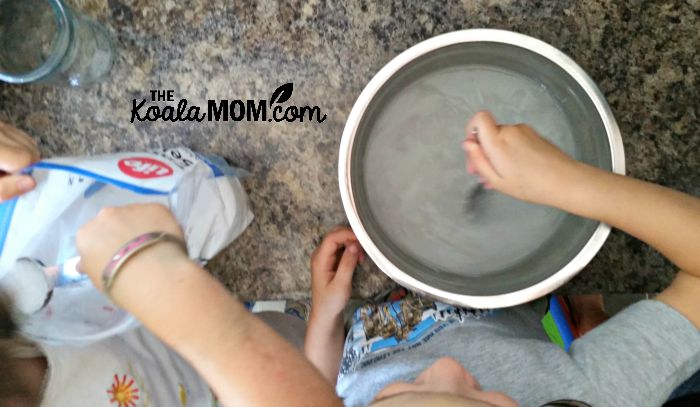 Then we put the salt water into two jars, with a string between them, and waited for our stalactite to grow. After about a week, we had a very tiny stalactite—perhaps half a centimeter. I talked to the girls about how long our stalactite had been growing and how long it takes to form caves and stalactites in the caves. They've seen other demonstrations of water erosion so I think they understood that some process take a long time.
Much longer than we left our salt water experiment sitting on the windowsill: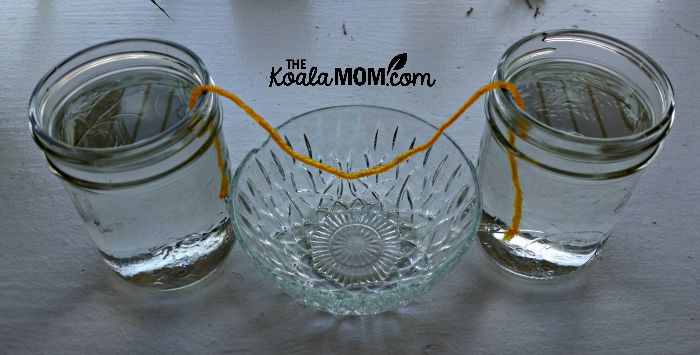 I also found a book on caves for the girls at the library. We also looked at some of my own pictures from spelunking in Australia and Alberta.
Exploring Volcanoes!
Again, we started this unit by reading the textbook. Sunshine coloured while Lily drew a volcano in her notebook. We talked about the different parts of the volcano and Lily copied out the first verse of a little poem about volcanoes.
I found more resources at the library on volcanoes. We watched DK Eyewitness DVD: Volcano, Bill Nye the Science Guy: Volcanoes and read Magic School Bus Blows Its Top! and The Ultimate 10 Natural Disasters: Volcanoes.
Then we did our experiment—the vinegar and baking soda volcano. Sunshine and Jade had fun making our volcano with some older play dough: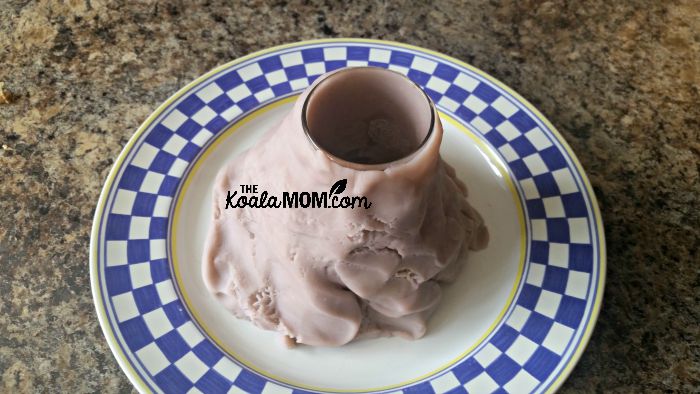 I put it in the sink for our experiment, to minimize the mess, and the girls had fun pouring and pouring vinegar in until the baking soda was all gone.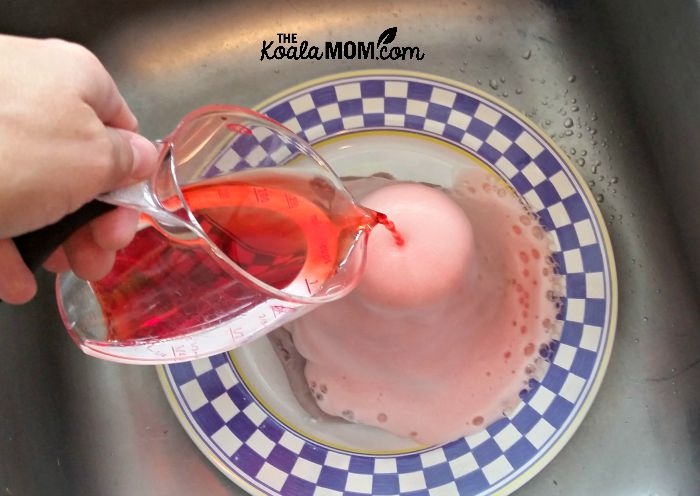 For more information on Christian Kids Explore Earth and Space, check out the Bright Ideas Press website.
Do your kids enjoy doing science art and other projects? Do you use a Christian science curriculum?
Check out my Big List of Homeschool Science Resources for more ideas to support your homeschool learning!