The warm summer months are the ideal time for the family to enjoy some fun in the garden, and for the kids that means outdoor activities. I'm loving the fact that, since our move to the lower mainland, we have a yard for the girls to play in. If you're thinking of implementing a traditional garden swing, slide or see-saw for the kids to play on, then here are a few points to consider before purchasing your own equipment.
Having a swing-set or slide in the garden is a great investment, especially for families who don't live close to park areas, and kids will get years of fun from this traditional play equipment. In the summer months, it's the perfect way to let the kids burn extra energy—or to get them out of the house so you can make dinner.
Consider the kids' age range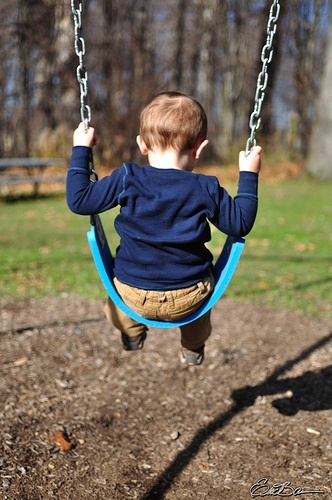 One of the first things to remember is that kids do grow rapidly, and what's a right fit for them now won't be in a few years. Swings, slides and see-saws do come in different sizes and most will have information regarding suitable age ranges. Consider something a little bigger and you'll get a lot more use out of it in the future. You might have to provide some additional supervision when young children are playing on the larger swing-sets or slides, but they'll have grown into this equipment before you know it.
Yard space
The size of your yard, and how much free space you have, should be factored in when buying larger playsets. For equipment such as swings you may have to ensure it's properly installed, and you'll also need a larger clearance area around the base. Many people do choose to have this type of equipment professionally fitted but this will add to the price, although it is a one-off investment and a safer option.
You'll probably want to position the equipment so that it can be seen from your kitchen window, in order to keep an eye on the kids, and again this might limit the space you can use. Consider installing artificial grass in Carlsbad, CA, to create a green yard space the kids will enjoy.
Inflatable options
Blow-up garden see-saws and slides are a great idea, and there is a huge range of models available. You can have slides that lead down to inflatable paddling pools or mini-assault courses and blow-up punching bags. All of these toys can be brought out when the weather is warm, and then stored away in a garden shed or indoors—great for those who don't want permanent garden additions. Inflatables are also a very safe option for younger children, and are inexpensive enough that you can add more pieces over the years.
If you are renting your home, this is also a great option because it requires less effort to move it and leaves behind less evidence that it was there. Our landlord let us set up a swing set in our yard for the girls, but some landlords might be more amenable to temporary playsets than to a more permanent structure.
Whichever outdoors equipment you choose, your kids will get plenty of fun, exercise and fresh air, while you will get plenty of photo opportunities.
A few more tips:
watch for spring or fall sales to get great deals on outdoor playsets
pay attention to what your kids play on the most at parks or friends' houses to decide what to get for your own backyard
ask friends for recommendations about outdoor playsets
How do you keep your kids busy outdoors in the summer? Do you have space for outdoor playsets or do you use the local park?
Image by eBomb716 used under the Creative Commons license.