Alison Faith Levy's new CD The Start of Things is fun enough for kids and sophisticated enough for adults. When I first popped it into our CD player, I thought, "Is it a kids' CD? Or is it an adult CD?" Either way, it was a win-win. The girls liked it. I liked it.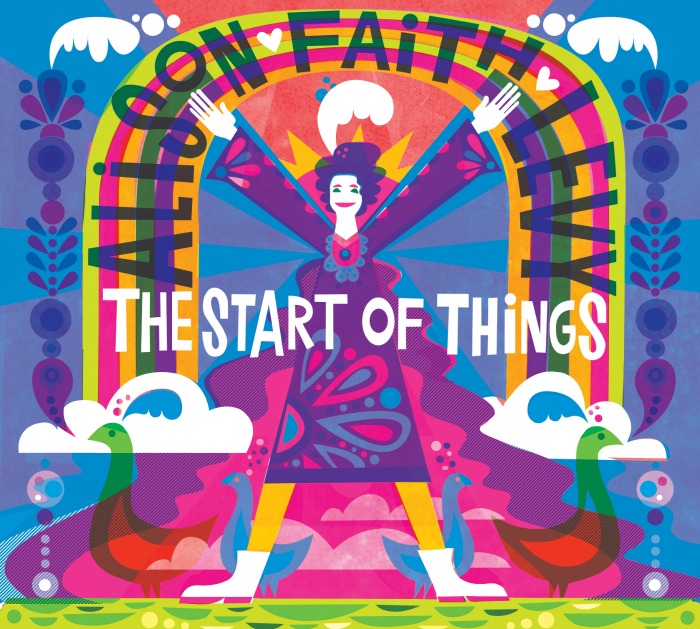 The first song and title track, "The Start of Things," talks about nerves at the start of things, like school or performances. I liked the way this song acknowledges that it's okay to be prepared for something and still feel scared about it. Even the start of each day can be exciting:
"Waking up early when the alarm bell rings,
wondering what the day ahead will bring,
it's a thrilling mystery
to me, I wanna see, but I'm afraid to look!"
"Pull Your Weeds" is a fun song about Cinderella and Snow White digging in a garden together. Cinderella begins to complain about what she has to do, but Snow White says, "You gotta do your thing, love what you do, appreciate your beauty, pull your weeds and stand your ground, and the world will come around." I liked the way this song talks about looking at things differently and the power of friendship.
Previously, Alison was a singer and songwriter for the kid's music band "The Sippy Cups." She then took a break from kids' music to launch a "grown-up" band, McCabe & Mrs. Miller, with songwriting partner Victor Krummenacher. She found she missed performing for kids, however, so she started a kids' music time at a local music store. It was soon packed every week and she formed The Big Time Tot Rock Band. At the same time, she was writing new songs and launched her first solo album, World of Wonder.

Of The Start of Things, Alison says, "My producer, Allen Clapp, and I approached the recording of The Start of Things in the same way as World of Wonder, finding a production touchstone for each song that would guide its sound and mood.  We drew upon such diverse influences as Burt Bacharach and Stephen Sondheim ('Rainbow Tunnel'), Sharon Jones ('The Start of Things'), Elvis Costello & The Attractions ('TLC'), Nino Rota ('Froggy Dance'), and even solo John Lennon ('Little Dreamer').  I was also really happy to include 'If You Want to Sing Out, Sing Out' by Cat Stevens.  It's one of my all-time favorite songs and such a perfect message for children to follow their own path and be heard."
The Start of Things is available on iTunes, Amazon, CDBaby.com and at Alison's shows and classes. It's a surprising, upbeat CD that's sure to delight kids both young and old.
For a preview of Alison's music, check out this video of "The Froggy Dance":
I received this CD for review courtesy of the publicist; all opinions expressed are my own. This post contains affiliate links; as an Amazon Associate, I earn from qualifying purchases.