Last week, a big truck pulled up in front of our house and left a big box on our front steps. A glance at the return address made me smile. It was from Treehouse. When Sunshine asked if it was for them, I said, "Yes. You can open it."
I received these DVDs for review courtesy of Treehouse; all opinions expressed are my own.
The girls were beside themselves as they pulled open the box to discover some of their favourite TV shows inside—Guess How Much I Love You: Someone Special (which Lily recognized from her preschool), Zack & Quack: Popping Hopping Easter (Sunshine said "these guys are great), and Treehouse: The Ultimate Collection (a box of 10 DVDs with over 100 of the girls' favourite episodes!).
I managed to catch their unboxing excitement on video:
I've spent most of this week trying not to let them overdose on Octonauts, which has been Lily's favourite show for a long time. I even found myself listening in and enjoying the show. Each adventure is filled with fun. The crew also has to work together to solve problems and learns a lot about sea life while they're doing it. We've learned about dolphins, orcas, giant squid and spider crabs!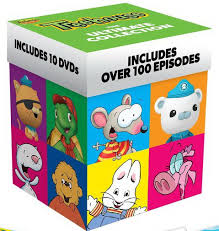 We've read Guess How Much I Love You at the library or at friend's. I love the relationship between the little rabbit and his dad. The animation is cute and the whole story feels gentle and loving. This DVD includes seven episodes. Lily's favourite was "Can You Touch the Stars?" This DVD would make a great birthday present, a fun way to show a child just how much they are loved.
Zack & Quack was new to me (though not apparently to Sunshine). I really liked the pop-up book animation in this story. I had several pop-up books as a child (and still treasure one, though it's starting to tear). I had fun waiting to see what would happen whenever Zack came across a tab to pull. Like many other Treehouse shows, Zack & Quack features two friends who have lots of adventures together and learn to be better friends.
Are your kids big fans of Treehouse TV? What is their favourite show? Surprise them for Easter or a birthday with this amazing cube of endless fun!